Toronto Blue Jays vs. LA Angels Pick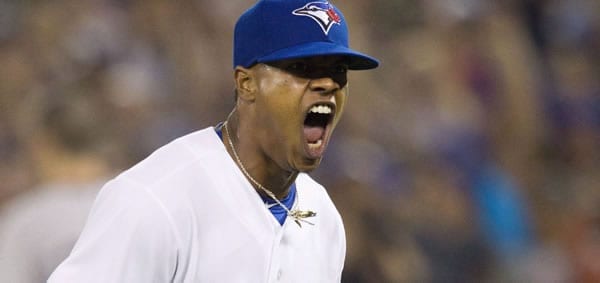 Toronto Blue Jays (14-14) vs. Los Angeles Angels (12-17)
When: Wednesday, May 1st, 2019
Where: Angel Stadium, Anaheim, California
Opening Line: Tor -105/LAA -115
Line at Time of Print: (10AM ET) Tor +102/LAA -112
Runline: Jays +1.5 (-194)/Halos -1.5 (+174)
Total: 8.5
Starting Pitchers: Marcus Stroman (1-3, 1.43 ERA, 1.09 WHIP vs. Felix Pena (0-1, 4.15 ERA, 1.15 WHIP)
What's a Guy Gotta Do to Get a Win?
Toronto starter Marcus Stroman has been one of the best pitchers in baseball this season. You wouldn't know it looking at his 1-3 record though, which is very deceiving. When you dive into the numbers, you'll see that the Jays righty has only had one mediocre start this season, in which he allowed 3 earned runs over 6 innings to the Cleveland Indians (April 7th). The rest of his outings have been nothing short of immaculate. He's missed a ton of bats and produced a stellar K-rate (strikeout) of one per inning. If you throw out his 4/7 start, you'll see that he's only allowed 3 earned runs in his last 31.2 innings! Nasty!
Felix Pena is a Minor League Pitcher
I love late bloomer stories just as much as the next guy, but when a hurler is 29 and just recently getting his first shot in the bigs, there's a reason for that. He either gets too much of the plate or lacks control. In Pena's case, he's "decent", but lets one get away a bit too often, as evidenced by the 24 home runs he's given up in his last 149 innings. To be considered decent, a pitcher should only allow one dinger per 10 innings pitched. This puts his "should have allowed" HR number at 14.9. As you can see, he's given up 10 more round trippers than he should have. Often times, this makes for a good fade.

More MLB: Astros vs. Twins Pick
Pena also doesn't go deep in games. This is an important variable as that means we're sure to see a bunch of innings out of the bullpen. The Angels pen is decent, but has shown control issues as evidenced by their 61 walks allowed in 124 innings.
Jays Flying High
Toronto is hot! The team has won 7 of their last 9 games! In doing so, they've batted .277 with a .322 on base percentage and a hefty slugging percentage of .455. They've had nice glove-work in the field as well, having only committed 4 errors over this stretch.
Randal Grichuk, Freddy Galvis, Eric Sogard and Brandon Drury have all hit .333 or better over the team's last 7 games. In summary, they've been winning without their best hitters producing.
Angels Swinging Icecicles, Not Bats
Cold as hell is an oxymoron so I won't say it. Look at these crap batting averages over the past 7 games:
Trout .227 (no dingers)
Pujols .250
Lucroy .133
Bour .063
Calhoun .250
Andrelton Simmons at .417 is really the only guy on the team having any success.
The Historicals
Marcus Stroman likes to pitch at Angel Stadium. In his last 3 combined starts, he's allowed only 3 earned runs in 20 innings. In doing so, he's allowed 20 hits and only 4 walks. More importantly, none of those hits left the yard.
Felix Pena has only faced the Blue Jays once in his career (last August at Angel Stadium) where he allowed 8 hits and a walk in 5 innings.
Betting Trends
Toronto is 4-1 in their last 5 road games.
The Jay's are 4-1 in their last 5 games after a loss
.The Blue Jays are 5-2 in their last 7 vs. a right handed starter.
The Los Angeles Angels are 17-37 in their last 54 games vs. a starter with a WHIP less than 1.15.
Injury Report
The visiting Blue Jays are healthy.
The Angels had to put closer Cody Allen on the IL due to a back issue. INF Zack Cozart was recently placed on the IL with a neck injury and OF Justin Upton continues to miss games with a toe injury.
Weather Report
Temperatures will be in the low 60's with a non factoring wind blowing towards left center at 5mph. Zero percent chance of precipitation. Perfect weather for baseball!
Kevin West's Pick to Win: Bet the Blue Jays to win at +102. (Pitching change; No action)
Who else wants $60 of FREE member picks & predictions?