Toronto Blue Jays vs NY Yankees Pick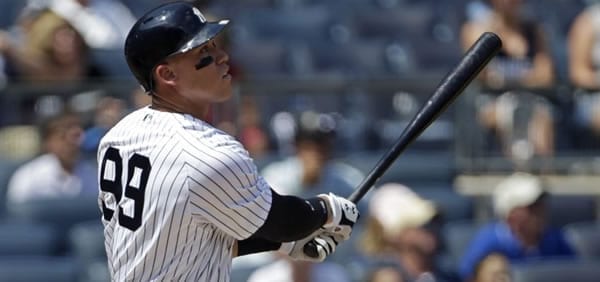 Toronto Blue Jays (29-50) at New York Yankees (50-28)
When: 7 p.m., Tuesday, June 25
Where: Yankee Stadium, New York
Starting Pitchers: Clayton Richard (0-3, 7.46 ERA, 1.74 WHIP) vs. TBD
Likely Opening
Most likely, the reason the Yankees haven't bothered to name a starting pitcher is that they're likely going to use the opener strategy again. New York seems to have decided that it doesn't have five starting pitchers, so it's going to go with a four-man rotation but give each pitcher a full four days of rest by going with the opener strategy once every five days.
In the last usage, it worked out nicely for the Yankees, as well as our own Dan Jamison, who were able to give Chad Green and the bullpen the support they needed to get past the Astros by a 10-6 count. Green isn't usually going to need that many runs to be successful, but that kind of run support certainly doesn't hurt, especially when you only have to go for two innings like the Yankees do with Green.
Whether the Yankees try the strategy again or go with a traditional starter, it probably won't mean that much. Toronto is simply a mess this season, and there's likely to be little resistance put up by the Jays against whoever the Yankees throw.
Richard Rides it Out
If you took a look at just the score of the game, it seems that Clayton Richard is doing his job well and has been done in by some hard luck. In actuality, Richard has struggled in recent games. These past two games were the first time he had been through as little as five innings for the Blue Jays, and in those two games, he still ended up with a combined total of nine earned runs surrendered.
Why isn't he having more success? Simple: teams have learned to wait out Clayton Richard because they know he is not a strikeout pitcher. Teams know that not only is he not going to strike out many hitters, but he has a tendency to walk a few hitters per game. If the Yankees are patient against Richard, good things should follow.
Homer Haven
Nobody is going to come anywhere near throwing as many home run pitches as the Orioles have this year, but the Yankees and Blue Jays don't exactly excel at keeping the ball in their ballparks either, as both clubs rank in the bottom 10 for not giving up home runs to their opponents. But while the Yankees are also in the top 10 of hitting home runs, the Blue Jays are not, ranking just 18th in hitting the long ball. As the Yankees keep getting healthy, their chances of building a healthy lead will greatly increase, and their power should show here.
The Historicals
The Blue Jays won the first two meetings of the year, but the Yankees' 10-8 win on Monday shows that New York has grown up this season and should be well versed in dealing with adversity. The teams still have 15 meetings to go before this season is over, and it's an opportunity for the Yankees to keep putting space between them and their rivals. They don't have to worry about Toronto or Baltimore, but every game against those clubs is a chance to make the job harder for Tampa Bay and Boston.
Betting Trends
The Blue Jays are 1-4 in their past five against a team with a winning record at home.
The Yankees are 5-1 in their past six when they scored five or more runs the previous game.
The under is 4-0 in the Blue Jays' past four Tuesday games.
The over is 5-1 in the Yankees' past six games.
The over is 5-0 in the Yankees' past five home games against a left-handed starter.
Weather Report
The temperature is set to be around 79 degrees at first pitch on a partly cloudy day in the Bronx.
Dan's pick
Odds are, this Yankees game isn't going to come at a great price. But the Bronx Bombers are one of MLB's hottest right now and the Blue Jays are really poor, so despite the odds of a high price to back New York, I think the Yankees have to be the way to go here. They're crushing the ball as they have all year, they just beat the Jays to open this series and they're by far the better team. It's tough to say what the bet should be before a team announces its pitcher, but I'm not sure it's going to matter in this case. I think the Yankees are just too good for Toronto right now and will claim another victory off the opener strategy. I'm taking New York here.
STOP LOSING TODAY! START WINNING WITH DOC'S TEAM OF PROFESSIONALS! GET A FREE NO STRINGS ATTACHED $60 FOR THIS WEEKEND'S GAMES!