[et_pb_dcsbcm_divi_breadcrumbs_module hide_homebreadcrumb="off" homebreadcrumbtext="Home" separator="sep-raquo" hide_currentbreadcrumb="off" homebreadcrumborientation="left" _builder_version="3.8″ fontsbreadcrumbs_font="Lato||||||||" fontsbreadcrumbs_text_color="#000000″ fontsbreadcrumbs_font_size="15px" fontsbreadcrumbs_line_height="16px" fontsseperator_font="||||||||" fontsbreadcrumblinks_font="||||||||" fontsbreadcrumblinks_text_color="#2567cf" custom_margin="25px|||" custom_margin_phone="30px|||" custom_margin_last_edited="off|desktop" custom_css_main_element="font-family: Helvetica Regular;" global_module="3641″ saved_tabs="all" /]
Toronto Blue Jays vs Oakland Athletics Pick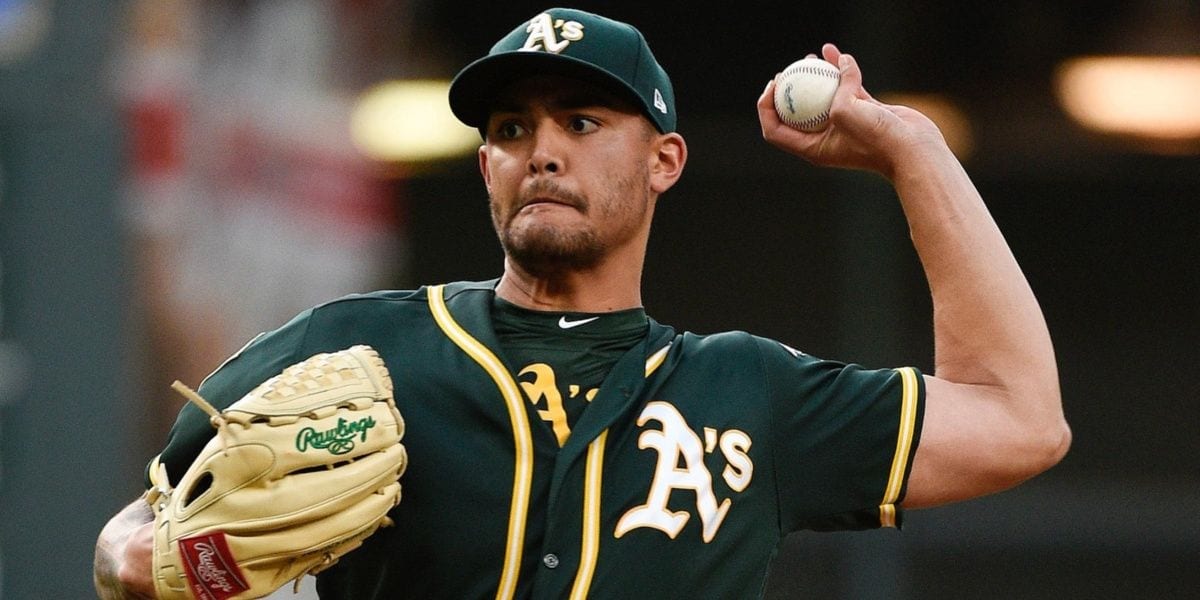 Time: 3:35 PM ET
Venue: Oakland Coliseum
Location: Oakland, California
TV: MLB Network
Moneyline: Toronto (+120) / Oakland (-140) 
Total: 8.5
Wednesday afternoon brings the seventh and final Regular Season matchup between the Toronto Blue Jays and Oakland Athletics at the Oakland Coliseum. The A's cruised to a stress-free 6-2 win versus the Jays last night, continuing their complete and utter ownership of the lone Canadian MLB franchise this year. In six meetings thus far, Oakland is 6-0 and outscored Toronto 43-15. Today's game will be the Blue Jays last shot, and Marcus Stroman is scheduled to take the hill for them. Toeing the rubber for the hometown A's will be their big young lefty, Sean Manaea.

A's the grade
With the A's 6-2 win over the Blue Jays last night, they've won two straight and 7 of their last 10 decisions. Trevor Cahill (3-2, 3.39 ERA & 1.10 WHIP) earned the win for Oakland, allowing just two earned runs over six frames. He allowed five hits, struck out six and allowed only two walks. Khris Davis's bat continued to be hot, going 3 for 5 (.600) with a home run and two RBI Tuesday night. In his last ten games, Davis's batting .333 with eight homers and 20 RBI.
Overall, the A's are 63-46 (.578) on the season and in third place in the American League West Standings. Oakland is five games behind first-place Houston, but they're just one game behind divisional foe Seattle for the second and final AL Wild Card spot. Having scored 521 runs thus far, the A's own the fifth-best offense in the American League. Their +46 run differential is also fifth-best in the AL. At home, Oakland's accrued a 28-22 (.560) record so far.
Jays are singing the blues
Toronto's 6-2 loss last night makes it six straight losses to the A's this season. Sam Gaviglio (2-4, 5.10 ERA & 1.41 WHIP) lasted only 2 2/3 innings in the losing effort. He allowed five earned runs on eight hits with two strikeouts and two free passes. Gaviglio also gave up a solo-blast to center field to the A's red-hot Khris Davis. With the loss, the Blue Jays have fallen to 48-58 (.453) on the season. They're fourth in the AL East Standings, 25.5 games behind first place Boston. Toronto owns the fifth-worst pitching staff in the American League, having allowed 538 runs up to this point. Their -64 run differential is sixth-worst in the AL. On the road, the Blue Jays are 21-30 (.412) thus far.
Stroman vs. Manaea
Fifth-year Duke product Marcus Stroman (4-7, 5.20 ERA & 1.43 WHIP) got off to a rough start this year because of a nagging injury, which he ultimately spent some time on the disabled-list for. However, Stroman seems to be rebounding well and is righting the ship. In five July starts, Stroman's 3-2 with a 3.89 ERA and 1.30 WHIP. On the road this season, Stroman's 2-4 with a 4.53 ERA and 1.47 WHIP. In three career starts versus Oakland, Stroman's earned three no-decisions with a 5.03 ERA and 1.74 WHIP. At Oakland Coliseum, Stroman owns a career 4.82 ERA and 1.43 WHIP.
On July 27th, Sean Manaea (9-7, 3.46 ERA & 1.00 WHIP) suffered his first loss since May 30th at Coors Field (3-1). Manaea allowed three earned runs over five frames in the loss to the Rockies. This will be Manaea's second time facing the Blue Jays this year. On May 19th, Manaea allowed four earned runs in five innings at Rogers Centre and settled for a no-decision despite Oakland beating Toronto 5-4. At Oakland Coliseum, Manaea's 3-4 with a 3.41 ERA and 0.82 WHIP this season. In four career starts versus Toronto, Manaea's 1-0 with a 4.30 ERA and 1.09 WHIP. Manaea's faced the Jays twice in Oakland Coliseum, going 1-0 with a 3.27 ERA and 0.91 WHIP. Oakland's big lefty has pitched like their number-one starter for a while now. In his last ten starts, Manaea's 4-1 with a 3.29 ERA and 1.05 WHIP.
Where's the value?
I don't see a better value on the MLB slate August 1st than this matchup. Oakland's a quality team, playing quality baseball. They're in the heart of a playoff race, while the Jays are honestly better off losing as much as possible at this point. The A's have owned the Jays this year, defeating them handily in all six of their previous contests. Oakland's sending their best starting pitcher to the mound Wednesday afternoon, and they're only -140 on the money line? Essentially, the price (and using a bookie with a MLB dimeline may give you a better value) is set where the A's would need to win 58.3% of the time to make betting on them profitable. According to my calculations, Oakland has a 75% to win their seventh straight game against the Blue Jays which gives us a healthy 16.7% edge against the money line. Taking the A's on the money line is the best bet of the day, and I wouldn't hesitate to put a wager on them with that bargain price tag.
<div class="widget105"><!-- [et_pb_line_break_holder] --><h4 class="baseball">Baseball Sportsbooks</h4><!-- [et_pb_line_break_holder] --><table id="dimeline"><!-- [et_pb_line_break_holder] --> <tr><!-- [et_pb_line_break_holder] --> <th></th><!-- [et_pb_line_break_holder] --> <th width="110px">10¢ to:</th><!-- [et_pb_line_break_holder] --> <th width="110px">20¢ to:</th><!-- [et_pb_line_break_holder] --> </tr><!-- [et_pb_line_break_holder] --> <tr><!-- [et_pb_line_break_holder] --> <td><div class="col1"><a href="https://record.commission.bz/_BhTQDVOVie23_O3IiMN7EWNd7ZgqdRLk/1/"><!-- [et_pb_line_break_holder] --> <img src="https://www.predictem.com/wp-content/uploads/2018/06/SportsBettingDark.png" width="150" alt="SportsBetting" /></a><!-- [et_pb_line_break_holder] --> </div></td><!-- [et_pb_line_break_holder] --> <td>-200</td><!-- [et_pb_line_break_holder] --> <td>-279</td><!-- [et_pb_line_break_holder] --> </tr><!-- [et_pb_line_break_holder] --> <tr><!-- [et_pb_line_break_holder] --> <td><div class="col1"><a href="https://www.predictem.com/betting-sites/heritage-sportsbook/"><img src="https://www.predictem.com/wp-content/uploads/2018/06/heritage-xs.png" width="150" alt="Heritage" /></a></div></td><!-- [et_pb_line_break_holder] --> <td>-200</td><!-- [et_pb_line_break_holder] --> <td>-240</td><!-- [et_pb_line_break_holder] --> </tr><!-- [et_pb_line_break_holder] --> <tr><!-- [et_pb_line_break_holder] --> <td><div class="col1"><a href="https://affiliates.5dimes.eu/tracking/Affiliate.aspx?idBook=1&mediaTypeID=220&AffUrlID=80&LandingPageID=2"><img src="https://www.predictem.com/wp-content/uploads/2018/06/5Dimes_sm.png" width="150" alt="5Dimes" /></a></div></td><!-- [et_pb_line_break_holder] --> <td>-195</td><!-- [et_pb_line_break_holder] --> <td>-266</td><!-- [et_pb_line_break_holder] --> </tr><!-- [et_pb_line_break_holder] --></table> <!-- [et_pb_line_break_holder] --><div class="widget-footer"><a href="https://www.predictem.com/best-sportsbooks/mlb-dimeline/">See all Dimeline Sportsbooks</a></div><!-- [et_pb_line_break_holder] --></div><!-- [et_pb_line_break_holder] --><!-- [et_pb_line_break_holder] --><style><!-- [et_pb_line_break_holder] --> #dimeline {border: 0px;}<!-- [et_pb_line_break_holder] --> #dimeline th{color:#000;}<!-- [et_pb_line_break_holder] --> #dimeline td{padding: 2px; text-align: center;}<!-- [et_pb_line_break_holder] --> #dimeline td, #dimeline th{padding: 8px 2px; text-align: center;border-bottom: 1px solid #bbb;}<!-- [et_pb_line_break_holder] --> .img-hover {border: 1px solid #fff; padding:5px}<!-- [et_pb_line_break_holder] --> .img-hover:hover {background: #edeef0; border: 1px solid #008156; margin-top:1px; padding:5px}<!-- [et_pb_line_break_holder] --></style>
<h4 class="widgettitle">More NFL Picks</h4><!-- [et_pb_line_break_holder] -->
<div class="widget105"><!-- [et_pb_line_break_holder] --><h4 class="teaser">Best Teasers</h4><!-- [et_pb_line_break_holder] --><!-- [et_pb_line_break_holder] --><table id="teasers"><!-- [et_pb_line_break_holder] --> <tr><!-- [et_pb_line_break_holder] --> <th><span class="team">3 Team:</span></th><!-- [et_pb_line_break_holder] --> <th>6 pt Teasers</th><!-- [et_pb_line_break_holder] --> <th>6.5 pt Teasers</th><!-- [et_pb_line_break_holder] --> <th> 7 pt Teasers</th><!-- [et_pb_line_break_holder] --> </tr><!-- [et_pb_line_break_holder] --> <tr><!-- [et_pb_line_break_holder] --> <td><a href="https://affiliates.islandcasino.com/tracking/Affiliate.aspx?idBook=3&mediaTypeID=220&AffUrlID=80&LandingPageID=36" rel="nofollow"><img src="https://www.predictem.com/wp-content/uploads/2018/06/island_casino.png"></a></td><!-- [et_pb_line_break_holder] --> <td>1.8 to 1</td><!-- [et_pb_line_break_holder] --> <td>1.65 to 1</td><!-- [et_pb_line_break_holder] --> <td>1.5 to 1</td><!-- [et_pb_line_break_holder] --> </tr><!-- [et_pb_line_break_holder] --> <tr><!-- [et_pb_line_break_holder] --> <td><a href="https://affiliates.5dimes.eu/tracking/Affiliate.aspx?idBook=1&mediaTypeID=220&AffUrlID=80&LandingPageID=2" rel="nofollow"><img src="https://www.predictem.com/wp-content/uploads/2018/06/5Dimes_sm.png"></a></td><!-- [et_pb_line_break_holder] --> <td>1.65 to 1</td><!-- [et_pb_line_break_holder] --> <td>1.5 to 1</td><!-- [et_pb_line_break_holder] --> <td>1.35 to 1</td><!-- [et_pb_line_break_holder] --> </tr><!-- [et_pb_line_break_holder] --> <tr><!-- [et_pb_line_break_holder] --> <td><a href="https://record.commission.bz/_BhTQDVOVie23_O3IiMN7EWNd7ZgqdRLk/1/" rel="nofollow"><img src="https://www.predictem.com/wp-content/uploads/2018/06/sports-betting-sm.png"></a></td><!-- [et_pb_line_break_holder] --> <td>1.6 to 1</td><!-- [et_pb_line_break_holder] --> <td>1.5 to 1</td><!-- [et_pb_line_break_holder] --> <td>1.35 to 1</td><!-- [et_pb_line_break_holder] --> </tr><!-- [et_pb_line_break_holder] --></table><!-- [et_pb_line_break_holder] --><div class="widget-footer"><a href="https://www.predictem.com/best-sportsbooks/teasers-odds/">See all Sportsbooks Teasers</a></div><!-- [et_pb_line_break_holder] --></div><!-- [et_pb_line_break_holder] --><!-- [et_pb_line_break_holder] --><!-- [et_pb_line_break_holder] --><style><!-- [et_pb_line_break_holder] --> #teasers {border-collapse: collapse;<!-- [et_pb_line_break_holder] --> width: 100%; border: 0px;<!-- [et_pb_line_break_holder] --> font-size: 14px!important;}<!-- [et_pb_line_break_holder] --> #teasers td, #teasers th {<!-- [et_pb_line_break_holder] --> border: 0px;<!-- [et_pb_line_break_holder] --> padding: 8px;<!-- [et_pb_line_break_holder] --> text-align: left;}<!-- [et_pb_line_break_holder] --> #teasers th {<!-- [et_pb_line_break_holder] --> padding-top: 5px;<!-- [et_pb_line_break_holder] --> padding-bottom: 5px;<!-- [et_pb_line_break_holder] --> font-weight: bold;<!-- [et_pb_line_break_holder] --> line-height: 14px;<!-- [et_pb_line_break_holder] --> text-align: center;<!-- [et_pb_line_break_holder] --> color: #000;}<!-- [et_pb_line_break_holder] --> #teasers tr {border-bottom: 1px solid #edeef0;}<!-- [et_pb_line_break_holder] --> .team {font-size: 16px;}<!-- [et_pb_line_break_holder] --></style>
<div style="width:340px; margin: 0 auto;"><!-- [et_pb_line_break_holder] --> <a class="twitter-timeline" data-width="340" data-height="500" data-link-color="#008156" href="https://twitter.com/PredictemPicks?ref_src=twsrc%5Etfw">Tweets by PredictemPicks</a> <script async src="https://platform.twitter.com/widgets.js" charset="utf-8"></script><!-- [et_pb_line_break_holder] --></div>