[et_pb_dcsbcm_divi_breadcrumbs_module hide_homebreadcrumb="off" homebreadcrumbtext="Home" separator="sep-raquo" hide_currentbreadcrumb="off" homebreadcrumborientation="left" _builder_version="3.8″ fontsbreadcrumbs_font="Lato||||||||" fontsbreadcrumbs_text_color="#000000″ fontsbreadcrumbs_font_size="15px" fontsbreadcrumbs_line_height="16px" fontsseperator_font="||||||||" fontsbreadcrumblinks_font="||||||||" fontsbreadcrumblinks_text_color="#2567cf" custom_margin="25px|||" custom_margin_phone="30px|||" custom_margin_last_edited="off|desktop" custom_css_main_element="font-family: Helvetica Regular;" global_module="3641″ saved_tabs="all"][/et_pb_dcsbcm_divi_breadcrumbs_module]
Total Pick: Boston Red Sox vs. Los Angeles Dodgers Game 3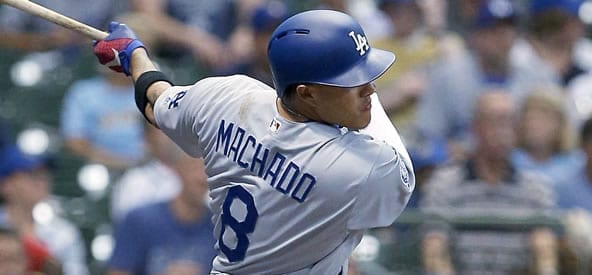 Boston Red Sox vs. Los Angeles Dodgers Game 3
When: Friday, October 26th, 8:05PM EST
Where: Dodger Stadium, Chavez Ravine, Los Angeles, CA
TV: FOX
Current Series Price: LAD +450/-620
Betting Odds: Bos +143/LA -153
Run Line: Bos +1.5 -165/LA -1.5 +145
Total: 7.5 (Over shaded at -120)
Before I get into this article, I'd like to point out that there really is no wagering value this late in the MLB playoffs, as when you pit the two best teams against each other, there really are no advantages to be had. The recipe for winning at sports betting is finding the edge. There aren't many here, so please keep your bets at a lunch money level and for entertainment purposes only, as we're pretty much in a crap shoot situation here.
The BoSox come into game 3 of the World Series winners of six in a row and 9-2 overall in the playoffs. The Dodgers have dropped their last couple of games and have lost three of their previous four. L.A. scoring 2 runs or less in 4 of their last 7 games is something that stands out and is cause for concern as Boston is a team that has a legit shot of putting up 7-8 runs every time out.
Red Sox Stuff
Boston is 56-30 on the road this season. Who has the gonads to fade that? Not me. The club has gone 91-40 vs. RHP. They're 6-1 in their last seven games. They're 82-46 in night games. Bos is 18-4 in interleague play. The weather will be perfect tonight at Chavez Ravine as the forecast is for mid-seventies. There's not much to not like here.
Dodgers Stuff
The Dodgers weren't dominating this season. They've been hot and cold and appear to be leaning to cold at this point. Their season record sits at 99-77, they didn't exactly kill it at home at 49-38 and their 3-4 record over their last 7 where they've only batted .202 is ugly at best. L.A. has only gone 12-10 against the AL this season as well. The team has done just enough to get by in the playoffs at 7-6. Simply put, they aren't playing their best ball right now, and the timing for such couldn't be worse.
Rick Porcello vs. Walker Buehler
Porcello is a Jekyll and Hyde pitcher. You never really know what you're going to get until it happens. His road numbers consist of a 3.95 ERA and 1.27 WHIP. The team has gone 13-7 in his road starts in which 11 have gone over, and 9 have gone under. The righty hasn't pitched at Dodger Stadium since 2011, so those stats aren't worth mentioning.
Buehler has been lights out at home this season with Cy Young type numbers: 1.67 ERA and 0.76 WHIP in 80 innings. He hasn't received much run support though, as evidenced by the Dodgers only going 8-5 in those starts. Something to take note of is that the UNDER in his home starts cashed in at 10-1! While Buehler has been untouchable at home this season, his recent form hasn't been very good, which may be his youth showing. Even the best pitchers can suffer from the pressure of being on the big state, especially a youngin' like Buehler, who just recently turned 24. I dunno about you, but at age 24 I was still having drinking contests, burning my tires off even though I had 7 bucks in my checking account and no feasible way to replace those tires and was spending the majority of my free time hunting beaver/bush rat. When you think about a kid that young being on this stage, the pressure can be incomprehensible.
Getting back to Buehler's recent performances, he's allowed 10 earned runs in his last 16.2 innings, including 4 earned runs in 7 innings at home to the Brew Crew.
Pitcher vs. Hitter Stats
Ian Kinsler is the only hitter who has seen Walker Buehler. He went 1-2. Advantage Dodgers, as they'll likely be trying to figure him out over their first time through the order.
Quite a few hitters have seen Rick Porcello, mostly Manny Machado (13-38, .342 average, 2 dingers) and Brian Dozier (9-45, .200, 3 homers) who were in the AL for years. David Freese has seen Porcello 16 times, for a .250 avg. and no dingers.
Injury Concerns
Sox slugger J.D. Martinez is probable with an ankle issue. Alex Cora boldly stated that he'll play, albeit he's not sure where. The likely scenario is that he plays in right or left and the move Mookie Betts in to play second base.
Weather
Perfect baseball weather! Clear skies. Mid-seventies. Wind isn't a factor as it's blowing out to the right at 4mph.
Betting Trends
BOS
Boston is 5-0 in their last 5 road games.
The Red Sox are 6-0 in their last 6 playoff games.
Boston is 9-1 in their last 10 interleague road games vs. a team with a winning record.
The Red Sox are 14-2 in their last 16 World Series games.
Boston is 6-1 in their last 6 W.S. road contests.
The BoSox are 46-18 in their last 64 road games vs. RHP.
Boston is 66-29 in their last 95 games.
Boston is 15-1 in Porcello's last 16 interleague starts.
Bos is 7-0 in their last 7 interleague games with Barrett behind home plate.
Bos is 8-2 in their last 10 road games vs. a right-handed starter.
LAD
The Dodgers are 6-1 in their last 7 vs. right-handed starters.
The LAD is 4-1 in their last 5 home playoff games.
L.A. is 17-5 in their last 22 home games.
LA is 1-4 in their last 5 games vs. a team with a winning % above .600.
LA is 0-5 in their last 5 games following an off day.
TOTAL
Over is 16-5-1 in the Red Sox last 22 overall.
Over is 14-5 in Red Sox last 19 vs. a team with a winning record.
Over is 7-3 in Red Sox last 10 road games.
The Over is 36-16-2 in Red Sox last 54 games following an off day.
Over is 6-1 in Barretts last 7 interleague games behind home plate.
Over is 11-4 in Barretts last 15 games behind home plate vs. Boston.
Kevin's Pick to Get the Money
Rick Porcello didn't close the season out strong, and Walker Buehler has looked touchable as of late. I've never been a big fan of playing overs at Dodger Stadium as I've always felt that it's a dead ballpark, but the reality here is that Boston could go over tonight's 7.5 by themselves if they're hitting. Porcello is much worse of a pitcher in night games, so I don't think he's going to shut the Dodgers down. He's also not clutch, as evidenced by his 5.63 ERA in 15 career playoff appearances. I'm betting the OVER 7.5 tonight. Keep in mind my earlier mention of a proposed lunch money bet. There's nowhere near the number of advantages in this game as there were in the games where I put up a 95-71-2 +12.76 this season. For more articles like this and to get a bit of humor, live tweeting of significant events and tips to help you become a better handicapper, please follow me on Twitter @PredictemPicks. I answer all questions as well!