Bass Pro Shops Night Race Analysis & Picks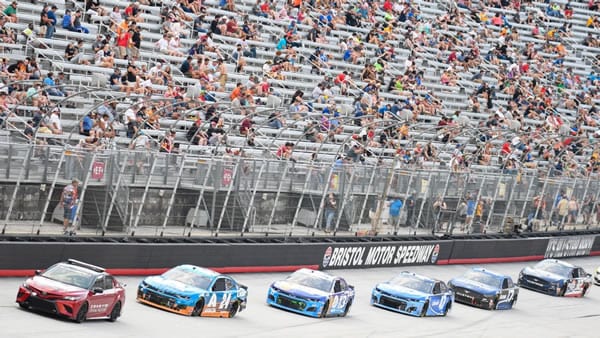 Race: Bass Pro Shops Night Race
Date: Saturday, September 19, 2020
Track: Bristol Motor Speedway
Time: 7:30pm ET
Channel: NBCSN
What Did We Learn From Last Weekend?
The story from Richmond seemed to be the pit road penalties. Denny Hamlin basically lost his shot at the win after winning stage 1 by a pit road speeding penalty. Austin Dillon also caught a speeding penalty after the first stage, but he fared a little bit better than Hamlin overall with a 4th place finish. With only a competition caution in stage 1, we'd assume that there'd be a few more cautions throughout the race, but we'd be wrong. It was a pretty mild race for a short track, to be completely honest. We saw some good racing among some of the leaders. In stage 2, the Penske drivers looked strong with Logano leading teammate Keselowski into the first laps. Keselowski managed to pass Logano on lap 121 after some minor contact coming out of turn 4. Lap 163 saw green flag pits starting, where Keselowski was the first to take advantage. Kevin Harvick took the lead at this point with Austin Dillon all over his bumper and managed to pass Harvick being that he had fresher tires. At this point, Harvick decided to pit, but he somehow clipped the commitment box, leading to yet another pit road penalty. Keselowski regained the lead and took the stage 2 win. During stage 3, Logano and Keselowski were back at it. Keselowski strategically pinned Logano behind a lap car and made the pass. Shortly after, the drivers began the final pit cycle. Austin Dillon headed to pit lane but missed. It's not a penalty, but it's definitely a mistake that cost him a little.
The pit road mistakes and penalties were very clearly the highlights of the night. I really believe that cost Hamlin the win. Regardless, Dillon made a charge back to the front, which was a testament to his car's setup. The team definitely had everything in line for Dillon to have the best on the track. Unfortunately, Keselowski managed to make fewer mistakes and came with an equally matched car. With just 48 laps to go, Keselowski passed Dillon for the lead, and there was no looking back. Truex Jr. managed to climb to second during that time, but Keselowski continued gapping the field, winning by over 2.5 seconds. It was certainly a win with little competition in the closing laps. Maybe another short track will give us some better action?
Where Are We Headed This Weekend?
As much as I like Richmond, being the biggest short track definitely lends itself to leaders pulling away from the field. We don't see the bunching of the cars as we do at Martinsville or Bristol. This weekend might give us a little more to watch. A track with a considerable history in the NASCAR series is where the teams are headed. Bristol gives us some closer racing. Oftentimes, drivers aren't able to obtain the lead that we see at Richmond. This track is a 0.533 concrete oval. It has 26 to 30 degrees of banking through the turns and 6 to 10 degrees through the straights. The speeds are a little lower here than compared to Richmond, but ever since the reconfiguration of the track, speeds have gotten a bit higher than we saw in the good 'ole days of Bristol. The challenges still remain regarding tire wear and track position as the key factors in winning at Bristol. Obviously, pit road will be a sensitive subject and strategy this weekend based on the number of issues the drivers and teams experienced at Richmond.
Odds and Value Picks
When it comes to a winner at Bristol, oddly enough, Keselowski is at the top of the list, well my list anyway. He's heading into the weekend with the momentum of winning Richmond while also having the pole coming into the race. If that's not enough, he's one 3 Bristol races in his career. His last win here, you ask? Well, he won the race here in May. Obviously, this team has it figured out, and he's definitely my pick for the outright win. He will have some serious competition from others in the field. Kyle Busch is one of those drivers. With eight career Bristol wins, he's obviously another statistical favorite, but his lack of consistency this year leaves me hesitant to put him in the winner's circle. While he's hungry, I think that Keselowski is showing more stability in this weird season. Denny Hamlin is another favorite with two wins here, which is the same for Kevin Harvick. You can never count Harvick out, but his most recent win was over four years ago. While he's been on fire this season, Bristol isn't necessarily his best track. I would hold off on using him in your roster and save him for the next few upcoming weekends. Let's take a look at your potential winners heading into this weekend's festivities:
Favorite: Brad Keselowski (+550) Bet this week's NASCAR and NFL for FREE by scoring a 100% real cash bonus on your first deposit of $100 to $300! For those not familiar with how sportsbook bonuses work, if you deposit $100, they will match that with an extra $100 added to your account. The maximum you can deposit is $300 to get an extra $300. Find this sweet offer at MyBookie!
Mid Range Odds: Clint Bowyer (+1400)
Dark Horse: Matt DiBenedetto (+5000)
Matty D is still someone on my radar. The guy's a wheelman. He's not had the best cars and definitely not the best luck, but Bristol is a place that shows off a lot of skill. With a 2nd place finish here in 2019, his long-shot odds may not be the best, but he has results to prove that he deserves to be in the running. I'm impressed with his persistence, and the results speak for themselves. With a multitude of other drivers hogging the spotlight for reasons outside of racing, DiBenedetto deserves some shoutouts for his efforts, and I think he will also prove his worth this weekend. Don't count him out. He's going to have his hands full with the rest of the drivers, including Clint Bowyer. Bowyer has finished 2nd at Bristol two times over, with the most recent being in May of this year. Again, Bowyer has battled some bad luck, but this is one of those tracks that he's consistently good at. I think that short tracks suit him and wouldn't be surprised in the least to see Bowyer really give the front of the pack something to talk about. He'll have to steal it from Keselowski, but you better believe that he's going to try. With some guys having nothing to lose and some having everything to lose, we're sure to see some interesting moves. Let's see where the drivers are sitting after the first race of the playoffs.
NASCAR Standings
Kevin Harvick (+550)
Brad Keselowski (+550)
Denny Hamlin (+400)
Joey Logano (+800)
Martin Truex Jr. (+1600)
Austin Dillon (+1800)
Chase Elliott (+700)
Alex Bowman (+5000)
Kyle Busch (+500)
Aric Almirola (+8000)
Kurt Busch (+1400)
Clint Bowyer (+1400)
William Byron (+5000)
Cole Custer (+8000)
Matt DiBenedetto (+5000)
Ryan Blaney (+1400)
As you can see, Blaney suffered largely due to the penalty his team incurred prior to the playoffs beginning. He's going to be hard-pressed to make that cutoff. DiBenedetto is also in the same situation, with 25 points between him and the cutoff. That's a lot of points when all is said and done. Byron is 3 points behind Bowyer, and Custer is 8 points behind. Bristol should give us a bit of a shakeup as you just never know what is going to go down at the short tracks, much like the superspeedways. I do believe that we're going to see a little more excitement this weekend as the drivers head into another race of the playoffs. Like I mentioned before, some have nothing to lose, and some have everything to lose. That's going to really play a role in their strategy going into this weekend's race. Stay tuned for another race under the lights as the drivers make their way to Bristol Motor Speedway this Saturday! Who you liking in Sunday NFL? Check out our take on the games before betting your picks! Get all of our Week 3 NFL predictions for FREE!