Big Machine Hand Sanitizer 400 Analysis & Predictions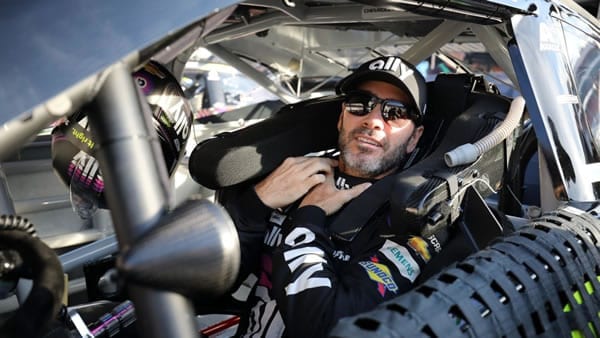 Race: Big Machine Hand Sanitizer 400
Date: Sunday, July 5th, 2020
Track: Indianapolis Motor Speedway
Time: 4 pm ET
Channel: NBC
What Did We Learn From Last Week?
This weekend, we witnessed the first-ever double-header in the Cup series in recent history. Saturday was the first of two races, where the drivers ran a total of 325 laps. Kevin Harvick came out victorious, winning with 0.761 seconds over Denny Hamlin. It really boiled down to tire strategy on the last green flag run for the #4 team. Aric Almirola was running up front and having a very strong day, but his team chose four tires. Harvick's team went with two, and that was the winning move. With only 34 laps remaining, they made the right call, flipped positions with Almirola, and drove away, leading the last 17 laps. Luckily, he and his spotter had great communication as to where Denny Hamlin was in relation to Harvick on the track. With traffic and the gap provided with his fresh tires a little sooner than Hamlin, Harvick remained patient and didn't run his tires off too quickly. This was the first win at Pocono for Harvick, so he was undoubtedly elated to check this track off his dwindling list. Followed by Denny Hamlin and Aric Almirola, Christopher Bell, Kyle Busch, and Martin Truex Jr. rounded out the top 5 for the first of the Pocono races.
Sunday's race was a flip-flop in finishes for the drivers. Denny Hamlin was somehow able to best Kevin Harvick, using a two tire stop to his advantage while Harvick was stuck muddling through lap traffic. The irony was in Harvick's insistence that his Sunday setup was better than Saturday. Although they used the same cars, he felt like his car was stronger on Sunday. Regardless, he wasn't ungrateful. He was very happy with a 1-2 sweep for the weekend. Hamlin's victory on Sunday marked his 4th of the season, 3rd since returning from the COVID situation. Combined, Harvick and Hamlin have won a combined seven races since the inception of the season. That's nothing to sneeze at. To say these guys are your frontrunners for the championship might be an accurate statement at this point. The other drivers are just chasing them. Sunday's top 5 was rounded out with Erik Jones, Chase Elliott, and Aric Almirola. Again, it was another solid day for Almirola. He had 2 top 5 finishes this weekend. He's coming into his own and developing the consistency that he's been missing for several years. With this weekend's race, I think we're going to see another strong performance.
Where Are We Heading This Weekend?
For our July 4th weekend, the drivers are headed to the one and only Indianapolis Motor Speedway. I love watching Indy races. They never fail to give us some really great racing. We tend to have green flag stretches, but inevitably, there are cautions sprinkled here and there. It's also not an easy track to drive. It's been around for eons, and it accommodates a wide variety of racing. Known as the "Brickyard," this track hosts the Indianapolis 500 for the IndyCar Series along with the Brickyard 400 for the NASCAR series. It was also previously home to the US Grand Prix, with multiple variations of road courses throughout the years. It was originally built in 1909, being only the second track purposely built with banking. With a seating capacity of 257,325, it is the venue with the highest capacity in the world. That's pretty awesome. What is not awesome is that the stands will not be filled this year. That doesn't mean we won't see some awesome racing, though. This place is a true 2.5-mile asphalt "rectangular" oval track with 9.2 degrees of banking through the turns and 0 degrees on the straights. With the exception of the turns all being the same, we will likely see a lot of the same scenario as Pocono. That being said, "grip" is what we are concerned with at Indy. While 2 or 4 tires played a role at Pocono, I think that these guys are going to be fighting not driving the tires off their car depending on track temperature this weekend. That is generally the biggest fight that we have here. With lap traffic, grip issues, and tire problems, look for Indy to be an entertaining race.
Odds and Value Picks
Before V's Big Machine Hand Sanitizer race predictions we wanted to remind our readers if they're looking to bet on NASCAR races that there is no better place to start than at our list of best sportsbooks!
When it comes to picking a winner here, we have to look back at this track and see how the drivers have handled this place in the past but also how they've been driving over the last several weeks. Coming off Pocono with a win and runner-up finish, I think Harvick is going to be your man this weekend. He's got two wins at Indy already and has thirteen top 10 finishes in nineteen total starts. With how well the team set up their car for Pocono, I believe that they will have a solid idea of how to show up to Indy for the best finish possible. I put Harvick ahead of Hamlin simply because Hamlin has never won at Pocono. He's had very good finishes here, with a total of eight top-ten finishes in a total of fourteen starts. While that's motivation to get to victory lane, I think that Kevin has the edge this weekend. Let's take a look at your potential winners heading into Indy.
Favorite: Kevin Harvick (+450). Bet your NASCAR picks for FREE this weekend by taking advantage of a special bonus where you can deposit $100 to $300 and MyBookie Sportsbook will add a bonus to your account in the exact amount that you deposited! Example: Put $200 in your account and they'll add another $200! You must use this special activation link in order to take advantage of this great offer.
Middle of the Road: Jimmie Johnson (+3300)
Dark Horse: Matt Kenseth (+6600)
While Kenseth might seem to be a one-off pick, especially with a +6600 showing right now, he's a veteran driver running with a limited team. Take that for what it's worth, but he had 4 top 5 finishes when he ran for JGR. I think that his experience will definitely help him heading into this track. Jimmie Johnson, well, he's either going to win or wreck. He's a risky pick, but he's the winningest active driver with four wins here. He's running better odds at +3300 currently than our dark horse. If Johnson can bring a solid car to this track, with the way his season has been going, he might just have a shot at victory lane. He's going to be tailing Kevin Harvick, though. Harvick is going to get out front and stay there for the majority of the day if history repeats itself. I wouldn't be surprised to see him lead the most laps either. Hamlin will be hot on his trail, but Harvick should overcome. Let's take a look at where these guys stand in the points after Pocono:
NASCAR Standings
Kevin Harvick (+450)
Ryan Blaney (+1000)
Brad Keselowski (+600)
Chase Elliott (+1000)
Denny Hamlin (+450)
Joey Logano (+700)
Martin Truex Jr. (+1000)
Alex Bowman (+3300)
Aric Almirola (+3300)
Kurt Busch (+2500)
Kyle Busch (+500)
Jimmie Johnson (+3300)
Clint Bowyer (+2000)
Matt DiBenedetto (+8000)
William Byron (+2500)
Erik Jones (+2500)
Logano was one of the biggest losers of the weekend. He went from 2nd to 6th when all was said and done. Keselowski jumped from 5th to 3rd. Erik Jones managed to creep back into the top 16, while Tyler Reddick fell back out. Aric Almirola also made some moves, going from 12th to 9th. I think that we will see some more shifting in the points after Indy. This is a track where the rookies can sometimes struggle, so I will be interested to see how the likes of Christopher Bell and Tyler Reddick do. Bell's finishes here in the Xfinity series were not very strong. He'll be looking to do better at his first show in the Cup Series, but I still think that we will see him falter against the veteran drivers. Reddick only has three starts in the Xfinity series, but they were 37th, 2nd, and 30th finishes. I'm not sure how he will pan out. I think that the smartest thing they can do is to try to drive a clean race and keep themselves out of trouble. Let's see who actually makes that happen! Stay tuned for an awesome patriotic-filled day of racing this Sunday at Indianapolis Motor Speedway!