Blue-Emu Maximum Pain Relief 500 Picks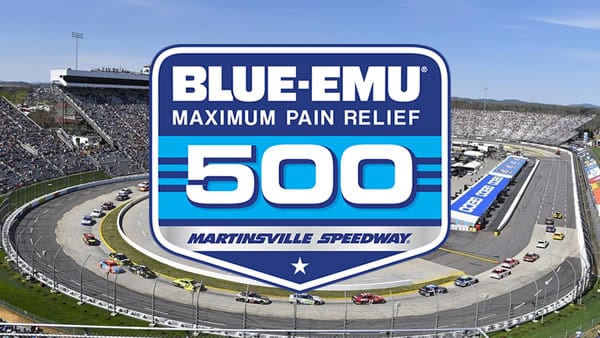 Race: Blue-Emu Maximum Pain Relief 500
Date: Saturday, April 10, 2021
Track: Martinsville Speedway
Time: 7:30pm ET
Channel: FS1
What Did We Learn From Last Week?
What a fiasco Bristol turned out to be. While I was hoping for some better racing, it seemed to be plagued with overheating cars and tire problems. There was very clearly a lot of prep that went into the track, but it doesn't seem like prep that really helped in the actual racing portion. Perhaps one of the funniest things to witness as a spectator was the sheer amount of dirt that was sticking to the windshields and grills of these cars. While some of that is due to the configuration of the vehicles themselves, a lot of that had to do with track prep (or lack thereof). You can't expect to lay 30,000 tons of dirt, and it be ready to race on in a matter of days for the biggest feature race. Obviously, setting up a dirt track over a concrete surface for stock cars that aren't set up for this type of racing is a challenge in and of itself. That said, if we know that we are taking stock cars that are very minimally modified, perhaps the track should be configured or made to fit the nature of the cars that are going to run on it. These cars are vastly different in terms of motor specs and even body specs when compared to any modified dirt track car. They couldn't reasonably think that a track that a seasoned modified would have a hard time running on would be suitable for a typical NASCAR Cup Series car, could they? Well, I guess they did. Never mind the fact that there is such a place as El Dora that is very well known and very well seasoned at this point. It's owned by Tony Stewart, so we have to assume that there is a touch of knowledge behind the setup of the track. We could also make a reasonable assumption that knowing how the track conditions are would lead to a better opportunity for NASCAR drivers and teams to set up their cars more effectively.
Regardless, here we are. Seven races this year and seven different winners, although that isn't surprising with the nature of this Bristol race. Joey Logano came out on top, a little over half a second ahead of Ricky Stenhouse Jr. The race was filled with a bunch of frustration for many of the drivers. Lap 41 saw a pretty gnarly crash involving Corey LaJoie, Anthony Alfredo, and Aric Almirola. This was followed by a spin from Ryan Newman followed shortly thereafter by Christopher Bell wiping out, taking favorite Kyle Larson with him, ending any hope for a victory that day. Kyle Busch ended up 17th after overheating early in the race. One driver made a silver lining for the day, though. Leave it to Daniel Suarez to come home with a 4th place finish with literally zero dirt track experience. This guy's attitude and skill are what keeps him moving forward. I haven't seen a driver so happy to have the opportunity to drive a Cup car. Suarez is the epitome of gratitude. He's good for a chuckle as well. He wasn't able to get past Denny Hamlin for third, even though Hamlin swiped the wall late in the race, but Suarez finished an impressive 4th place. Despite his rather perfect 360 degrees spin, Ryan Newman came rounded out the top five.
Where Are We Headed This Weekend?
This weekend, the drivers are headed from one short track to another after a nice Easter break. Martinsville is the smallest track on the circuit. It is actually known as the "paperclip" due to its configuration. It's got sharp flat turns leading to short straights. In fact, the straights are only 800 feet. That means the drivers are forced to brake heavily into the turns and really throttle out of them. With only 12 degrees of banking in the turns and no banking on the straights, you can imagine that the speeds aren't nearly as high here as in other places. Even Bristol runs speeds significantly higher. The biggest battles at Martinsville tend to be tires. It's hard to manage tires on a track like this with such heavy braking and hard racing around lap traffic. The second-largest challenge here is pit road. This is a very small pit road with a small window of opportunity to control speed. Be prepared for a lot of speeding penalties. Also, be prepared for a lot of traffic jams and some potential spins. With the tight spaces on pit road, it's inevitable that we are going to have some issues on that platform.
Odds and Value Picks
When we consider the potential winners coming into this weekend, Bristol is not a good indicator for how the teams will perform for this weekend. We have to use past data, although use it with caution as we've already seen that this year isn't following the trends. That being said, everyone seems to be making a safe bet and going with Martin Truex Jr. for Saturday night's race. He's won the last 2 of 3 races here at Martinsville. That's not too bad. He's led a ton of laps here as well, but I'm not convinced that he's better than Denny Hamlin this year. In my opinion, Hamlin is just running better overall. I believe that Hamlin will prevail. He stats are significantly better over the course of his career. His average finishes are inside the top 10, whereas Truex has an average finish around 17th. While the majority of Hamlin's wins come prior to 2011, his record is still consistently strong over the years since. His last win came in 2019. Let's take a look at your potential winners heading into this Saturday night's race at Martinsville:
Favorite: Denny Hamlin (+600) Bet your NASCAR picks FREE by taking advantage of a 100% REAL CASH BONUS on your first deposit of $100 to $1000 at BetNow Sportsbook!
Mid-Range Pick: Kurt Busch (+2800)
Dark Horse: Ryan Newman (+8000)
Newman is coming off a top 5 finish at Bristol. Although Bristol isn't a great indicator for this weekend, the strong finish on a short track never hurts. Newman's record at Martinsville is one of his better tracks. He has one win, eight top-five finishes, and 17 top-ten finishes. If Newman can pull off a win this year, Martinsville is going to the place to do it. I do believe that he will be a strong contender and one to watch. Kurt Busch is going to be racing hard as well. While he isn't running in the strongest equipment he's ever had, Busch is a true wheel-man. This is where he has an advantage over the other guys. His experience and skill are really going to give him an opportunity to get a win here this weekend. With two wins, four top fives, and nine top 10 finishes, Busch has proven that he has what it takes to get to victory lane once again. He also has a great opportunity to pick up even more spots in the standings. He grabbed five positions after Bristol and is looking to climb even higher. Let's see how the teams are looking heading into this weekend.
NASCAR Standings
Denny Hamlin (+600)
Joey Logano (+750)
Martin Truex Jr. (+500)
Kyle Larson (+1000)
Brad Keselowski (+650)
William Byron (+1800)
Ryan Blaney (+700)
Kevin Harvick (+1200)
Chase Elliott (+600)
Christopher Bell (+2800)
Austin Dillon (+8000)
Michael McDowell (+20000)
Kyle Busch (+1000)
Ricky Stenhouse Jr. (+15000)
Kurt Busch (+2800)
Alex Bowman (+2500)
Alex Bowman is hanging on by a thread to the top 16 spots. I think that he will actually have a good weekend here. This should boost him a spot or two. Kurt Busch is also going to have a strong run, barring any pit road penalties or on-track incidents. The beauty of Martinsville is that even with on track incidents, it is possible to stay on the lead lap and continue to be competitive. Aerodynamics don't mean a whole lot here, so we often see cars with donuts on the fenders and missing parts finishing within the top ten. It's not unheard of for a very damaged looking car to come away with a win even. Stay tuned for a great night of short track racing under the lights as the drivers and teams head to Martinsville. Did you know that you can bet on NASCAR races live-in-progress? YES! Find this beautiful wagering option at Bovada Sportsbook! Your credit card will work for deposits and you get a 50% signup bonus too!