Buschy McBusch Race 400 Analysis & Predictions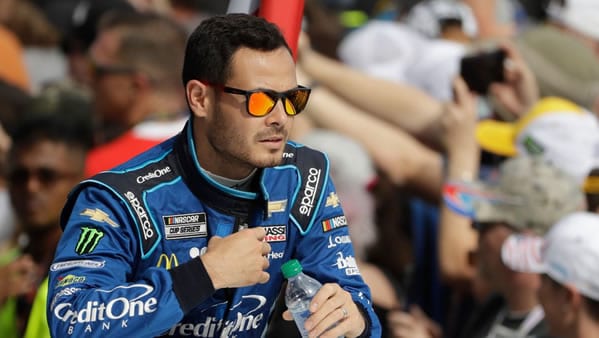 Race: Buschy McBusch Race 400
Date: Sunday, May 2, 2021
Track: Kansas Speedway
Time: 3 pm ET
Channel: FS1
What Did We Learn From Last Weekend?
Well, well, well. I can feel the fans cringing at the winner of Sunday's race at Talladega. I find it pretty hilarious just how disliked Brad Keselowski is, but love him or hate him; he earned the trophy this past weekend. The entire Penske organization is skillful on any track requiring speed. This weekend showed us exactly what Daytona didn't this year for the team. If you can remember, Keselowski and Logano were going for the win in the closing lap of Daytona and managed to wreck themselves out. It didn't happen this time, though. Keselowski led only one lap the entire race, but it was the only lap that mattered!
Interestingly enough, you would've thought Bubba Wallace was going to win based on the announcing. Now, I get it. He won his first stage. But y'all. Seriously. Really. Come on, now. Wallace is a third-string driver. I said it. I will say it again too. I mean, he's better than me, but for a driver that regularly finishes no better than the top 15 (and that's being generous), why are we spending so much time on discussing him during the broadcast? There are a ton of other drivers that have much better finishing averages than Wallace this year, but we rarely hear about them. Let's hear some more about Christopher Bell or Ryan Preece or DiBenedetto! Those guys are racing and racing hard. Wallace is being scolded by his own team. That speaks volumes. He is in his own head and truly believes it's the Bubba Wallace show. Perhaps the fact that they're actually making a show about him is adding to that is adding to his inflated head, but who knows. Well, ya need to earn it, buddy. I'll be the unpopular opinion and say that he gets entirely more time than his merit deserves.
Where Are We Headed This Weekend?
This weekend, the drivers are heading to Kansas. This track is a 1.5-mile asphalt tri-oval. It has 17 to 2 degrees of progressive banking through the turns, 9 to 11 degrees through the front stretch, and 5 degrees of banking on the backstretch. The toughest situation at Kansas has historically been tire wear. It has a good amount of time on new pavement since its resurfacing back in 2012. Goodyear has historically used this track as a means to test to build a better compound. Second, to tire wear is fuel strategy. This has always been a headline at Kansas, but since we've been using the stage model, fuel strategy isn't too big of a deal. We could see this play a role if the race ends up in overtime. At Kansas, I'd dare say it probably won't. I think that we're going to see tires hold the lead role in terms of important strategies for these teams as well as the things that cause the most chaos throughout the majority of this race. Kansas is a track that allows a lot of green flag racing if the drivers are able to stay out of trouble. Oftentimes, we see drivers get squirrely. There's a lot more racing at Kansas than a lot of the other intermediate tracks. It might be the configuration, but whatever the case may be, Kansas is typically a very good race for the fans and drivers alike.
Odds and Value Picks
When we consider the potential winners heading into Sunday's race, we can look at last week's winner, but I don't think that we're looking in the right direction. Moving on from Talladega to an intermediate track, there's truly no comparison. While Keselowski is a strong driver, this is not his track. He will likely have a top 20 and maybe even a top 5 finish, but I don't see him taking the checkers on Sunday. Denny Hamlin won this race last year, but I'm not sure that he's the best pick for the weekend. In fact, the whole JGR garage isn't impressive to me here in Kansas. Based on this year so far, I think that the Hendrick teams have a lot more going for them than the rest of the field. While Bowman might still be a longer shot, Elliott, Larson, and even Byron are some serious competitors. They have done very well to this point so far this year on the intermediate tracks, and I see that being the case this weekend as well. Let's take a look at this weekend's potential winners:
Winner: Kyle Larson. Bet your pick for FREE by taking advantage of a 100% REAL CASH bonus on your first deposit of $100 to $500 at GTBets Sportsbook!
Mid-Range Pick: Alex Bowman
Dark Horse: Erik Jones
Sooooo, Jones is a stretch. Duh. That's why he's a dark horse. With the exception of last year, his run of top 10 finishes is impressive. In fact, he's had 5 top 10 finishes in 9 races. This is one of his best tracks. Jones is looking for a place to shine. If he can get his confidence to live up to his potential, he's going to soar. Look for Jones to really be a competitor this weekend heading into Kansas. Bowman finished 3rd in his last Kansas start.
Interestingly enough, his finishes very closely mirror his starts. Where he starts the race is going to be significant. That being said, this season is tough with no practice. Bowman will likely surpass his starting position. It's a great opportunity for him to gain some valuable points, if not a win. Definitely keep your eyes peeled for Bowman to be strong this weekend. Finally, Kyle Larson is going to come in strong. While he's only had 5 top 10 finishes in 12 starts, all of those starts were with Chip Ganassi. Running on a Hendrick team has given Larson an enormous opportunity, and things seem to be going in his favor this year. Larson is the one to watch. He's trying to truly solidify his spot in the Chase, and Kansas might just be that track to really add up the points. Let's take a look at our top 16 heading into Kansas this weekend.
NASCAR Standings
Denny Hamlin
Martin Truex Jr.
Joey Logano
William Byron
Ryan Blaney
Brad Keselowski
Kevin Harvick
Chase Elliott
Kyle Larson
Christopher Bell
Kyle Busch
Austin Dillon
Michael McDowell
Alex Bowman
Ricky Stenhouse Jr.
Chris Buescher
Look at that. Funny how Bubba Wallace isn't in that top 16, yet he overshadows so many of these drivers. In fact, Bubba Wallace is sitting in 20th in the points. He's got some work to do in order to make it into the Chase. Call me crazy, but I don't see it happening. I'll apologize if he somehow makes it in. I do not think I'm wrong here, though. He's being beat by Michael McDowell, Stenhouse, and Buescher at the moment. Obviously, those positions are fluid, but to this point, they are sticking in contention. Kansas will probably cause some movement, but I still don't see Bubba making it into the top 16 spots afterward. Let's wait and see, I suppose. Stay tuned for an amazing weekend of racing at Kansas Speedway! Want more free bets? Receive a 100% bonus on your initial deposit of $100 to $1000 at BetNow Sportsbook!
100% REAL CASH up to $300

USE BONUS CODE:
PREDICT100