DuraMax Drydene 400 Value Picks & Race Analysis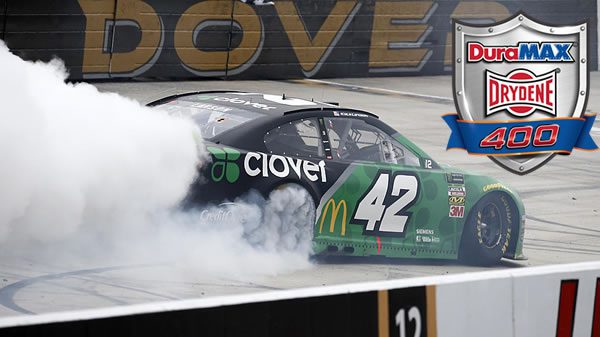 Race:
DuraMax Drydene 400 Presented by RelaDyne
Date: Sunday May 1, 2022
Track: Dover Motor Speedway
Time: 3pm ET
Channel: FS1
What Did We Learn From Last Weekend?
The Watermelon Man does it again! Ross Chastain took the win in a wild Talladega finish on Sunday afternoon. This marks his second win for the season after coming off a road course win about a month ago at COTA. This was actually the same car that the team won with at that track, proving the versatility of the next-gen cars from one configuration to another. The adaptability is definitely a plus. One thing that Talladega did manage to show us, though, is that the next-gen car isn't invincible. While it's sturdy, it can't withstand the devastation of superspeedway walls. There's a lot to be said about the durability of the car overall, but there are just some places that no car will withstand the forces of nature, and Talladega and Daytona are two of those places.
For anyone driving a Ford on Sunday, that seemed to ring true. In fact, out of 16 Fords on the track, one wreck collected 5 of them. The eight-car crash that collected a total of 5 Fords was initiated by Bubba Wallace throwing Joey Logano into an outside wall before the cars even got up to full speed on a restart in stage 2. Wallace was sloppy, to say the least. Poor Logano can't seem to catch a break at Talladega. I thought this was going to be his weekend. He showed up with a pretty strong car and restarted on the third row, but that wreck gave him his first DNF of the season, something no driver wants to accomplish. He made a comment that Talladega is definitely not on the list of his favorite tracks. Chris Buescher and Chase Briscoe were collected in an earlier incident, adding to the woes of the Ford teams. It was a solid day for Team Chevy, claiming 6 of the top 10 spots. Austin Dillon took his Chevy home in the runner-up spot, while Kyle Busch came in third as the best finishing Toyota driver. Kyle Larson and Martin Truex Jr. rounded out the top 5 spots. Erik Jones came home 6th after almost winning before losing it all when he drove up the track in an effort to block Kyle Larson on the outside lane. That left the door open for Chastain. Lardon's teammate, Chase Elliott, finished a respectable 7th while Michael McDowell was the best finishing Ford in 8th place. Alex Bowman and Kevin Harvick finished out the top 10 spots.
Where Are We Headed This Weekend?
It's crazy to see these guys go from a superspeedway to a totally different type of track, but that's just what they're getting ready to do. The drivers and teams are headed to Dover Speedway this weekend. This place is dredged in NASCAR history and a favorite of both fans and drivers alike. Since 1995, the Monster Mile has been a concrete surface, replaced from the original asphalt that it held since its inception in 1969. With 24 degrees of banking in the turns and 9 degrees on the straights, this track lends itself to some pretty fast speeds for just 1 mile. What guys have to conquer here are the tires. This place is notorious for eating tires away during the race. It'll be interesting to see how much the next-gen car affects tire wear and how that will ultimately play a role. Between tire wear and pit stall picks, Dover can be a tricky place for many of the drivers. Pit selection is crucial and can very often make a massive difference in the restarts and running position for these guys. The leaders are able to pull away and lap the track, often putting multiple seconds between themselves and the rest of the field, so any advantage in terms of track position is definitely a win.
Odds and Value Picks
The best drivers at Dover are arguably the veterans. I know that we're seeing a lot of success out of the younger crew this year, but this is just a place where experience is key. It's a track that will eat a driver up if he doesn't know how to navigate the gritty surface and stay out of the way of the lap traffic before becoming part of the lap traffic. Overall, there are several good choices, even choices that may not make sense based on the current finishes of some of these guys this year. That said, Dover might be a good opportunity for some of these guys that are grasping at straws to make somewhat of a comeback for a decent finish. Let's take a look at your potential winners heading into the Monster Mile:
Favorite: Kyle Larson +550. Bet YOUR Dover picks for FREE by taking advantage of a 100% real cash bonus on your first deposit up to $300 when you use bonus code PREDICT100 at MyBookie Sportsbook!
Mid-Range Pick: Kevin Harvick +1600
Dark Horse: Erik Jones 12500
It might be a touch crazy, but Jones has an average finish of right around 15th place. Now, he's struggled in the past, but I believe that coming off an almost-win at Talladega lit a fire for him. While Dover is a totally different ballgame, Jones may just be able to make a comeback and show us all once again what he's worth. I'm rooting for the underdog this weekend and hoping that he can best his one top 10 finish at this track. Kevin Harvick is someone that we can't scoff at. While he hasn't been hitting on much as the weeks tick on, if there's anywhere that he's going to do it, it might just be Dover. Since 2019, Harvick has had an average finish of 3.8 here. He has one win and 4 top 5s on top of that. He definitely knows his way around this place and might just surprise us all with a much-needed victory lane appearance. What they will all have to watch out for is Kyle Larson. Larson tops the chart in terms of driver ratings in recent Dover history. His average finish is 2nd. Now, keep in mind that he's only had three total races under his belt, but he made them count. He was on fire last year. <
p>It's fizzled some here in 2022, but with a strong run at Talladega and really trying to get to victory lane, we might see that come to fruition on Sunday. I'm sure he's hoping for an opportunity to add more points to his roster, and this is definitely an opportunity for him to do just that. Let's take a look at the standings as these guys head to Delaware on Sunday:
William Byron
Chase Elliott
Ross Chastain
Ryan Blaney
Alex Bowman
Kyle Busch
Kyle Larson
Chase Briscoe
Denny Hamlin
Martin Truex Jr.
Austin Cindric
Joey Logano
Aric Almirola
Austin Dillon
Kevin Harvick
Christopher Bell
As you can see, Kevin Harvick is barely hanging on to the top 16. This weekend could really help him out, so I think we're going to see a more aggressive Harvick in the race. Now, can any of you honestly say that you would've envisioned Ross Chastain sitting here a quarter of the way through the season in third place? Not only that, but the guy is one of only two multiple winners so far this year. This is what a team like TrackHouse Racing needs. Talk about a morale boost! I think that Chastain will have another good weekend, but Dover will be tough on some of these younger drivers with less experience. But, hey, as we've seen, anything is possible this year. Stay tuned for another great afternoon of racing as everyone heads to the Monster Mile! Did you know… You can bet on NASCAR races live-in-progress? Yes! They'll give you a 50% welcome bonus too! Find this killer combination of goodness at Bovada Sportsbook!