Fanshield 500 Value Picks – Race Analysis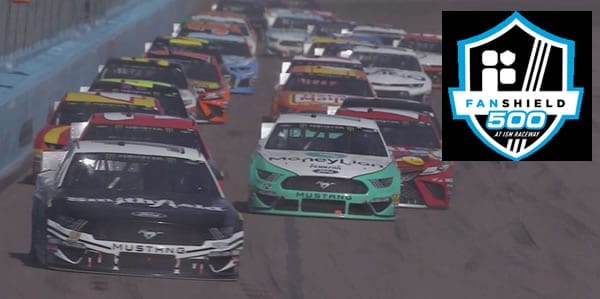 Race: Fanshield 500
Date: Sunday, March 8, 2020
Track: Phoenix Raceway
Time: 3:30pm ET
Channel: FOX
What Did We Learn From Last Weekend?
Well, if Alex Bowman had concerns about his contract, he's doing his best to prove he's worthy of his ride. He drove his No. 88 into victory lane on Sunday at Fontana, and it definitely wasn't by happenstance. Bowman showed he is a force to be reckoned with and stayed out front or with the lead pack for the majority of the race. Honestly, it was a good indicator of the strides that Chevrolet teams have made in the off-season. Bowman led a total of 110 of the 200 laps, and he ran away with the last stage. In fact, he finished 8.904 seconds ahead of second-place Kyle Busch. For Ryan Blaney, it was another disappointing run. He was running second with three laps to go but had to end his birth at victory when he had a right rear tire go down. It's such a shame because he had a very solid car and was doing a heck of a job. Blaney actually won stage 2 and led a total of 54 laps for the day. He was the class of the field next to Bowman, in my opinion. Busch kind of lucked into second place and just couldn't get his car where it needed to be when all was said and done, but nonetheless, you can't sneeze at a 2nd place finish.
The day started out all about Jimmie Johnson, though. Being that Fontana is his home track, they honored him in a grand way. His wife and daughters also got to wave the flag for the start of the race. It was a very touching tribute to Johnson, with his seven championships proudly displayed for all to see. Johnson ran a good race and stayed in the front, leading ten laps, but he slowly faded in the last stage. He came home with a respectable 7th place but just didn't have enough when it mattered most. Kurt Busch came home 3rd with Chase Elliott and Brad Keselowski rounding out the top 5 spots. Denny Hamlin came home 6th, but that was after he put Larson into the wall. I was actually a little taken aback, as was Jeff Gordon, who was commentating at the time. Hamlin was trailing Larson and ended up on his bumper. He literally pushed Larson down the track and eventually into the wall. It was a very aggressive move on Hamlin's part. I really think that it was uncalled for. Hamlin had plenty of race left and didn't have to dump Larson so quickly. He could've moved out of line and taken the low line to pass Larson or just laid back a *touch* so he didn't ruin Larson's day. Hamlin made fun that he was just "bump drafting" but Hamlin…SKILLED bump drafting doesn't require you to dump fellow drivers, just sayin'.
Where Are We Headed This Weekend?
This weekend, there isn't going to be the same opportunity for bump drafting as the drivers head to Phoenix. This track is a track that is relatively unique. It is much smaller than Vegas and Auto Club. Phoenix is a 1.022-mile asphalt dogleg oval. The back and front stretch boast 3 degrees of banking with a variable 10-11 degrees in the dogleg. Turn 1 has 8 degrees of banking, with turn two varying from 8-9 degrees. Finally, turns 3 and 4 boast between 10-11 degrees. As you can imagine, this unique configuration makes it tricky to set up the cars. One of the biggest battles that the teams have at Phoenix is tires. I always describe this track as a big short track. At just over one mile and being relatively flat, it takes a lot of skill to maneuver around this place. Tires are going to wear due to braking in and out of the turns and also the lack of banking. The blue walls will see some scuffs before all is said and done. Another issue that drivers come across at Phoenix is traffic. Oftentimes, there are multiple drivers that are a lap or more down. With the track being smaller, it can be more challenging to maneuver around those guys, who are consequently racing their own race as well. It's unfair to say that they don't deserve to race. It's simply another element of the race that drivers have to take into account. I mean, Jeff Gordon was three laps down at Martinsville and still came back for the win. Crazier things have happened.
Odds And Value Picks
When it comes to winners, though, I don't think that a car three laps down will win this weekend. Many other guys are choosing the obvious pick, Kevin Harvick. I mean, with nine wins and the best average finishing position among active drivers as well as the active driver who's led the most laps here, it's hard to say that Harvick doesn't have a pretty good shot at the win. Harvick is coming off a 9th place finish at Auto Club, and an 8th place finish at Las Vegas. He's steady in the top 10 but hasn't found the speed on the intermediates quite yet. Phoenix is a track that Harvick has his best shot at so far this season. With that said, there's one other driver that might be able to keep Harvick out of victory lane. Kyle Busch actually has a better average finish over his last four races here with two wins. He won this race last year, and if he can use his runner-up finish from last weekend for a little momentum coming into Sunday's race, I think that Busch is the one to beat when all is said and done. He's currently the favorite when it comes to the odds at +375, with Martin Truex Jr. being next to best at +475. Let's take a look at your potential winners heading into Phoenix:
Favorite: Kyle Busch (+375)
Middle of the Road: Ryan Blaney (+1200)
Dark Horse: Aric Almirola (+4000)
Almirola is a bit of a risky pick, but the payout will be good if he can pull it off with current lines holding him at +4000. With the exception of a 22nd place finish in November's Phoenix race, Almirola has managed 2 top 5 finishes and 2 top 10 finishes in his last five races here. He's got this place figured out pretty well, and his SHR team seems to give him a great car every time they head here. With an 8th place finish at Auto Club, he's got some momentum to work with coming into this weekend. He will be battling a lot of other hungry drivers, including Ryan Blaney, who seems to have been robbed a few times this season already. You better believe that Blaney is coming on strong. He's had the car to win and fell victim to crazy circumstances so far in 2020. If he can manage to keep his car in good shape, there's no reason he won't be competing for the win. With his current odds at +1200, he's in good company with both Joey Logano and Brad Keselowski. Blaney came in 3rd in both of the Phoenix races last year, so it's clear that he knows his way around. Look for Blaney to be challenging Kyle Busch for the win this weekend! Also note, Blaney is our current points leader. That's nothing to sneeze at. Let's take a peek at where the remainder of the field stands after Auto Club.
NASCAR Standings
(Fanshield 500 Odds)
Ryan Blaney (+1200)
Joey Logano (+1200)
Alex Bowman (+1600)
Kevin Harvick (+600)
Jimmie Johnson (+2500)
Chase Elliott (+1000)
Denny Hamlin (+600)
Matt DiBenedetto (+4000)
Kyle Larson (+2000)
Aric Almirola (+4000)
Chris Buescher (+10000)
Brad Keselowski (+1200)
Martin Truex Jr. (+475)
Austin Dillon (+15000)
Ricky Stenhouse Jr. (+10000)
Clint Bowyer (+4000)
Alex Bowman clearly had the biggest jump by winning at Fontana. He moved from 14th to 3rd in the standings. He's coming into this weekend with odds better than a good 2/3rds of the field, so there's some faith in him that he's going to keep his momentum through this season. He's going to have to work hard to stay there, but as I mentioned before, it seems that the Chevy teams have managed to figure some things out. Matt DiBenedetto made a couple of gains, as did Martin Truex Jr. and Denny Hamlin. Bubba Wallace fell out of the top 16, but that was honestly to be expected. Ricky Stenhouse Jr. also had a dramatic fall from 5th to 15th. I'm not sure if that team has what it takes to stay in the top 16 this year. We will have to wait and see how Phoenix treats everyone. Stay tuned this weekend as the drivers battle each other and the blue walls of Phoenix!