Hollywood Casino 400 Picks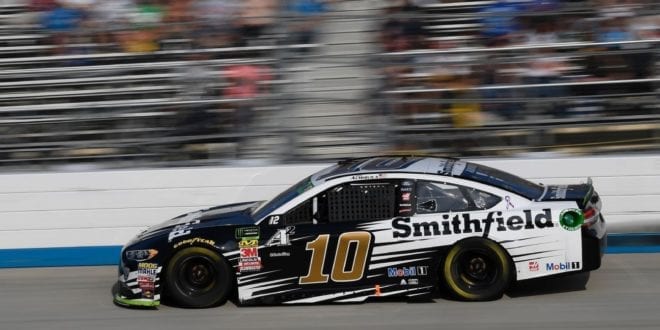 Race: Hollywood Casino 400
Date: Sunday October 21, 2018
Track: Kansas Speedway
Time: 2:30 pm ET
TV: NBCSN
By: Virginia Vroom, NASCAR Handicapper, Predictem.com
Another one of our picks managed to take the checkers at Talladega this weekend! Aric Almirola took the checkers in what turned out to be a somewhat controversial race, ending with Kurt Busch running out of fuel and NASCAR somewhat with its tail between its legs. A caution was thrown that likely shouldn't have been thrown, creating havoc on fuel strategy for a lot of teams. NASCAR has had difficulty in the past when it comes to consistency in its caution practices. Most of the time, the discrepancies occur when NASCAR throws a caution when they "believe" that the track won't be clear by the time the pack comes back around; however, this is a very subjective scenario, creating a lot of controversy and anger from other drivers and fans alike. This weekend, it most likely caused Kurt Busch a win.
Regardless, SHR still dominated the race. They started with all four cars in the top 4 spots. If that doesn't bleed domination, then I don't know what does. SHR does, though. Not only did they qualify in the top 4 spots, but they led a ton of laps and stayed lined up throughout the majority of the race. That group of cars really showed off, showing strength that no other garage could seem to gather up. The speed was there. The teamwork was there. Everything just fell into place for these guys.
5Dimes: Rated by Players as the top Nascar Betting Site
This weekend, we are heading to another fun track. Kansas is a place that some drivers love and some drivers hate. It's a track with a few nuances, but it's nothing that they haven't tried to work out. Several years ago, tires were such a huge story here. Through multiple testings, trials, and tribulations, Goodyear seems to have a good compound to bring to the track. Before, tires were being rationed by the teams like they were the last bottle of bourbon during the Prohibition Era. Now, not so much. This track is a 1.5-mile asphalt tri-oval. It has 17-20 degree variable banking through the turn, 9-11 degrees on the frontstretch and 5 degrees on the backstretch. For whatever reason, this track runs a little differently than the rest of the intermediates. It's got its own personality for sure. Although the tire compound has been tested over and over again, don't ignore the fact that they will still likely be an issue for the drivers. Last year, they ran a multi-zone tire, promising to give the drivers a level of grip to run multiple lines. This worked fairly well. Only time will tell if the grooves continue to grow or if drivers will continue to hold their own preferred lines. Kansas is a track where drivers can easily pass so long as they can maintain speed somewhere other than the bottom groove.
If I had to pick a winner here, I'm going with a repeat of the Spring winner. Kevin Harvick may already be virtually locked in, but he's trying to gain as much as he can as we come to a close to this season. Every single point counts, locked in or not. I think that he will have a run for his money from the others trying to get locked in, but Harvick is smart enough to run a conservative yet aggressive race. He's got Kansas figured out and knows how to take care of his equipment. I think that his biggest competitor will be Martin Truex Jr., who is currently sitting in 8th in the standings, which is hard to believe after the season that he's had. He has some work to do. A lot of these guys have a lot to work on, so this weekend will be critical as we close the second round of the playoffs. Here's a look at your potential winners heading into Kansas:
My Pick to Win: Kevin Harvick
Middle of the Road Pick: Kurt Busch
Dark Horse Prediction: Alex Bowman
Bowman is one of those hit or miss Nascar drivers. He seems to be improving and then he falls of the face of the planet. I think that he will be pretty solid at Kansas, as the intermediates seem to be tracks for him to progress at. Kurt Busch is another driver who's really picked up his game in the last half of the season. He's had a great few weeks, and I believe that he will continue the streak moving through this weekend. SHR is where it's at lately. The Chase has lit a fire under that entire garage. Kevin Harvick has the moves, though, to really take home the checkers this weekend.
Here are your current top 12 after last week's race:
1. Aric Almirola
2. Chase Elliott
3. Kevin Harvick
4. Kyle Busch
5. Joey Logano
6. Kurt Busch
7. Clint Bowyer
8. Martin Truex Jr.
9. Brad Keselowski
10. Ryan Blaney
11. Kyle Larson
12. Alex Bowman
As you can see, Bowman is hanging on by a thread. He's 68 points out. His only hope is this win, so you better believe he's really thinking that he's got nothing to lose. Truex and Keselowski are tied as far as points, but wins put Truex ahead. Keselowski has a lot to do this weekend as well. The close of these rounds are always some of the most exciting races. There is a lot of tension built up and a lot on the line. There are only a handful of races left until the champion is crowned for this season, and there's just Kansas standing between the last two rounds. Stay tuned as the drivers head into what will likely be more chaotic than Talladega as they battle it out to make the final cut for the next round.