Kwik Trip 250 Race Analysis & Value Picks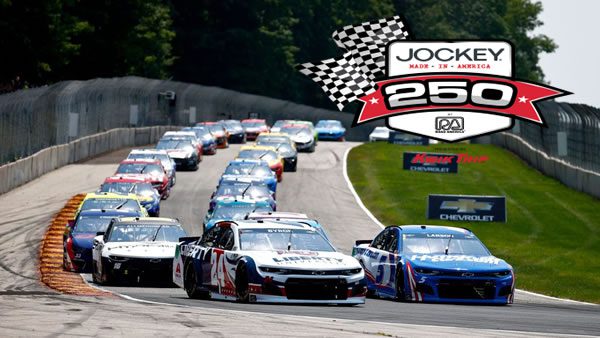 Race:
Kwik Trip 250
Date: Sunday July 3rd, 2022
Track: Road America
Time: 3pm ET
Channel: USA
What Did We Learn From Last Weekend?
That was longggg. Seven hours. That's how long it took for Chase Elliott to secure his win at Nashville and probably one of the longest races in recent history. It rivaled the Coca-Cola 600 for its length. That said, Kurt Busch had a strong finish, congratulating Elliott in victory lane after the race. That was a much classier move from the Busch clan. Kyle generally isn't so congratulatory to anyone other than himself, if we're being honest. The race overall was a pretty good one. We saw quite a few times where cars were running in groups and even times when the gaggle hung on for a good while. The surface of Nashville makes things a little challenging, as it's pretty rough, which may have played into a few of the loose cars we saw throughout the race. True to character, this track showed the importance of track position, with Chase Elliott choosing to stay out on the last caution, securing his spot with four laps left to go. He actually overcame quite a bit after suffering from a very slow pit stop earlier in the race that pushed him all the way back to 25th. That's a pretty significant ding in the grand scheme of intermediate track racing. His team helped him throughout the race, and Elliott drove hard to get his position back to where it needed to be. The gamble he took by not pitting there at the end paid off big time.
The race was delayed twice by lightning, even though the track seemed to be sandwiched between the showers and storms. Nonetheless, NASCAR is always required to halt the race when lightning is within the vicinity of the track for the safety of both the fans and the teams and drivers. When the race resumed, and laps were ticking off, I think we were all pretty surprised to see an HMS driver take the win after a couple of the drivers suffered losses early on. Not only that, but the Gibbs garage seemed to have this race won. Between Hamlin, Truex Jr., and Kyle Busch, team Gibbs led 250 of the 300 laps. That's nothing to sneeze at! But as we saw, that pit strategy there later in the race cost the Gibbs drivers any shot at a win that they had. Honestly, I think they maybe thought they'd have a few more go onto pit road with them and also have a lap or two more. If those things had fallen into place, they might have had a better shot, but unfortunately, that's not the way the cookie crumbled. Those three drivers actually were behind Elliott on the restart, but Elliott's car came to life, and that clean air is all he needed.
Where Are We Headed This Weekend?
This weekend, the drivers and teams are celebrating America's birthday in style at Road America in Wisconsin. The NASCAR Xfinity Series has been coming here consistently since 2010, but the Cup Series only has one run, and that was last year. This track is a 4.048-mile asphalt course with a total of 14 turns. There are some pretty cool turns and also a carousel around 9 and 10 heading into another slight bend at turn 11. The key with any road course is taking care of your equipment. Heading into so many turns requires a strong skill set with braking and acceleration. We've seen many times where drivers end up with brake failure or even power steering failure. That's treacherous on any road course. Hopefully, we don't see any teams or drivers suffer from that type of failure this weekend. That being said, I wouldn't hold my breath. Track position is also critical at this track, as passing can be challenging. There are only certain spots on the track that we consider "passing zones." It's tough to pass throughout a good portion of the track, and cars get in each other's way all the time. Drivers will be using fenders to move guys as they carry momentum down into the turns and try to brake soon enough to stop but late enough to catch someone else. That will be the key.
Odds and Value Picks
When it comes to picking a winner for road America, there are several drivers that we need to keep our eyes on. Can anyone say, Daniel Suarez? He's our winner from Sonoma a few weeks back. That clearly qualifies him as someone that we need to keep our eyes on. With only one race that's been run here, it's hard to make a determination of just who has mastered this track. The defending winner is none other than last week's winner, Chase Elliott. It's hard to fount him out under any circumstances. He's got pretty good overall averages on road courses in general. In fact, he's got seven total wins over his Cup career. Kyle Busch is another driver to watch in these road courses. If he can stay clean and not lose his cool, he's a good choice for this weekend as well. Let's take a look at your potential winners this weekend heading into Road America:
Favorite: Chase Elliott +500. Bet YOUR Kwik Trip predictions for FREE at Bovada Sportsbook where they'll give you a 50% bonus for every dollar you deposit up to $500!
Mid-Range Pick: AJ Allmendinger +1800
Dark Horse: Kurt Busch +3000
Although Allmendinger didn't have the greatest result last year at this race, he did have a 2nd place finish in the first stage. The Dinger is a strong road course racer. He's got four road course wins and has the potential to really have a strong finish this weekend. I think that this will be one of his better finishes this season. Kurt Busch is another guy to watch. As last weekend's runner-up finisher and also as last year's 4th place finisher at this track, he's building momentum to have a really good shot at taking home a win this weekend. Kurt has really stepped up as the season has gone on. This weekend will surely be no different if he comes to the track with a strong car. They will all have to catch Chase Elliott, though. He's been running so strong lately and definitely knows his way around a road course. With a lot on the line as we head closer and closer to the end of the regular season, these guys are going to be more competitive trying to get into the playoff rounds. Let's take a look at where everyone is sitting in the points after last weekend's race at Nashville:
Chase Elliott
Ross Chastain
Joey Logano
William Byron
Kyle Busch
Denny Hamlin
Kyle Larson
Ryan Blaney
Martin Truex Jr.
Kurt Busch
Alex Bowman
Daniel Suarez
Chase Briscoe
Austin Cindric
Christopher Bell
Kevin Harvick
Harvick is still sitting there by the skin of his teeth. He's having a rough go of it and is definitely not dominating like we're used to seeing. He's going to have to really step up his game and try to get a win in these next few weeks if he wants to lock himself into the playoffs. Christopher Bell is also in the same position. He's definitely not guaranteed anything yet so far here in 2022. He hasn't been as impressive as I was expecting to be honest. He has some work to do. Everyone is chasing Chase. There's been no stopping him lately, and this weekend will likely be no different. Stay tuned for a great weekend of racing as the drivers and teams celebrate with the fans this 4th of July weekend at Road America! Want more bonus dollars that you can use for free bets? Register for a wagering account at MyBookie Sportsbook through this special ilnk, use bonus code PREDICT100 and get a 100% REAL CASH bonus on your first deposit up to $300!