NASCAR Cup Series Championship Odds & Picks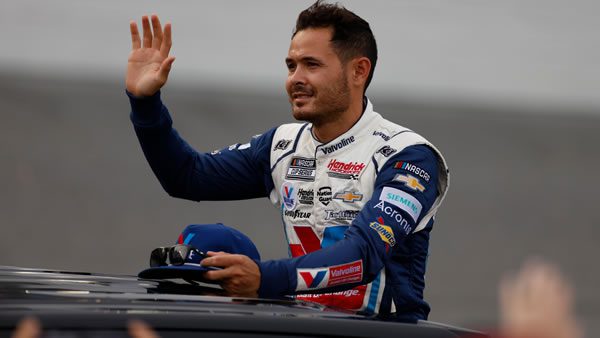 Race:
NASCAR Cup Series Championship
Date: Sunday, November 7, 2021
Track: Phoenix Raceway
Time: 3 pm ET
Channel: NBC
What Did We Learn From Last Weekend?
If you weren't already, you just might be an Alex Bowman fan after Sunday's race at Martinsville. Apparently, Denny Hamlin is not good at taking a dose of his own medicine or realizing that short-track racing is pretty fierce for everyone else too. With under ten laps to go, Bowman and Hamlin were going at it. Eventually, Bowman got a little loose on the bottom and tapped Hamlin, who proceeded to spin out. That definitely ended his chance at winning the race. Needless to say, he still made it into the round of 4, able to contend for the championship. What was wrong about the entire situation was how Hamlin conducted himself after the checkered flag. Hamlin proceeded to speed around the track and cut in front of Bowman, who was about to do his donuts and victory lap.
Bowman drove around Hamlin, but Hamlin then pulled his car directly up to the nose of Bowman to apparently let him know about his displeasure with Bowman's move. In post-race interviews, it was very evident that Bowman didn't intentionally spin Hamlin. In fact, if you actually watched the replays, what Bowman said about his car getting loose looked to be 100% true. It's short-track racing, after all. Stuff happens. It happened to a lot of other drivers, too, who didn't choose to throw temper tantrums after the race. Hamlin cussed and pouted during his interview calling Bowman names and unable to get over the fact that he wasn't good enough to win on Sunday.
That's just one of the many reasons that I will never be a Denny Hamlin fan. Even Kyle Busch, who is notorious for poor sportsmanship, ended his day with a decent interview and blamed no one but himself for not advancing. I will never deny that either one of those drivers are awesome at what they do. Both of them are top of the class when it comes down to it, but I am not nor will I ever be able to support drivers who can't be accountable for a bad day on the track. Like my dad always told me, not every day will be a great day, but every day is an opportunity to learn. A lot of drivers will use the final race as just that since they are not racing for a championship. Martinsville was the last opportunity to quality into the round of 4, so there was quite a bit of disappointment, but that's the way the cookie crumbles, especially on a short track. While Alex Bowman wasn't in contention for the championship, he prevented Kyle Busch from taking the win, which catapulted him out of contention. Brad Keselowski ended the day in 3rd, which was just not good enough either despite an overall strong day for the No.2 Penske team. Martin Truex Jr. and William Byron rounded out the top 5 spots. Aric Almirola, Kurt Busch, Erik Jones, Chris Buescher, and Joey Logano were the remainder of your top 10 for the day.
Where Are We Headed This Weekend?
This weekend, the drivers and teams are going to close out the 2021 season with the championship race in Phoenix this weekend. It all boils down to a 1-mile asphalt dogleg oval. This is one of the more fun tracks on the circuit, if I'm being honest. I'm kind of glad that NASCAR replaced Homestead for this race. I say that because the intermediate tracks like Homestead are so cookie-cutter and have a handful of drivers that know the setups and know how to get around the track like the back of their hands. The challenge just doesn't exist. Phoenix is a track with pretty flat straights and progressive banking through the turns. It encompasses a dogleg configuration, as I mentioned previously. It's a track that the drivers have to drive, and the teams have to correctly set up the cars for. It's truly a team effort. In the past, track position has always been the biggest factor here. Qualifying will be important because the pit stall selection that comes along with it will be critical for the drivers looking to have some sort of advantage.
Odds and Value Picks
The thing about picking a winner here is that literally, every single of the round of 4 drivers is excellent on this track. Of all the drivers, though, Kyle Larson is the only one who hasn't won a race here. Martin Truex Jr. won the Spring race here this year. That is a definite advantage with having a strong setup coming into Sunday's race. Chase Elliott is the next driver with a recent win. He won the championship race in 2020, which catapulted him into the 2020 champion. That means that he knows his way around this place and will undoubtedly be looking to capitalize on that. What's his Achilles heel, though? Kevin Harvick. If you remember a few weeks back when Harvick and Elliott had issues, well, Harvick said he wouldn't let Elliott win the championship. I have a feeling that NASCAR will not take kindly to Kevin making a move on Elliott, but I don't put it past him. If and only if Elliott can steer clear of Harvick, he might be okay. Denny Hamlin also won a race here last year. He's got a total of 5 top 5 finishes in his previous seven starts. The part that Hamlin will need to overcome is his propensity for pit road penalties here. He's got a strong record for those and even made some recently on other tracks. It's going to be tough to be flawless, but if there was ever a place to do it, now is it. Let's take a look at your potential winners heading into the final race of the season:
Favorite: Kyle Larson +150. Bet YOUR predictions for FREE by taking advantage of a 50% real cash bonus on your first deposit of $50 to $500 at Bovada Sportsbook! You can also bet the race LIVE-in-progress there!
Mid-Range Pick: Wiiliam Byron +1400
Dark Horse: Aric Almirola +10000
Hear me out. Almirola had a great Phoenix race earlier this year. After starting in 32nd, he drove his way to 11th. He's coming off a top 10 run at Martinsville, and although Phoenix isn't a short track, it has characteristics like one. Almirola will have a solid finish to the 2021 season. William Byron has three top 10 finishes in his last three starts. He's closing out the season strongly and will look at this race as an opportunity to really step up to the Hendrick plate for the '22 season. This kid has a lot of talent and has developed quite a bit this year. I anticipate next season being a very good year for him. The all-out winner, though, is hands down Kyle Larson. So he hasn't won a race here. Who cares. He's won 9 races this year. He will add Phoenix to the list of tracks that he has a trophy after this weekend. There's literally no one else that has dominated a season as he has since Jimmie Johnson. It started a little slow, but Larson really buckled down and started taking every single shot he had. This weekend will be no exception. Let's take a look at your drivers moving on to the championship round:
NASCAR Standings
Kyle Larson
Chase Elliott
Martin Truex Jr.
Denny Hamlin
We have two Gibbs drivers and two Hendrick drivers. That shouldn't be surprising. And it shouldn't be surprising the Hendrick is leading the pack. Those two teams have dominated the season without a doubt. The points are reset heading into Phoenix, so it's literally whoever wins or finishes best. In that scenario, it's been Kyle Larson all year long, so I don't anticipate that changing. Larson races for the win and nothing else. The other drivers will be as well, but they will have to beat the best of the best this season. Stay tuned for an action-packed race as we close out the 2021 season at Phoenix Raceway! Bet your NASCAR Championship picks AND your NFL picks for FREE by taking advantage of a 100% REAL CASH bonus on your first deposit of $100 to $1000 at Betnow Sportsbook!
Get $60 of FREE member picks & predictions
(NO commitments. NO Credit Card. NO Salesman.)
$100% Cash up to $500