Nascar Picks: Camping World 400 at Chicagoland Speedway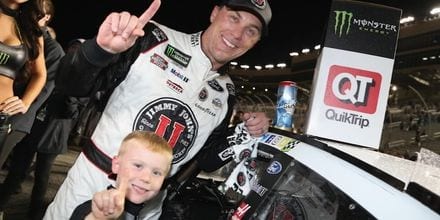 Race: Camping World 400
Date: Sunday June 30, 2019
Track: Chicagoland Speedway
Time: 4pm ET
Channel: NBCSN
What We Learned From Last Week
As predicted, Martin Truex Jr. was the class of the field and took home the checkers after Sunday's race at Sonoma! Overall, giving us the winner. This is the Gibbs' garage's 10th win this season. That's not too shabby. In fact, Kyle Busch and Martin Truex Jr. had the rest of the field beat by an entire 31 seconds. It was pretty crazy to see the gap between the drivers. There were actually 33 seconds between Truex and 3rd place driver Ryan Blaney. The race was caution-free, but there were plenty of moments of good racing throughout. In addition, Chase Elliott blew an engine early in the final stage after running towards the front of the field for the better part of the day. Penske driver Joey Logano struggled with a battery issue and ended up 23rd after having to pit with just 15 laps to go.
Let's be real, though. This entire weekend belonged to Darrell Waltrip. We have come to an end of an era with Waltrip calling his final race of his career. Not only was he an icon on the track, but we grew to love Waltrip in front of the camera as well. The races won't ever be quite the same without Waltrip's "boogity, boogity, boogity, LET'S GO RACIN' BOYS!" at the start. Waltrip was and still is quite a character and he was extremely well-received this weekend, with virtually every driver, team, and fan recognizing his immeasurable contribution to the sport. Waltrip is one of the few drivers who went through many decades of changes within the sport and didn't waver. He remained competitive through some of the biggest waivers in NASCAR history. That being said, we thank you, Darrell, for giving us entertainment behind both the wheel and the camera. You are an enormous asset to NASCAR and someone that has truly given blood, sweat, and tears to make this a great sport for everyone involved.
Where Are We Headed This Week?
This weekend we all move on into a new time, sadly without Darrell Waltrip. Drivers, teams, and fans are heading to Chicagoland this Sunday. We are back to the ovals. This track is a 1.5-mile asphalt oval with 18 degree banking in the turns, 11 degrees on the frontstretch, and 5 degrees on the backstretch. We're going back to this God forsaken aero package that NASCAR is so insistent on this year, so there's that. We will likely not see much for passing, and tires are going to be the biggest enemy. This means that track position and qualifying will be what the drivers are fighting against. It seems like so far if a driver gets out front, that's typically where he stays. There really isn't much for passing unless we see a restart or different pit strategies. Two and four tire stop will play a role in that strategy. I think we'll see a relatively green-flag race with minimal pitting.
Potential Odds and Winners Heading Into Chicago
When it comes to picking a winner at this track, we can take a look at the first five intermediate tracks this year and see that either Penske or Gibbs are where the winners are at. Both Logano and Keselowski have wins along with Martin Truex Jr. and Denny Hamlin. These guys are going to be the contenders this week along with a handful of other guys. The other drivers to watch are the Busch brothers and Kevin Harvick. While Harvick hasn't had the best season, he had top 10s in all of the intermediates with the exception of Kansas so far this year. He'll be a contender and look for this weekend to help turn his luck around. Kurt Busch is another driver to watch. He's actually been the class of the field when it comes to intermediate tracks this year, finishing with 2 top fives and 2 top tens. His only issue occurred during the 600 where he sustained damage. Being that was an anomaly from his typical performance thus far this year, I think that he will be a contender moving into this weekend. Let's take a look at your potential winners heading into Chicago:
Winner: Kurt Busch (20-1)
Middle of the Road: Kyle Larson (10-1)
Dark Horse: William Byron (80-1)
Byron is a definite dark horse, but his record is only improving. He's gaining confidence each week and had top 10 finishes in 2 out of the last 3 intermediate tracks. He will payout well if he pulls off a win, but if nothing else, he will be running in the front of the pack for a good part of this race I believe. Kyle Larson is another firecracker. This guy was on fire on the intermediate tracks prior to this year. I'm not sure what happened, but something isn't clicking like it was. It may just be the aero package that he's not meshing well with. Whatever the case may be, he's improved over the last three races and will likely continue that streak heading into Sunday's race. I think that Larson will give us something good to watch this weekend. He needs to really step his game up, as he's waned in the points as well. Let's see where they stand after last Sunday.
Bovada Sportsbook launched in 2001. From the beginning, priority was given to the user experience. Most online sportsbooks used one of three out of the box software platforms for their user interface. Bovada spent millions creating its own from the ground up. Its support team was also a focus and offer bettors what they wanted. They were one of the first bookmakers to publish NASCAR odds and driver prop bets like individual matchups. It was so good and friendly, that customers would routinely call to chat about the races when they didn't really need any assistance. Bovada eventually had to incorporate limiting casual conversation into their employee training because players enjoyed using customer service for the social element. To this day, Bovada remains focused on a fun experience for their NASCAR bettors. That includes simple bonus plans like the current offer of 50% CASH Bonus to start your race betting.
Here are your current top 16 after Sonoma:
Joey Logano (8-1)
Kyle Busch (3-1)
Kevin Harvick (9-2)
Brad Keselowski (8-1)
Martin Truex Jr. (6-1)
Denny Hamlin (18-1)
Chase Elliott (10-1)
Kurt Busch (20-1)
Ryan Blaney (20-1)
Alex Bowman (30-1)
Aric Almirola (30-1)
Clint Bowyer (18-1)
Daniel Suarez (40-1)
William Byron (80-1)
Kyle Larson (10-1)
Ryan Newman (100-1)
So much for Jimmie Johnson moving back into the top. He's yet again been pushed out of contention by Ryan Newman. Johnson might have an opportunity to redeem himself this weekend, though, as he's been most steadily improving on the mile and a half tracks. This will be a good opportunity to show that he can still run with the best of them. There's a lot of young guns in that field. That being said, the top spots are still very clearly taken up by the veterans. With Darrell Waltrip leaving us, it's so bitter sweet to talk about our "veteran" drivers. I remember when they first came on the scene. Now, the other drivers are following in their treads, hoping to keep NASCAR alive and well. Stay tuned this weekend to see if they manage to do it. Chicagoland is happening this Sunday!
STOP LOSING TODAY! START WINNING WITH DOC'S TEAM OF PROFESSIONALS! GET A FREE NO STRINGS ATTACHED $60 FOR THIS WEEKEND'S GAMES!
50% Cash up to $250