O'Reilly Auto Parts 500 Picks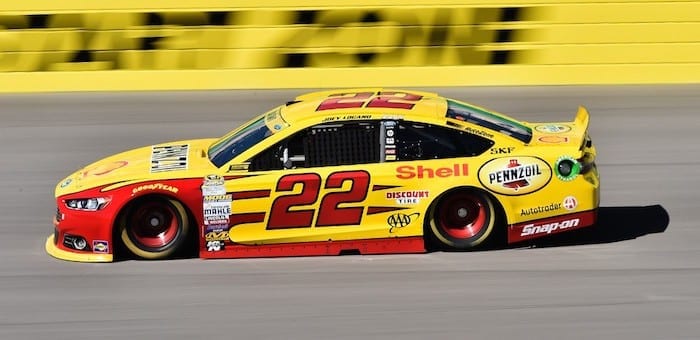 Race: O'Reilly Auto Parts 500
Date: Sunday March 31, 2019
Track: Texas Motor Speedway
Time: 3pm ET
TV: FOX
What We Learned From Last Week
If that wasn't a dominating performance by Brad Keselowski, then I don't know what is. Keselowski drove to victory lane after leading a total of 446 of the 500 laps at Martinsville. He was certainly the class of the field, although he gave credit to Chase Elliott, who came in second, for having a very good car. Keselowski even mentioned at one point that he wasn't sure if his car was as good as Elliott's. It didn't seem to matter, though, as Keselowski charged forward, studied Elliott as he led, and then regained the lead to capture the win. Overall, it was a better race than the other ones that had the "aero" package NASCAR newly implemented this year. Although Keselowski definitely led the most laps, he was being fiercely chased down by Elliott and even Kyle Busch in 3rd place.
NBA Pick: Lakers Get Worse And Spreads Increase
Kyle Busch chalked up his poor performance to lap traffic, which, as I mentioned, is always a factor at Martinsville. Elliott was trying different lines in the late laps to try to catch up to Keselowski. He could match his times but rarely could beat him. Busch had a great car, but traffic really is a hindrance at this and most other short tracks. Track position can make or break a driver. This is also why pit road is so very important. Keselowski's crew basically won him the race after getting him off pit road first on lap 380 for a restart. This was critical. He was able to keep Elliott off his bumper, and Busch had to battle traffic. Ryan Blaney finished 4th followed by Denny Hamlin for 5th position. Harvick, Bowyer, Truex Jr., Almirola, and Suarez rounded out your top 10 spots. Perhaps Bowyer's finish was the most surprising as he suffered two pit road speeding penalties, sending him to the rear of the field twice. That should show you the caliber of his car and his skill to be able to drive from the rear of the field twice to end up with the top 10 finish. Pretty impressive.
Where Are We Headed This Weekend?
This weekend, the drivers are heading to Texas. We are heading to another race with this *fabulous* aero package. Quite frankly, I'm not expecting much. It seems like these races are doing exactly the opposite of what NASCAR intended for them to do. Regardless, Texas is known as a track with a lot of grooves, creating a lot of opportunity for passing. With the intention of this package, you'd *assume* that would be a good thing. The cars would be closer together on a bigger track with a lot of grooves and a lot of different strategies. I doubt that happens. I honestly think we're going to end up with nearly 20 seconds separating the first place driver from the tenth place driver like we did before. I guess I should be hopeful. Texas is a 1.5-mile asphalt oval with 20 degree banking through all of the turns. The wide banking at 80 feet provides drivers an opportunity to race more towards the bottom of the track, but the high side still seems to be the preferred line. The momentum it carries creates more speed through the turns and the drivers are able to maintain without using much brake.
Potential Winners and Odds Heading To Texas
When it comes to picking a winner, I don't think that we can look at traditional winners here or even intermediate track winners. We have to look at the intermediate track winners with the new aero package this year. That being said, Kyle Busch is the dominating factor. With 7-2 odds coming into this weekend, he's very clearly the favorite. He really seems to have this package figured out. Being the points leader with the most wins thus far doesn't hurt either. The interesting thing is that while he really seems to have this year's package figured out, he also has won 3 of the last 5 spring races here at Texas. Not that history should play a large role, but with his experience here, it's indicative he's got both parts of the recipe worked out. He knows how to drive this track and he knows how to utilize the new aero package to its fullest extent. Let's take a look at your potential winners heading into Texas this weekend (Odds from Bovada):
My Pick to Win: Kyle Busch (7-2)
Middle of the Road Pick: Ryan Blaney (12-1)
Dark Horse Prediction: Erik Jones (16-1)
Blaney has 3 top 6 finishes at this track. With his speed seemingly getting better and better each week, I think that he is definitely bargaining for a win sooner rather than later. It doesn't hurt that Penske is a strong team so far this season either. Blaney is a good B list pick at 12-1 if you haven't used him for too many starts this season so far. Texas is one of his better tracks. Between Logano and Keselowski, Blaney has a strong group of supporters on his side. Erik Jones finished 4th at Texas in both starts and will give you a pretty good payout with 16-1 odds if he manages to come away with a win. With his consistency this season, I wouldn't be surprised to see him running up front as he continues to better his skills on these tracks with the new aero package. That consistency is paying off, but he definitely needs to maintain and work towards some race or stage wins, as he sits in the 14th spot in the points right now. Let's take a look at your standings after Martinsville.
Here are your current top 16 after last week's race:
1. Kyle Busch (7-2)
2. Denny Hamlin (20-1)
3. Kevin Harvick (9-2)
4. Joey Logano (8-1)
5. Brad Keselowski (7-1)
6. Aric Almirola (25-1)
7. Martin Truex Jr.(7-1)
8. Ryan Blaney (12-1)
9. Chase Elliott (11-1)
10. Kurt Busch (20-1)
11. Kyle Larson (11-1)
12. Ricky Stenhouse Jr. (66-1)
13. Clint Bowyer (25-1)
14. Erik Jones (16-1)
15. Jimmie Johnson
16. Daniel Suarez (50-1)
If you take a quick peek at that rundown, you'll notice that it seems Chevy is still having a hard time finding speed this year, much like last year. The top Chevrolet is Chase Elliott in 9th place. Toyotas and Fords are the class of the field again. Maybe someone will surprise us this weekend. Who knows? I still think that Kyle Busch is going to be tough to beat, though. With his history of wins and domination at Texas along with really jiving with this new aero package, he might be pretty unstoppable this weekend. Stay tuned for what we hope will be a great weekend of racing at Texas Motor Speedway!
50% Cash up to $250

Who else wants $60 of FREE member picks & predictions?
(NO commitments. NO Credit Card. NO Salesman.)