Pennzoil 400 Analysis & Predictions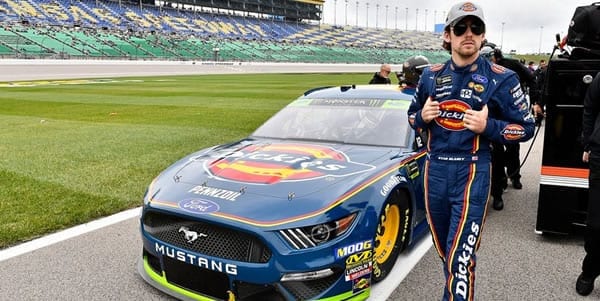 Race: Pennzoil 400
Date: Sunday February 23, 2020
Track: Las Vegas Motor Speedway
Time: 3:30 pm ET
Channel: FOX
What Did We Learn From Last Week?
First and foremost, prayers to Ryan Newman after that horrendous crash. He is currently listed as serious condition but his injuries are not believed to be life-threatening. That was one of the worst crashes I've seen in quite some time. And honestly, it's a miracle that he is alive after that one. Keep the prayers coming for him, and I have no doubt that we will continue to see some positive progress in his condition. The 500 definitely brought some pretty crazy antics to the track, with Newman taking the brunt of them. Denny Hamlin was the one to edge out the field and take the victory, with Joe Gibbs apologizing for the celebration afterwards, not realizing the extent of Newman's injuries at that point. Leave it to Joe Gibbs to always remain the class act. The man is one of integrity and certainly someone we could all learn from. His driver claimed his second 500 victory in a row (and third overall) by winning last night after a rain delayed race, pushing the racing into late Monday afternoon and Monday evening. That being said, he's also the only driver since 1995 to win 2 in a row when Sterling Marlin did it. Think about that for a minute. It's been 25 YEARS since someone has duplicated Marlin's feat. That's pretty amazing.
It's pretty hard to get that image of Ryan Newman out of our heads, though. His car was nothing less than mangled, with even the roll cage collapsed around him. It all happened eerily on the last lap, making many of us remember that fateful day 19 years ago when Dale Earnhardt was killed in a last lap crash at Daytona himself. Fortunately, Newman came out of the car alive and able to make it to the hospital. Corey LaJoie was noticeably distraught about the wreck, as he was the one that ended up with his car in Newman's driver's side door after it flipped. It wasn't his fault. Ryan Blaney initially got into Newman's bumper and caused his to hit the wall hard. LaJoie was headed into a cloud of smoke with nowhere to go and no visibility to get there. It was simply one of those Daytona incidents that you can't predict nor stop. While we await the continued progress from Newman, we still have to recognize that Hamlin and the rest of the drivers drove a good race. Interestingly enough, Hamlin was pushed to victory with 8 Fords behind him. The Fords came out to play hard, but the lone Toyota managed to pull out the victory. Hamlin only beat Blaney by 0.01 seconds. It was a photo finish, and one of the most exciting that we've seen in some time. Hopefully, the victory won't be so solemn next weekend.
Where Are We Headed This Week?
This weekend, the drivers are headed away from the superspeedways to a pretty cookie cutter intermediate track. Las Vegas Motor Speedway is a 1.5-mile asphalt tri-oval with 12-20 of progressive banking through the turns. It's a track that requires some skill when it comes to pit strategy. We generally see some long green flag runs and cars that are strung out through the field, which is interestingly enough the opposite of what NASCAR thought this aero package would do. The intention was for it to create closer racing, almost draft-like racing, even on the intermediate tracks. Instead, the cars seem to spread out and can't get the "push" that they were used to having. Somehow, between the change in spoilers and the use of restrictor plates on top of decreased horsepower, NASCAR's plan didn't exactly pan out. Regardless, this is what the drivers and crews have to work with. At a track like Vegas, we often see a multitude of different strategies depending on how long these green flag runs can go. Last year's race produced the first caution-free race (with the exception of the required stage cautions) that we've seen in a long time. I doubt that will happen again, but I do think that long green flag runs will happen, leading to some fuel strategy and also some tire strategy. Depending on the grip of the track, we often see guys choose just right or left sides at this race. It's not always a 4 tire stop. Tires will certainly be a piece of the puzzle as well.
Odds And Value Picks
When it comes to choosing a winner here, it's a little easier than trying to predict a super speedway race. That being said, with the change in the schedule making Las Vegas the second race of the season, we don't truly have the best idea of the strengths and weaknesses of these teams. Daytona is a fans' race. It doesn't really show us much in the way of how well teams prepare or setup cars a good majority of the time. All too often, we see luck (or bad luck) prevail…key Ryan Newman. Las Vegas will be the first glimpse into how these teams are really going to run in the 2020 season. With Hamlin winning the 500, it'd be easy to say that Toyotas are once again the class of the field, but we must keep in mind that Hamlin was trailed by EIGHT Fords. That's pretty impressive. If you look at the Duels as I mentioned last week, there was a good mix of all manufacturers in the final results. It seems like the Chevy teams have really begun to figure out the nuances of their cars and what their shortcomings were from the previous year. I'm not saying they've worked out all the kinks, but I think that they are looking more in tune this year for a much better season. With that, if we think about our potential winners for Vegas, we obviously have a group of guys that are our go-to. Drivers like Kevin Harvick, Denny Hamlin, Brad Keselowski, Joey Logano, etc. are all on our radar for victory lane. Kyle Busch is even another strong contender to throw out there if they can get their setup right. Intermediate tracks require consistency. I think that their are a few drivers that are better at that than others. Let's take a look at your potential winners and their odds at MyBookie> for this weekend's race at Las Vegas:
Favorite: Kyle Busch (+450)
Middle of the Road: Ryan Blaney (+2000)
Dark Horse: John Hunter Nemechek (+25000)
I know what y'all are saying. Nemechek is a crazy pick. Well, isn't that what a dark horse is? A hail Mary? Nemechek should be recognized. He's part of a class of rookies that we've not seen in quite a while. He's in good company with Tyler Reddick, Cole Custer, and Christopher Bell to name a few. If we ultimately give credit where credit is due, Nemechek had a respectable 2nd and 8th place finish here at the Vegas races for the Xfinity series in 2019. That's nothing to sneeze at. Now, while I think he has his work cut out for him, I do believe that he's worth of mentioning and a name we will see continue to improve throughout this season. And at +25000 odds, go ahead and get the win, JHN! That'd make some of us very happy campers for having a lot of faith in your abilities. As far as Ryan Blaney is concerned, his Vegas record is nothing to sneeze at. He's got a total of 5 finishes between 5th and 7th place. He gets this track. He had speed at Daytona, unfortunately being the major culprit of Ryan Newman's wreck. If he can get his mind right, Blaney will be one to watch. He's proven that he's got the speed and the skill. Now, he needs to show that he's got the confidence that he needs as a driver to make the moves to the front of the pack. Finally, the one I am picking is currently tied as the favorite with none other than Kevin Harvick. For Kyle Busch, though, Vegas is his home track. He's been itching to get back in victory lane here, as he's only been once and it's been over a decade since that moment. The caveat to Busch winning here is that he struggled in 2019 on the intermediates in the early part of the year. Funny thing is that he managed to pull out an average finish of 6.4 on these tracks for the second half of 2019, and he even won Homestead to secure his championship. I think that this is the year for Kyle Busch to really show dominance once again and bring another win to his hometown.
These drivers are all going to be fighting hard for a solid finish. Daytona didn't give a lot of slack to many of our big name drivers and teams. There were a large amount of cars involved in some gnarly wrecks that pushed them into a points situation that they don't want to start the season with. For many, Las Vegas is actually the start of the 2020 season. This place is where they showcase their talent and the crews can showcase theirs' as well. Let's take a peak at where the top 16 landed after Daytona:
1. Denny Hamlin (+900)
2. Ryan Blaney (+2000)
3. Kevin Harvick (+450)
4. Chris Buescher (+15000)
5. Ryan Newman (N/A, substitute driver Ross Chastain sitting at +50000)
6. Kyle Larson (+1200)
7. Chase Elliott (+1400)
8. David Ragan (+30000)
9. Ricky Stenhouse Jr. (+10000)
10. Aric Almirola (+5000)
11. Clint Bowyer (+4000)
12. Austin Dillon (+10000)
13. Joey Logano (+800)
14. Corey Lajoie (+30000)
15. Bubba Wallace (+25000)
16. John H. Namecheck (+25000)
Those points look a little crazy. I hear you. Unfortunately, for a lot of those drivers, they won't see anything near that again after Vegas this year. I'm looking to see how well some of these rookies can stick around, but we'll have to see if they get the luck of the draw in Vegas. While Daytona was exciting and terrifying all at once, I am looking forward to moving on to a calmer Las Vegas. With the news that Ryan Newman left the hospital today, I'm sure he is as well. God is good that he walked away from that hospital this afternoon. We will move forward to Vegas with hopeful hearts that we see an exciting yet SAFE race at LVMS this weekend!