Pennzoil 400 Presented by Jiffy Lube Picks & Analysis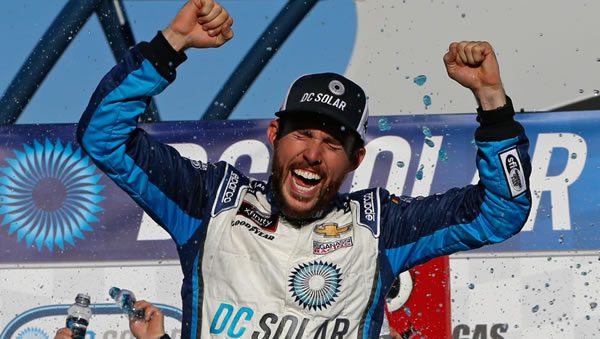 Race:
Pennzoil 400 Presented by Jiffy Lube
Date: Sunday, March 5, 2023
Track: Las Vegas Motor Speedway
Time: 3:30 pm ET
Channel: FOX
What Did We Learn From Last Weekend?
Well, well, well! Look who's back in victory lane! As predicted, Kyle Busch took the win in only his second start with RCR. Daytona was also a close call, so it's clear that there's a new fire in Busch this year. He is clicking with the organization, the team, and the manufacturer, even if he did almost talk about his Camry in victory lane last weekend. I guess it's still fresh, and Camaro will take some getting used to. No offense to Toyota, but Camaro is much more NASCAR than a Camry ever will be. That said, it was clear that this was a meaningful win for Busch as he gave an extremely humbled interview, at least relative to the Kyle Busch we're used to seeing. I'm curious if this is a new refined Kyle Busch or if he's just sitting on cloud nine with a win so early on in the season with RCR. It remains to be seen, but it's just a matter of time before we find out. All it's going to take is one wreck or one bad finish to determine if Kyle is truly a changed man or if he's still the same 'ole Busch we've all learned to love to hate.
Busch ran a good race and a smart race where tires were really the make it or break it factor. There were some guys who gambled with tires, but they were quickly overrun by anyone and everyone who came off pit road with a fresher set. Fuel strategy was also a factor but not nearly as significant as tires. Busch and his team nailed both of them. Followed by Busch was Chase Elliott who had a strong run in his own right but gave props to Busch for winning and doing so in a dominant way. In fact, Busch came back from a pit road speeding penalty. He's done it in the past, too, so never count him out on that small penalty. After Chase, Ross Chastain, Daniel Suarez, and Kevin Harvick rounded out the top five spots. Ross Chastain ran a great race in his own right but just couldn't pull it off there at the end. He won the first 2 stages and led a race high 91 laps. He may not have won, but those stage points are extremely valuable. That's going to help him out in the grand scheme of things.
Where Are We Headed This Weekend?
This weekend, the drivers are headed to one of my favorite tracks. The teams are pulling their haulers into Las Vegas Motor Speedway for the running of the Pennzoil 400, Presented by Jiffy Lube. I'm a little biased towards this track because I was fortunate enough to be gifted a Richard Petty driving experience at this particular place, and man, was it a blast! Talk about speed, banking, and momentum! Short tracks are awesome, but tracks like Vegas really make you appreciate the cars that are built for these tracks and the endurance it takes to run the bigger ovals. Much like last weekend, we are going to see tires as a big sticking point. Much like Auto Club, Las Vegas has not been resurfaced since 2007. That means there are going to be bumps and bruises along the way for these guys. It was cool watching all of the different grooves at Auto Club and the way that the cars could run on the bottom or the top. At the beginning of the race, the pace car led the field five wide to give a visual as to how big the racing surface really is. Las Vegas isn't quite as massive, but it definitely boasts a track full of character and one that gives the drivers something to challenge themselves against other than just the other cars. This track takes skill. Vegas is a 1.5-mile asphalt tri-oval with 20 degrees of banking in the turns, 12 degrees through the tri-oval, and 9 degrees on the backstretch. There isn't much brake usage that happens here. There's a lot of pedal to the medal into the corner and out, giving these guys a lot of momentum to float through the track and maintain speed.
Odds and Value Picks
When it comes to picking a winner at Vegas, you can delve into the 2022 results but I'm not so sure that gives us much in terms of consistency. The defending winner of the March race was Alex Bowman. He was followed by the Chevrolets of Kyle Larson and Ross Chastain. The Toyota of Kyle Busch ran 4th, and the Hendrick Chevrolet of William Byron rounded out the top 5. In the Fall race, we saw a different picture painted with the Ford of Joey Logano bringing home the checkered flag with Ross Chastain and Kyle Busch. So, maybe there is something there. We have two common denominators. Kyle Busch and Ross Chastain had strong finishes in both 2022 races. Historically, Busch has the best average finish at around 5th place if we average all races since 2020. That being said, he's only got one win here back in 2009. Being that this is his home track, you can bet your bottom dollar he's going to race hard…but so is everyone else. Let's take a look at your potential winners as we head into Sin City this weekend with odds by BetOnline:
Winner: Joey Logano +1100
Mid-Range Pick: Ross Chastain +800
Dark Horse: Noah Gragson +6600
So here's the thing about Gragson. The kid is talented. But y'all, if the announcers say his name, ONE.MORE.TIME during a broadcast, I might scream. It's like they were paid based on how many times they could fit his name into the script. Regardless, he's a strong horse for Legacy Motor Club to have in their barn. The driver of the #42 Camaro has only one start in the Cup Series at this track, but he came home a respectable 11th during last year's race. Of note, he ran in the Xfinity race last year and came home second after leading a race high 89 laps. That tells you something about his ability to get around this track. He seems to have a knack for the longer ovals, so I anticipate a lot more of his name from the announcers this weekend as well. Ross Chastain is going to be another tough one to beat. In my opinion, he's really looking to make sure that this year gives him some respect. Last year was a very strong year, but many are waiting for him to fall, much like teammate Daniel Suarez. Both of those guys came out with guns blazing in 2022 for TrackHouse Racing, and they're looking to carry that momentum and show everyone why they are a team that can run with the big dogs. Chastain will give them something to talk about this weekend, and will be hard to keep from the front of the pack. He will have to beat Logano, though. I think that Logano is going to put the blocks out there and keep the field behind him. Las Vegas is a place where drivers can really spread out. It's not as big as Fontana, so we won't see the side drafting and two-by-two racing like we did at Fontana. Logano will likely be able to pull away and stay there. Let's see where Logano is sitting in the points after his run at Auto Club:
Ross Chastain
Joey Logano
Alex Bowman
Kevin Harvick
Daniel Suarez
Chris Buescher
Rick Stenhouse Jr.
Kyle Busch
Denny Hamlin
Brad Keselowski
Martin Truex Jr.
Ryan Blaney
Corey Lajoie
Chase Elliott
Christopher Bell
Michael McDowell
You may wonder why Kyle Busch won the race and is sitting in 8th in the points. Like I mentioned before, those stage points are so crucial. The benefit to Kyle's win is that he's locked into the Chase. There's no pressure on him from early in the season. He can go out there and focus on anything he wants to and still be good come playoff time. Chastain has a different advantage with being the points leader, but he's not necessarily locked in. I believe that we are going to see Chastain get his win and then some before playoffs. This may be the weekend for him! He was in dominant form, and I anticipate him staying that way. Will he be able to slide by Logano for the win? Will Gragson fool everyone? Shoot. Will Kyle Busch come away with another win for RCR so soon? You'll have to tune in to find out! Stick around for what's sure to be a great afternoon of racing as the drivers and teams battle it out at Las Vegas Motor Speedway! Bet your Penzoil 400 picks for FREE by scoring a 100% real cash bonus up to $300 when you enter bonus code PREDICT100 at MyBookie Sportsbook!