[et_pb_dcsbcm_divi_breadcrumbs_module hide_homebreadcrumb="off" homebreadcrumbtext="Home" separator="sep-raquo" hide_currentbreadcrumb="off" homebreadcrumborientation="left" _builder_version="3.8″ fontsbreadcrumbs_font="Lato||||||||" fontsbreadcrumbs_text_color="#000000″ fontsbreadcrumbs_font_size="15px" fontsbreadcrumbs_line_height="16px" fontsseperator_font="||||||||" fontsbreadcrumblinks_font="||||||||" fontsbreadcrumblinks_text_color="#2567cf" custom_margin="25px|||" custom_margin_phone="30px|||" custom_margin_last_edited="off|desktop" custom_css_main_element="font-family: Helvetica Regular;" global_module="3641″ saved_tabs="all"][/et_pb_dcsbcm_divi_breadcrumbs_module]
Pick: Coke Zero Sugar 400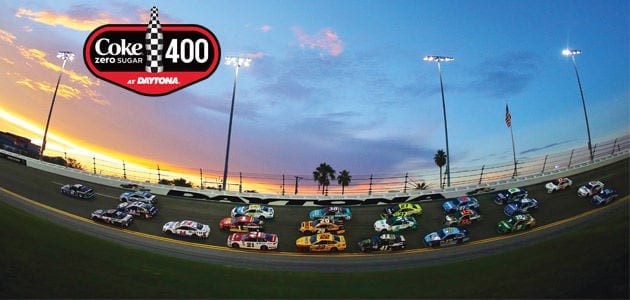 Race: Coke Zero Sugar 400
Date: Saturday July 7, 2018
Track: Daytona International Speedway
Time: 7 pm ET
TV: NBC
by Virginia Vroom, NASCAR Handicapper, Predictem.com
If you want to talk about one of the greatest finishes of a race, then you must've been watching Chicago on Sunday. What a show Kyle Busch and Kyle Larson put on in the last lap of the race. Kyle Larson was able to run the high line, like he likes, and catch up to the bumper of Busch's car. Larson gave him a little tap when Busch got slowed up by lap traffic and was able to make a pass in turns one and two. Leave it to Kyle Busch not to take kindly to being passed on the last lap. Busch came down the backstretch, caught up to Larson, and nailed his bumper, throwing Larson into a slide and leaving Busch to pull away for the win! Larson wasn't even mad. He knew that was nothing but fair and hard racing, and as a fan: THANK YOU! I'm SO glad that these guys were able to pull a bump and run and NASCAR didn't throw a hissy fit and penalize anyone. It was nice to see drivers actually drive.
It was a tougher race for some drivers. Aric Almirola managed to win his first stage win ever, but suffered from some unexpected pit stops, leaving him out of contention further along in the race. Clint Bowyer also had a very strong car, but managed to suffer from a slew of penalties.Regardless, he rallied back to a very respectable 5th place finish. Kevin Harvick was the third place finisher while Martin Truex Jr. finished fourth. The remainder of your top ten included Erik Jones, Denny Hamlin, Joey Logano, Brad Keselowski, and Alex Bowman. Hamlin and Keselowski were both dealt with a lug nut penalty following post-race inspection, leaving their crew chiefs with a nice $10,000 fine.
This weekend, the drivers are headed to Daytona for a steamy weekend of racing and patriotic competition! This race is essentially a tradition. It's the Daytona summertime race that honors our Military and brings together fans in an enormous show of support for the country. This race is just awesome. As a super speedway, the lack of predictability makes this one of the best races to watch. The super speedways went through a lull there for a few years, but the racing has returned to being competitive, with the tandem racing finally coming to an end. I, personally,am a fan of line racing and the bump and runs that we traditionally see at the big tracks. Daytona is a 2.5-mile asphalt tri-oval. It has 31 degree banking in the turns and 18 degrees of banking throughout the tri-oval. The backstretch is a minimal 2 degrees. Daytona is a place where engines and horsepower are the ultimate necessity. Tires are going to make or break depending on the green flag runs we get here. With the segments, tires aren't the biggest concern at the super speedways, though. Those green flag runs are limited in that respect.
With all of the close racing recently, this is going to be tough to pick a winner here. We are still revolving around a small core of drivers that are excelling to include Kyle Busch, Kevin Harvick, and Martin Truex Jr. I mean, they did manage to pull out first, third, and fourth at Chicago. Those guys have it going on. I am, however, reaching outside the core of this group for the winner this weekend. As I said, engine packages and horsepower are really going to make or break this race. When you talk about those two things, the only team that should come to mind is
Penske. Those guys have something in the horsepower department that other teams are lacking. That being said, there is still an element of luck that always plays out at any restrictor plate track,so there's that. Let's take a look at your potential winners heading into Daytona:
My Pick to Win: Joey Logano
Middle of the Road Pick: Clint Bowyer
Dark Horse Prediction: Ricky Stenhouse Jr.
So, yea. Stenhouse is actually the defending winner of this race. Y'all forgot that, didn't you? He's actually got a really good run on restrictor plate tracks as well, so I don't think that he's one to count out this weekend. Clint Bowyer is also another driver who is really running one of his best stretches of racing in quite a long time. He's coming into his own and seems to be working well with his team. If he can just manage to avoid the penalties on pit road, I think that Bowyer has a really great shot. Finally, Joey Logano is nothing to sneeze at on restrictor plate tracks. His teammate Brad Keselowski has the overall better record, but Talladega is typically where he shines. I think that Logano will pull through and show some dominance this weekend.
Here are your current top 16 after last week's race:
1. Kyle Busch
2. Kevin Harvick
3. Joey Logano
4. Martin Truex Jr.
5. Brad Keselowski
6. Clint Bowyer
7. Kurt Busch
8. Denny Hamlin
9. Kyle Larson
10. Ryan Blaney
11. Aric Almirola
12. Jimmie Johnson
13. Chase Elliott
14. Erik Jones
15. Alex Bowman
16. Ricky Stenhouse Jr.
Stenhouse could definitely use that win, that's for certain. He's been in and out of those top points throughout the season and really hasn't been consistent enough to guarantee himself a spotjust on points as it stands. Bowman and Jones are also on the cusp, so they will have a lot of work to do to keep themselves in the hunt. This weekend will give us some great racing to see if these guys can make up any ground. Stay tuned as we head to Daytona for the second time this year for a great night of NASCAR racing under the lights!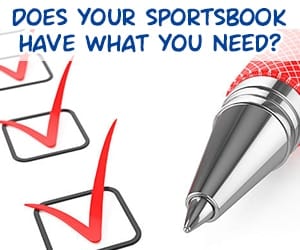 <div class="widget105"><!-- [et_pb_line_break_holder] --><h4 class="parlays">Best Parlays</h4><!-- [et_pb_line_break_holder] --><!-- [et_pb_line_break_holder] --><table id="parlay"><!-- [et_pb_line_break_holder] --> <tr><!-- [et_pb_line_break_holder] --> <th><span class="team"></span></th><!-- [et_pb_line_break_holder] --> <th>2 Team Parlay</th><!-- [et_pb_line_break_holder] --> <th>3 Team Parlay</th><!-- [et_pb_line_break_holder] --> <th>4 Team Parlay</th><!-- [et_pb_line_break_holder] --> </tr><!-- [et_pb_line_break_holder] --> <tr><!-- [et_pb_line_break_holder] --> <td><a href="https://affiliates.sportbet.com/tracking/Affiliate.aspx?idBook=2&mediaTypeID=220&AffUrlID=80&LandingPageID=55"><img src="https://www.predictem.com/wp-content/uploads/2018/06/sportbet-sm.png"></a></td><!-- [et_pb_line_break_holder] --> <td>2.74 to 1</td><!-- [et_pb_line_break_holder] --> <td>6.24 to 1</td><!-- [et_pb_line_break_holder] --> <td>13 to 1</td><!-- [et_pb_line_break_holder] --> </tr><!-- [et_pb_line_break_holder] --> <tr><!-- [et_pb_line_break_holder] --> <td><a href="https://record.bettingpartners.com/_5vfuDOH_H2wWPf2JTsWUjGNd7ZgqdRLk/1/"><img src="https://www.predictem.com/wp-content/uploads/2018/06/bovada_sm.png"></a></td><!-- [et_pb_line_break_holder] --> <td>2.64 to 1</td><!-- [et_pb_line_break_holder] --> <td>6 to 1</td><!-- [et_pb_line_break_holder] --> <td>12.3 to 1</td><!-- [et_pb_line_break_holder] --> </tr><!-- [et_pb_line_break_holder] --> <tr><!-- [et_pb_line_break_holder] --> <td><a href="https://record.webpartners.co/_jGZUKO3JWgwmunhzcKAZ62Nd7ZgqdRLk/1/"><img src="https://www.predictem.com/wp-content/uploads/2018/06/mybookie-sm.png"></a></td><!-- [et_pb_line_break_holder] --> <td>2.64 to 1</td><!-- [et_pb_line_break_holder] --> <td>6 to 1</td><!-- [et_pb_line_break_holder] --> <td>12 to 1</td><!-- [et_pb_line_break_holder] --> </tr><!-- [et_pb_line_break_holder] --></table><!-- [et_pb_line_break_holder] --><div class="widget-footer"><a href="https://www.predictem.com/best-sportsbooks/parlays-odds/">See all Sportsbook Parlays</a></div><!-- [et_pb_line_break_holder] --></div><!-- [et_pb_line_break_holder] --><!-- [et_pb_line_break_holder] --><!-- [et_pb_line_break_holder] --><style><!-- [et_pb_line_break_holder] --> #parlay {border-collapse: collapse;<!-- [et_pb_line_break_holder] --> width: 100%; border: 0px;<!-- [et_pb_line_break_holder] --> font-size: 14px!important;}<!-- [et_pb_line_break_holder] --> #parlay td, #parlay th {<!-- [et_pb_line_break_holder] --> border: 0px;<!-- [et_pb_line_break_holder] --> padding: 8px;<!-- [et_pb_line_break_holder] --> text-align: left;}<!-- [et_pb_line_break_holder] --> #parlay th {<!-- [et_pb_line_break_holder] --> padding-top: 5px;<!-- [et_pb_line_break_holder] --> padding-bottom: 5px;<!-- [et_pb_line_break_holder] --> font-weight: bold;<!-- [et_pb_line_break_holder] --> line-height: 14px;<!-- [et_pb_line_break_holder] --> text-align: center;<!-- [et_pb_line_break_holder] --> color: #000;}<!-- [et_pb_line_break_holder] --> #parlay tr {border-bottom: 1px solid #edeef0;}<!-- [et_pb_line_break_holder] --> .team {font-size: 16px;}<!-- [et_pb_line_break_holder] --></style>
<a class="twitter-timeline" data-width="300" data-height="500" data-link-color="#008156" href="https://twitter.com/PredictemPicks?ref_src=twsrc%5Etfw">Tweets by PredictemPicks</a> <script async src="https://platform.twitter.com/widgets.js" charset="utf-8"></script>