Pocono Organics 325 Picks 6/27/20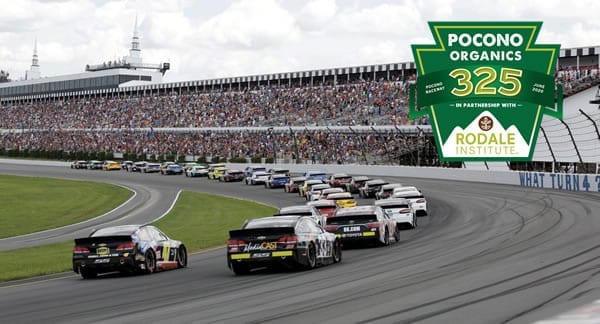 Race: Pocono Organics 325
Date: Saturday, June 27, 2020
Track: Pocono Raceway
Time: 3:30pm ET
Channel: FOX
What Did We Learn From Last Week?
What a wild finish at Talladega!! Ryan Blaney made it over the line literally milliseconds ahead of second-place finisher Ricky Stenhouse Jr. It was a really exciting finish, with the drivers wrecking over the line. NASCAR let Talladega play out like it should have, with Aric Almirola literally sliding sideways across the start/finish line to claim the third spot. Erik Jones had a heck of a run coming out of the tri-oval, dodged quite a few cars, made a run at Blaney, but unfortunately was taken out by Blaney. It was a total Talladega racing incident, nothing more and nothing else. Everyone reacted well. It was another disappointment for Jones, but nonetheless, it was still a top 5 finish. Denny Hamlin came in 4th to round out the entire top 5 drivers. The rookies had a great showing overall. Chris Buescher was running strong at the end and brought home 6th place, followed by Alex Bowman, John Hunter Nemechek, Kurt Busch, and Kevin Harvick to finish out the top ten.
Let's take a minute and talk about Kevin Harvick, though. He rubbed me the wrong way. Jimmie Johnson, who had a great car throughout the afternoon, had a strong run and came up to the outside line in front of Harvick. He is in no way, shape, or form hindered Harvick and actually kept his momentum up. Despite that, Harvick decided to clip his left rear quarter panel and take him out. Luckily for Jimmie, he managed to not hit anything and just flatten his tires, but it still took away a potential win.
Interestingly enough, we saw a similar scenario with Brad Keselowski having a driver come up in front of him in the same fashion. Brad didn't clip the driver. In fact, he laid off a touch, just enough to not ruin the momentum of the line and kept pace without wrecking a soul. Harvick could've easily done the same. He chose to wreck Jimmie. That's poor driving, in my opinion. As much of a wheel man as Harvick is, he shouldn't have driven dirty to gain a spot. It didn't serve him well, anyway. Johnson ended up 13th, which is better than it would've been if he hadn't maintained control of his car.
Where Are We Heading This Weekend?
We are heading to Pocono this weekend for a first for NASCAR. It's a doubleheader. The drivers are racing on both Saturday and Sunday this weekend. It's going to be an exciting weekend. Saturday's race will be a total of 130 laps for 325 miles. Sunday's race is a total of 140 laps for 350 miles. Both days are following the Gander Truck Series and Xfinity Series races, respectively. Pocono is notorious for being hard on equipment. It's a huge track that produces a lot of tire wear. Based on its configuration, it can also be hard on brakes. Jeff Gordon is one of the most notorious drivers here because of brake failure that he had, causing a gnarly wreck into the wall. This place is actually not much smaller than Talladega. The "Tricky Triangle," as it is affectionately known, is a 2.5-mile asphalt triangle…literally. That's why brake failure is so detrimental here. The turns are sharper than almost any other track, causing the drivers to brake heavy coming into them. Turn 1 has 14 degrees of banking. Turn 2 is milder at just 8 degrees, and turn 3 has only 6 degrees. You can imagine that this also creates challenges in setting up the cars appropriately with such a variance in banking across the track as well as the sharp turns. Teams often have a hard time trying to get their cars set up for each part of this track. Turn 1 is specifically modeled after Trenton Speedway. Turn 2 is modeled after the tunnel turn of Indianapolis Motor Speedway. Turn 3 is modeled after the Milwaukee Mile. As you can imagine, this is quite the eclectic setup. Although it's a massive track, due to the nature of the sharp turns and relatively low banking compared to other tracks of this size, speeds are much lower than comparable tracks. Now, that being said, there are still often a plethora of lapped cars, and leaders often pull away from the field. It's happens more often than not at Pocono.
Odds and Value Picks
When we consider the best drivers here, my radar goes to the veterans. It really is a tricky place to navigate and to set up the cars appropriately. If history tells us anything, it's that a JGR driver is going to win. In fact, someone from that team has won the last five races here. With the way that he's running, Denny is going to be my front runner this weekend. Although he only won one of those 5, he's very clearly the strongest JGR car so far this season. Look for Hamlin to be leading the pack on Saturday. His teammate, Kyle Busch, is going to be the next best driver. I anticipate him giving Hamlin the biggest run for his money out of any other driver. Suffice to say. It could go either way. I wouldn't be surprised to see one win Saturday and one win on Sunday. Saturday's race will be a very strong indicator of Sunday performance, obviously. Let's take a look at your potential winners heading into Pocono on the first of the doubleheaders:
Favorite: Denny Hamlin (+550)
Middle of the Road: Erik Jones (+2000)
Dark Horse: William Byron (+1800). Bet your Pocono picks for FREE by taking advantage of a 100% REAL CASH bonus where you deposit anywhere from $100 to $300 and MyBookie Sportsbook (See our MyBookie Review Here!) will match your deposit dollar-for-dollar! You must sign up through this special link and use bonus code PREDICT100 in order to take advantage of this offer! Free loot is good loot!
Byron is a little bit of a loose cannon on the track. I just never know where to place him or how his race is going to turn out. But, hey, let's throw a little bit of a Hail Mary. Byron only has four runs under his belt here. In the last three, he had top 10 finishes each time. That said, look for him to be doing his best to stay in the front of the pack. I don't think that he will have too much trouble in the way of other drivers. This is a big open track, and the drivers spread out well. If he can stay out of his own way, Byron might just have a shot. After all, he's coming off an 11th place finish after a wild Talladega ride. That's not too shabby. He will be chasing some strong drivers, though. Erik Jones is one of them. Although he's the only JGR driver without a win here, don't let that fool you. He's run a total of 6 trips around this place with 4 top 5 finishes. That's nothing to shake a stick at. In fact, in this race last July, he had a runner-up finish. He's creeping his way closer and closer to victory lane. After an unfortunate bump with Blaney last weekend, Jones is coming in strong to the first of the Pocono races. They will all be chasing Hamlin, though. With a strong JGR presence, Hamlin will likely outshine them all. Let's take a look at where the JGR drivers and all the rest are sitting after the mayhem of Talladega:
NASCAR Standings
Kevin Harvick (+450)
Joey Logano (+1200)
Ryan Blaney (+1100)
Chase Elliott (+600)
Brad Keselowski (+700)
Denny Hamlin (+550)
Martin Truex Jr. (+700)
Alex Bowman (+1400)
Kyle Busch (+500)
Kurt Busch (+2000)
Jimmie Johnson (+2500)
Aric Almirola (+8000)
Clint Bowyer (+6600)
William Byron (+1800)
Matt DiBenedetto (+10000)
Tyler Reddick (+8000)
Reddick had a rough go of it at Talladega, but I don't think that's indicative whatsoever of his talent or how he will perform at Pocono. Ironically, he actually moved back into the top 16, despite only a 20th place finish. I think that he will see an even bigger boost in the points after both races this weekend, actually. Austin Dillon fell back out of contention after Talladega, which is a bit surprising, as they used to be pretty strong on the superspeedways. There were some internal ups and downs overall, but only the 16th position wavered. Pocono will probably not cause too much of an issue in the points as a whole, that is unless we deal with something like rain. I was a little taken aback that NASCAR chose Pocono for their doubleheader, being that there is a constant threat of rain at this track. More often than not, if you look at the races that have been delayed, postponed, or shortened, that number is probably bigger than races that went green from start to finish without a schedule change. If I were a fan going to this weekend's events, I'd be doing some pretty heavy praying for no rain. Stay tuned to see how much racing these guys can get in at Pocono for this unprecedented doubleheader weekend! Don't forget to check out the 100% bonus offer above! If bonuses aren't for you and all you care about is the biggest selection of wagers and betting at discounted odds, maybe 5Dimes is for you. Discounted odds pricing trumps any bonus you can get!