Quaker State 400 Picks – 2020 Race Predictions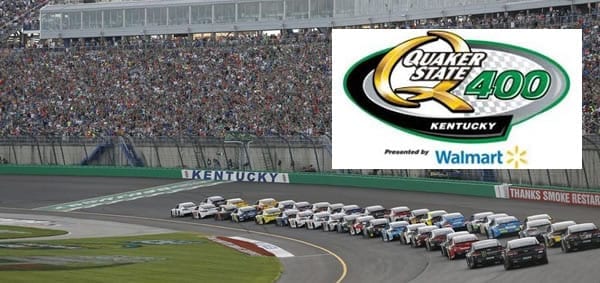 Race: Quaker State 400
Date: Sunday, July 12, 2020
Track: Kentucky Speedway
Time: 2:30pm ET
Channel: FS1
What Did We Learn From Last Weekend?
As predicted, Kevin Harvick took the win at Indy this weekend, marking his 3rd victory at the Brickyard. It was a hard-fought battle and one in which he was being chased or chasing Denny Hamlin throughout much of the race. What we saw on Sunday was a battle against tires more than anything. There was good on-track racing, but there were several drivers that suffered from tire catastrophes. None were worse than Denny Hamlin's, though, with only seven laps remaining. Hamlin's car blew a right front, sending the car for a hard hit into the outside wall of turn one. It was disappointing for Hamlin, as he had battled with Harvick for a majority of the night and had an obviously fast racecar. Denny took the disappoint with a smile, nonetheless and acknowledged the skill of Harvick and his team. He was a class act despite his 28th finishing position when all was said and done.
There were a few notable stories this weekend. Perhaps most noteworthy was Jimmie Johnson missing his first Cup series race of his career thanks to a positive COVID diagnosis on Friday prior to this weekend's activities. Johnson was forced to sit out, leaving Justin Allgaier to take the wheel. It was the first time that anyone else has driven the #48 car since Johnson took the reigns many moons ago, breaking his 663 starts streak. That said, Allgaier was moving his way through the pack after starting from the rear of the field. Unfortunately, he was caught up in a pit road pileup and suffered too much damage to continue the race. He ended up 37th when all was said and done. During the incident on pit road, Ryan Blaney's rear tire changer, Zach Price, was hit not once, but twice. Allgaier was, unfortunately, one of the drivers that nicked him. Price was transported to a local hospital, where it was discovered he suffered a leg injury. He is scheduled to sit out this weekend's upcoming race. Prayers to him as he recovers.
Where Are We Headed This Weekend?
This weekend, the drivers are heading to Kentucky Speedway. This place offers good racing. It's a 1.5-mile asphalt tri-oval with varying degrees of banking through the turns. Turn 1 and 2 offer 17 degrees while turns 3 and 4 offer 14 degrees. The tri-oval has 8 to 10 degrees of progressive banking, with the straights having a minimal 4 degrees. The track is a newer track to the Cup Series, with racing only beginning here in 2011. Since then, it already went through a repaving due to drainage issues in 2015. The track's surface was praised by drivers, showing multiple racing grooves and providing good traction throughout, though. It's a driver and fan favorite. As we saw with Indy, Kentucky has its fair share of tire wear issues as well. There are long green flag runs throughout this race. Matched with the track's surface even after the repaving, you can imagine that tire strategy plays a significant role in the race outcome.
Odds and Value Picks
As the drivers head into Kentucky, there's one particular team that seems to dominate this place. JGR drivers are going to be the ones to beat once again. It's going to be a toss-up between Kyle Busch and Martin Truex Jr. from that garage. Although Truex has won two of the last three races here, I think Busch is going to edge him out. Kyle is the most consistent driver at this track among the active drivers. He's got two wins here as well, with no finishes worse than twelfth. He finished 2nd in this race last year, and he has certainly been looking for a win recently. This could be his weekend. His brother is actually the defending winner of this race, but I don't think Kurt will have what the JGR teams do. The other team to consider this weekend is Penske. Brad Keselowski has three wins here, the most of any active driver. In the last nine races, he's got 6 top 10 finishes. There's something about Kentucky that he's got figured out. Don't be surprised to see him back in victory lane this weekend. Teammate Joey Logano is also another good driver here. He's got 6 top 10 finishes here, but to edge out Brad is going to be tricky. Let's take a look at your potential winners heading into Kentucky on Sunday:
Favorite: Brad Keselowski (+800) Midrange Odds: Ryan Blaney (+1000) Dark Horse: Tyler Reddick (+6600)
Although he's never won a Cup race at Kentucky, Reddick earned his first Xfinity win at this speedway. With his impressive start so far this season and coming off another top 10 finish at Indy, I'd be willing to throw some money on him. The return would be pretty darn good. If the kid can not only survive Indy but manage an 8th place finish, he's going to continue to do big things this year. I wouldn't be surprised at all to see Reddick take home his first Cup Series win here this weekend. It'll be a hard-fought win because drivers like Blaney and Keselowski are certainly going to be hard to beat. Blaney's worst finish here was 35th in his inaugural Cup Series start back in 2016. Since then, he has managed a 10th, 2nd, and 13th, respectively. With his success so far this year, it wouldn't surprise me to see him charge to the front. If he can stay out of trouble on and off pit road, Blaney will be one to watch closely. Although the JGR team is definitely a group to keep your eyes on, I think that Brad Keselowski is going to one-up everyone. His last race here was a bust. He's going to be either really good or bad, but I'm leaning towards the really good side. Paul Wolfe is definitely an advantage to him, so with his guidance, Keselowski is going to be the one to beat. Sitting 3rd in the points isn't too shabby, but I'm sure he'd like to best that position and catch Harvick for the top spot. Let's take a look at the standings after Indy.
100% REAL CASH up to $300

USE BONUS CODE:
PREDICT100
NASCAR Standings
Kevin Harvick (+350)
Chase Elliott (+500)
Brad Keselowski (+800)
Ryan Blaney (+1000)
Denny Hamlin (+500)
Joey Logano (+800)
Martin Truex Jr. (+800)
Alex Bowman (+1600)
Aric Almirola (+2800)
Kurt Busch (+2500)
Matt DiBenedetto (+6600)
Clint Bowyer (+4000)
William Byron (+2800)
Jimmie Johnson (+2500)
Austin Dillon (+15000)
Erik Jones dropped from the top 16 once again, leaving Austin Dillon to fill the gap. Elliott and Blaney swapped spots, although I think that Blaney will gain some points back this weekend. Overall, it's going to be a really good race. I'm interested to see if Penske or JGR bring their best game. While Kevin Harvick has been on a dominating run, Kentucky is just not his best track, so I'm not putting much credence into him being a factor. Jimmie Johnson, who was out last weekend due to COVID, has been cleared to race this weekend. This is actually a track that he's never run on before. I don't see him picking up his first win this weekend, but crazier things have happened. Stay tuned for another exciting afternoon of racing as the drivers head to Kentucky Speedway!
Get $60 of FREE member picks & predictions
(NO commitments. NO Credit Card. NO Salesman.)