[et_pb_dcsbcm_divi_breadcrumbs_module hide_homebreadcrumb="off" homebreadcrumbtext="Home" separator="sep-raquo" hide_currentbreadcrumb="off" homebreadcrumborientation="left" _builder_version="3.8″ fontsbreadcrumbs_font="Lato||||||||" fontsbreadcrumbs_text_color="#000000″ fontsbreadcrumbs_font_size="15px" fontsbreadcrumbs_line_height="16px" fontsseperator_font="||||||||" fontsbreadcrumblinks_font="||||||||" fontsbreadcrumblinks_text_color="#2567cf" custom_margin="25px|||" custom_margin_phone="30px|||" custom_margin_last_edited="off|desktop" custom_css_main_element="font-family: Helvetica Regular;" disabled="on" global_module="3641″ saved_tabs="all"][/et_pb_dcsbcm_divi_breadcrumbs_module]
Philadelphia 76ers vs. Toronto Raptors Pick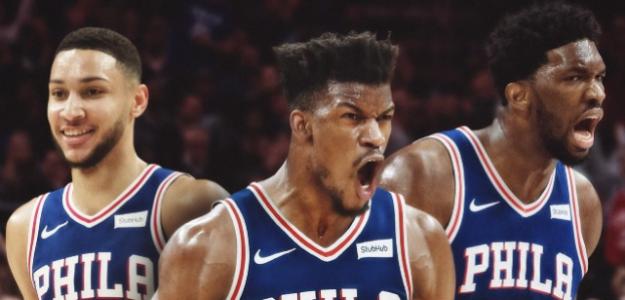 Philadelphia 76ers (57-34 SU, 44-47 ATS) vs. Toronto Raptors (64-27 SU, 43-48 ATS)
When: Tuesday May 7th, 2019 – 8:00 p.m. ET
Where: Scotiabank Arena, Toronto, Ontario
TV: TNT
By: Matt Lowry, NBA Handicapper, Predictem.com
Point Spread: PHI +6 / TOR -6 (MyBookie Sportsbook)
Total: O/U 211.5
Last Time Out: Toronto won game four 101-96. The series is tied 2-2.
Best of Three
With the Raptors having won game four, the series has turned into a best of three. Philly looked bad in game four and now will have a quick turnaround before playing in Toronto.
Specifically, each team will receive just one day of rest to prepare for the all-important game five. Both teams have played extremely well with one day of rest this season, with the Raptors going 38-18 straight up and the 76ers going 35-14 straight up. As for against the spread, the 76ers hold the edge with a 27-22 record compared to a record of 25-31 from the Raptors. The spread is set at a steep -6 in favor of the Raptors, so I lean towards the 76ers to keep this game close.
The biggest "injury" to note is that of Joel Embiid. He is dealing with an illness and it showed based on his game four performance. Now he is listed as questionable for game five so keep an eye on his status before making a play on this game.
Going 0 to Sixers
Things were looking good just a few days ago when Philly took a 2-1 series lead after dominating game three. Then game four happened. I, along with Keith, even took the bait on the 76ers after Siakam was listed as doubtful. That utterly backfired when the Sixers decided to go about seven minutes without a field goal in the fourth quarter. I am only a little salty about this, but regardless I have a few reasons as to why the Sixers can bounce back and retake the series lead.
No surprise, but the Sixers will need Joel Embiid to not suck like he did in game four. It is the playoffs and going 2 for 7 with 11 points is unacceptable. I will give him the benefit of the doubt because he was sick, but he must find it in him to produce at an elite level. For whatever reason, this series has been rough on Embiid as he is only averaging 18 points per game. One trend I noticed is Embiid has not had two straight games in this series where he had 15 points or more. Game one Embiid had 16 points, game two he had 12 points, game three he had 33 points and of course game four he had 11 points. Now this is just an observation, but if this trend holds, Embiid will be destined to score at least 16. I am thinking he gets closer to 30 given the importance of this game, but still the way Embiid plays will shape the outcome.
Another player I want to look at is Tobias Harris. Harris has failed to have a major impact on this series so far and is only averaging 13 points per game. Sure, he scored 16 in game four, but it was on 7 of 23 from the field. He especially needs to improve from the three-point line, where he was 2 of 13 in this most recent contest. Jimmy Butler can only do so much on his own so Harris must be that go to guy if the Sixers want to avoid losing a second straight game.
Defend the North
The Raptors made up for their home loss by winning game four and of course, Kawhi Leonard was the main reason why. Leonard is now averaging 38.0 points per game in this series and will once again be the focal point. Now it is obvious that no one is going to stop this man, but this is still a team sport so here are a few reasons as to why the Raptors will hold serve on their home court.
There are plenty of guys on this Toronto team who can and need to improve if the Raptors are going to win. I want to start with Kyle Lowry because he is the primary point guard and is the one who facilitates the offense. Although Lowry has been lackluster in this series, averaging 12.5 points per game, he is averaging 6.3 assists per game. That said, we know Lowry is much more talented than this and it will need to show in game five. Another reason why Lowry is so important to this Raptors team is because he will most likely be guarding Ben Simmons. He did a great job of holding Simmons to a mediocre 10 points in game four, but he failed to force any turnovers. This needs to change fast if the Raptors want to win this game. Look for Lowry to feed off the crowd's energy and ramp up his defensive effort while also providing his team with plenty of scoring opportunities.
Best Bet
There is no doubt in my mind that Kawhi is going to go off in this game. Especially since he will be on his home floor, he is poised to have another monster game. However, the Sixers have too many guys on their roster who could go off at any time, which is why I like them to cover in this spot. I mean Embiid played like crap and the Sixers still only lost by 5. I believe Embiid has a bounce back game and help the Sixers keep the deficit under 6 points.
Free NBA Pick: Philadelphia 76ers +6
Who else wants $60 of FREE member picks & predictions?