Boston Celtics at Toronto Raptors Betting Prediction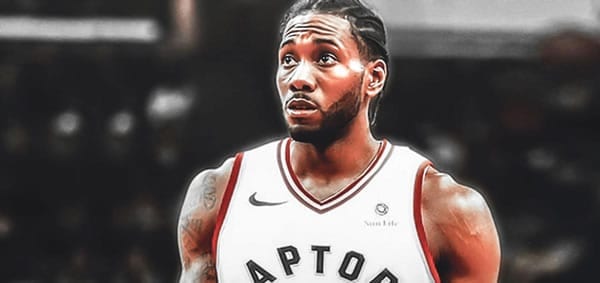 Boston Celtics (1-0, 1-0 ATS) vs. Toronto Raptors (1-0, 0-1 ATS)
When: Friday, October 19th, 2018 – 8:00 pm ET
Where: Scotiabank Arena – Toronto, Canada
TV: ESPN
Point Spread: TOR -3/BOS +3
Total: 208
Last Night in the NBA
The bigger they are, the harder they fall. Just as we feared, the LeBron machine is addicted to generating content, and all of the whispers about the Lakers lack of shooting were on full display as they shot a paltry 7-30 (23.3%) from deep and looked predictably out of sync. Meanwhile, the Sixers ignited the Wells Fargo Center with the passion of a 1000 Markelle Fultz Twitter mentions, and Kelly Olynyk continued to be a thorn in the side of Wizards fans the world over (see: 2017 NBA Playoffs 2nd Round Game 7 for context).
We soldier on to Olynyk's former team, the Boston Celtics, as they take on the Toronto Drakes in the 6 for a potential Eastern Conference Finals "sneak peek". The Raptors open as a slight favorite against their division foe with the total set at 208. Let's get down to business.
Fast Payouts - Big Limits - Solid Player Rewards:
Bookmaker.eu
Too Many Cooks in the Kitchen?
While it may seem odd, it is possible for both of the following things to be true about the Boston Celtics: 1) The Boston Celtics are the runaway favorites for the Conference and look formidable as a Championship contender, and 2) neither Kyrie Irving or Gordon Hayward is in the top-2 best players on their team. As long as Scary Terry and Marcus Smart are hooking up like the Wonder Twins, Jayson Tatum is banking in 20-footers in isolation, and Al Horford anchors a stout defensive line, Irving and Hayward are superfluous at best and impeding the progression of young guys at worst. While the ceilings of those two players are potentially higher from a championship contention point of view, there is little to argue that night tonight, Boston's young stars in Tatum, Brown, Rozier, and Smart are more conducive to winning games. Boston has a good problem, but a problem nonetheless – they have too many good basketball players.
Luckily for them, they might need to platoon themselves against a Toronto team that goes 10-deep as well. Lowry remains a pesky defender, but he and Kyrie have mostly canceled each other production-wise in their past matchups. The most interesting subplot of the evening will be how well young Tatum fares against The Claw himself, Kawhi Leonard. If Tatum is neutralized, Boston's supporting cast might find it harder to generating offense in the half-court up in the North versus in the comfy confines of their TD Bank Arena. Boston should be able to rely on their defensive switching scheme to disrupt Toronto's talent, and locking down on that end to create turnovers which lead to fast break opportunities is their best shot of getting out of the T-Dot alive. Something interesting to note is that the Celtics might be playing a different 5-man group to close every game and don't be surprised if Brad Stevens rides the hot-hand as they try to knock off the Raptors.
Welcome Back, Kawhi
While I do not necessarily condone the player empowerment movement across the NBA, it's nice to have Kawhi Leonard back. When he shadowboxes with an offensive superstar and is able to use his freakishly big hands and long arms to block shots or strip the ball, it's about as thrilling as defense can be to watch. Despite the relative dullness of the remainder of this Raptors squad, Toronto is going to remain a contender in the East whether we like it or not so the least Kawhi can do is keep us entertained.
While the supporting cast in Kawhi's new show is uninspiring, their effectiveness cannot be denied. An all-star point guard in Kyle Lowry, switchable bigs like Pascal Siakam/Serge Ibaka/OG Anunoby, and a slew of productive bench players in CJ Miles, Fred VanVleet, and Normal Powell give the Raptors a lot of different looks that they can throw out there. Their personnel, in some ways, mirrors the one of their opponent's, but with the inclusion of Kawhi's two-way dominance, Toronto might have a higher ceiling. First-year coach Nick Nurse has promised to bring these dinosaurs into the 21st century by upping the pace and launching 3s, and if they are making 42% of them as they did on Wednesday night, maybe the Raptors can hold off their extinction via meteor for one more year.
Quick Match-up Notes
Toronto was tied with the Houston Rockets for the best home record in the NBA last year (34-7)
Jayson Tatum was not bundled up for his trips to the chilly North last season, scoring only 12 points across 2 games
Toronto was the only team ranked top-5 previous year in both Offensive and Defensive Efficiency; Boston ranked 1st in Def. Eff. last year
Best Bet
Now that we have gotten a small sample of what each team is bringing to the table, it should be easier to forecast how this game might go. Boston is going to be a top-3 defense again this season, and while Tatum was able to get off shots on Wednesday, it might be a few more games before Hayward and Kyrie fully shake off the rust. Meanwhile, Toronto is bringing a lot of the same energy to the table as last season, and Raptors fans are smart; they know that they need to bring it for this game and create a playoff atmosphere. Boston seems content to cause havoc on the defensive end and get into their halfcourt sets to generate offense, and neither one of these teams is known for pushing the pace to the extreme. This game feels like it should have a playoff-type score in the 90s to low 100s, and as long as the Celtics young guns don't freeze up there, it should be a competitive game. I am giving the slight edge to Toronto in this one, and they should be able to cover the number with free throws before Marcus Smart banks in a 32-footer at the buzzer for the Celtics to cover. The story of my life.
Final Score Prediction: Toronto 104 – Boston 99
Bet this game at a sportsbook that offers the best bang for your buck - Low Vig Sports Betting.
TIRED OF YOUR CREDIT CARD NOT WORKING AT SPORTSBOOKS? IT WILL AT Bovada + GET A 50% CASH BONUS!