Boston Celtics vs. Indiana Pacers Pick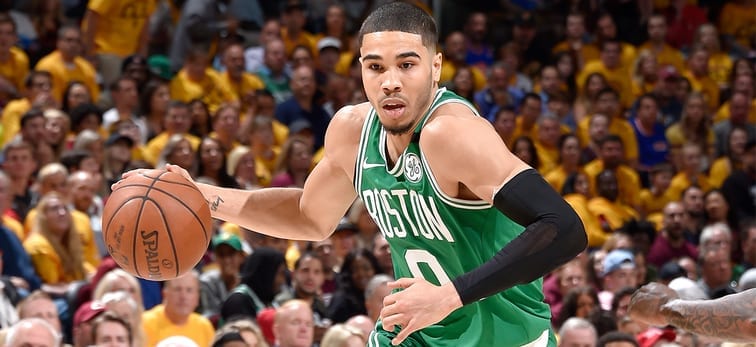 Boston Celtics (6-2, 4-4 ATS) vs. Indiana Pacers (6-3, 4-4-1 ATS)
When: Saturday, November 3rd, 2018 – 7:00 pm ET
Where: Bankers Life Fieldhouse – Indianapolis, IN
TV: NBATV
By: Kyle Cash, NBA Basketball Handicapper, Predictem.com
Point Spread: BOS -3/IND +3
Total: 207
Last Night in the NBA
While I'm glad that the Thunder paid off our ML bet, I am flabbergasted at the amount of points scored in that game. No one particular player scored an ungodly amount, and yet a whopping 245 points were poured in. Did they play 5 quarters? How the hell am I losing under bets to Jerami Grant and Dennis Schroder? What is this? Elsewhere, the balance of the NBA force was restored as the Thunder, Warriors, Rockets, and Raptors dispatched their opponents with varying degrees of ease.
See all Saturday College Football Picks!
Saturdays are for the boys, but NBA Saturdays are apparently for pseudo-rivalries. None of these games jump out as bad-blood feuds, but match-ups between teams like the Pistons/Sixers, Celtics/Pacers, Cavaliers/Hornets, Pelicans/Spurs, Jazz/Nuggets, and Lakers/Blazers have me intrigued. A lot of those games are between teams with conflicting or eerily similar basketball ideologies, and I'm curious to see how these games shake out. Let's pick the national television game between the Celtics and Pacers to dive into, as the Celtics are currently favored by 3 points on the road. Vegas has started to re-calibrate their point expectations as the total is set at a modest 207 points. Away we go!
Celtic Pride
In their last time out, Boston finally made a stride towards figuring out their proper closing 5-man group of players. Kyrie Irving was up to his old tricks, Tatum is a young, blossoming go-to scorer, Horford commands their daunting defensive front, and Gordon Hayward does whatever it is that he feels comfortable doing right now. Their fifth spot theoretically belongs to Jaylen Brown, but early struggles and injuries have left him standing as the odd man out. Some guys are not meant for diminished roles; it is a lot harder to come into a game and change the momentum than guys like Lou Williams or Manu Ginobili make it seem. Without a proper starting role, it's tough to imagine a scenario where Jaylen Brown reaches his full potential as a two-way star, and Danny Ainge's best move might be to package him, Marcus Smart's mid-tier salary and some picks for a guy down in New Orleans. I am hoping beyond hope that this is not the case, but I feel the Woj Bomb coming sooner rather than later. Batten down the hatches, kids.
Boston is everything that Indiana is hoping to be, and this is one of those games that will be telling for each team's chances come playoff time. Both teams like to slow it down, grind down opposing offenses with length and communication on the defensive end, and they have go-to crunch time playmaking in their lead guards. Schematically, there isn't much to cross-examine for the match-up. You've heard me say this before, but sometimes, talent just wins out. The Celtics can win this game on the fringes of their individual matchups, particularly with their bench production. As long as Domantas Sabonis is no longer possessed by the spirit of his incredibly talented father, Boston has a fighting chance to escape with a tough road victory.
Home Team Subheading
After suffering through the misery of their bout versus the New York Knicks, I cannot bring myself to enjoy the Pacers. It's a shame, because they have players that I like. Former 76er legend Thad Young continues to baffle defenders with his unorthodox manner; Baby Sabonis can embarrass dudes in the post; and Victor Oladipo's passion for excellence is admirable to say the least. I enjoy when guys who exceled at the collegiate level carve out roles for themselves in the big leagues, so Indiana is alright in my book.
Unfortunately, their coach is not exactly a revolutionizing the game of basketball, and his invitation to the NBA's points parade must have gotten lost in the mail. Against a coach like Brad Stevens, you can't show up empty-handed. Stevens has more ATO (after time-out) plays in his quiver than Hawkeye. In a game that will be played primarily in the half-court, offensive scheme is the key to success, and the Pacers are lacking in that department. If Tyreke Evans can become the second playmaker that Indiana needs, they should have no problem figuring out a way to parlay their defensive presence into transition buckets. But for now, expect Stevens and his crew to throttle the life out of the Pacers. It's going to be ugly, and ugly is where Boston thrives.
Quick Match-up Notes
Boston and Indiana rank 1st and 6th, respectively, in Defensive Rating
Indiana ranks last in pace of play
Oladipo averaged 33 points, 6 rebounds, 4 steals in 3 games versus Boston last season, 2 of which were victories for Indiana
TIRED OF YOUR CREDIT CARD NOT WORKING AT SPORTSBOOKS? IT WILL AT BOVADA + GET A 50% CASH BONUS!
Best Bet
This seems like a classic under game, so it almost assured to be heading over the point total in double OT or something along those lines. Take the under at your own peril – the sheep line up for the slaughter, as they say. As for the game itself, it is tough to pick against Boston right now. The Red Sox just celebrated their World Series by assaulting their manager with a beer can, and the Patriots are gearing up for a Sunday Night Showdown versus Aaron Rodgers and the Green Bay Packers. Moreover, the Celtics already have impressive victories over elite teams like the 76ers, the Thunder, and most recently, the undefeated Milwaukee Bucks. Kyrie Irving is gaining his sea legs as we speak, and with Indiana coming off of a back-to-back in Chicago where they actually had to try, I can easily see the Celtics stealing another victory from an Eastern Conference contender. Enjoy your dominance while it lasts, Boston. Carson Wentz, Ben Simmons, and Rhys Hoskins are coming for your heads.
Final Score Prediction: Boston Celtics 108 – Indiana Pacers 100
<h4 class="widgettitle">NFL Picks</h4><!-- [et_pb_line_break_holder] -->
<div style="width:340px; margin: 0 auto;"><!-- [et_pb_line_break_holder] --> <a class="twitter-timeline" data-width="340" data-height="500" data-link-color="#008156" href="https://twitter.com/PredictemPicks?ref_src=twsrc%5Etfw">Tweets by PredictemPicks</a> <script async src="https://platform.twitter.com/widgets.js" charset="utf-8"></script><!-- [et_pb_line_break_holder] --></div>