Boston Celtics vs. LA Lakers Pick 3/9/19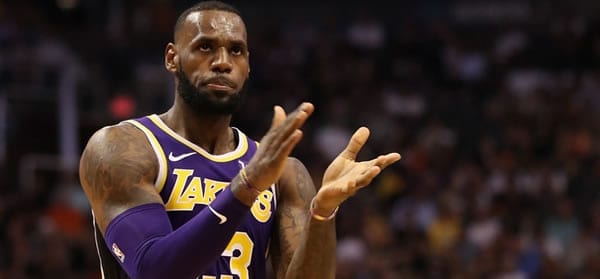 Boston Celtics (40-26, 32-32-2 ATS) vs. LA Lakers (30-35, 26-38-1 ATS)
When: Saturday, March 9th, 2019 – 8:30 pm ET
Where: STAPLES Center – Los Angeles, CA
TV: ESPN
Point Spread: BOS-5 / LAL+5 (Bookmaker)
Total: 220.5
Last Night in the NBA
To be fair, I made my analysis without the knowledge that Klay Thompson was going to be playing. So if we take away the 39 points that he effortlessly scored, I would say that's a Denver cover. Also, remember that thing about Denver being a legit contender and having an awesome starting five? LOL @ that.
Elsewhere in the NBA, the Sixers officially have me worried about Embiid's health and Jimmy Butler's game, the Clippers solidified their playoff position behind Lou Will's 40-spot, and the Grizzlies started Joakim Noah at power forward in what can only be described as a blatant act of tanking…and then won. Oops!
We have an absolutely glorious Saturday filled with juicy NBA match-ups and college basketball conference rivalries, so it's only fitting that I'm basically being forced to attend Adult Prom. No luck but bad luck for Kyle Cash. While I sip champagne and am forced to mingle, the Boston Celtics will be visiting their arch-rival Los Angeles Lakers in a battle of the Unhappy Iconic Franchises. There are too many injuries and variables for a line to be set yet, so let's just make some jokes, pick a winner, and call it a day. Easy peasy.
A Chemistry Experiment…
If the rumors are to be believed, the Celtics' nightmare may be coming to an end. There was supposedly a plane ride to Golden State that consisted of Kyrie Irving profusely apologizing to and reconciling with his scorned teammates, and it may be the moment Boston needed all along. If you ask me, the real problem is that the Celtics have too many cooks in the kitchen, and they are constantly burning each other's food and bumping into one another. They're the perfect example of an old saying in sports: they are one injury away from being a good team.
Good teams beat bad teams, and that's precisely what the Celtics should do tonight. After the vomit-inducing loss that they suffered at the hands of the Lakers last month, I have to believe that they are out looking for blood. With an evolving offense and an elite defense (5th in Defensive Rating), the Celtics dominate the Lakers on paper.
But games aren't played on paper, and the Lakers still have the ultimate trump card. I'm sure that LeBron will begin to rest his body over the coming weeks, but tonight isn't the night to start. LeBron has demolished Al Horford to the tune of a 26-8 regular season record (19-4 in the playoffs), and his 29.3 career points per game versus the Celtics tells me that this is a game he circled on his calendar. Tread carefully, Boston.
…Gone Awry
Let the record show that I take no pleasure in the fact that we are going to have the first NBA post-season sans LeBron James since I was in elementary school. But I would be hard-pressed to find a worse time in recent history to be a LeBron fan. He's playing like shit, he looks old and washed, the media is done with him, his teammates don't like him, his coach has two feet out the door, and he asked for Paul George and Anthony Davis and was given Lance Stephenson and Rajon Rondo. This is an absolute disaster for the LeBron > MJ truthers, and I'll confess: I do not take pleasure in that.
But this old dog can still do a few tricks when he feels up to it. The King is basically an offense-only player at this point, and he'll need to tap into that versus a stout Celtics front. To say that LeBron needs to shoulder the offensive burden is like saying that Kim Jong-Un needs a haircut; it's painfully evident to all parties. Any team that heavily involves Alex Caruso better hope that the league they are in starts with a G-.
Even with a depleted roster, all is not lost for the Lakers. Nobody enjoys a good #RevengeGame more than Rondo, and a Rajon-JaVale pick-and-roll presents real problems for Boston's rim protectors. And with the streaky offensive players on the Lakers (Caldwell-Pope, Hart, Kuzma), there's always the possibility that tonight is a night where the switch is flicked to on. Trust me – stranger things have happened than Josh Hart single-handedly winning an NBA game.
Best Bet
The stupid and funny thing about this game is that I can't see either team winning it, but I also can't see either team losing to the other. The Celtics are just flat-out superior to the Lakers, and they are enjoying a much better run of health at the moment. But LeBron has littered his ledger with Boston bodies throughout the years, and there's something about feeling like you own a team that is unquantifiable. If I had to guess, I would say that tonight is LeBron's official send-off to the 2018-19 NBA season, and I expect a spectacle. But if I'm wrong, that's okay too – I can just show up tomorrow with a cast on my hand and talk about how I basically broke my hand last week. Win-win for the King and me.
Final Score Prediction: LA Lakers 128 – Boston Celtics 122
Editor's Note: Find the top places to lay down your bets by checking out our Top Sportsbook by Category Guide!
Who else wants $60 of FREE member picks & predictions?
(NO commitments. NO Credit Card. NO Salesman.)