[et_pb_dcsbcm_divi_breadcrumbs_module hide_homebreadcrumb="off" homebreadcrumbtext="Home" separator="sep-raquo" hide_currentbreadcrumb="off" homebreadcrumborientation="left" _builder_version="3.8″ fontsbreadcrumbs_font="Lato||||||||" fontsbreadcrumbs_text_color="#000000″ fontsbreadcrumbs_font_size="15px" fontsbreadcrumbs_line_height="16px" fontsseperator_font="||||||||" fontsbreadcrumblinks_font="||||||||" fontsbreadcrumblinks_text_color="#2567cf" custom_margin="25px|||" custom_margin_phone="30px|||" custom_margin_last_edited="off|desktop" custom_css_main_element="font-family: Helvetica Regular;" disabled="on" global_module="3641″ saved_tabs="all"][/et_pb_dcsbcm_divi_breadcrumbs_module]
Denver Nuggets vs. Golden State Warriors Pick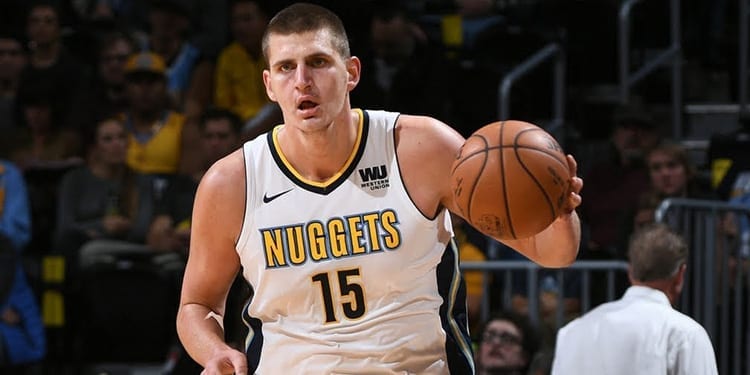 Denver Nuggets (43-21, 35-29 ATS) vs. Golden State Warriors (44-20, 25-38-1 ATS)
When: Friday, March 8th, 2019 – 10:30 pm ET
Where: ORACLE Arena – Oakland, CA
TV: ESPN
By: Kyle Cash, NBA Basketball Handicapper, Predictem.com
Point Spread: DEN +6.5/GSW -6.5
Total: 233
Last Night in the NBA
We're too early into the OKC-Portland game to have a clear vision of how it is going to end, but neither team has had a lead greater than 4 points in the first 14 minutes and I'm liking my double-overtime prediction. I may even stay up past my bedtime and watch my prognostication come to life (I won't).
Outside of a blowout in Milwaukee, there really wasn't much else happening last night in the NBA. But I don't want to leave my loyal reader(s) hanging, so allow me to digress for a second and bring to your attention what I like to call "The Zion Effect". Duke is the most talented team in the country, but they are not the best. However, they are currently +225 to win the NCAA Championship. Gonzaga (+500) and UVA (+650) are both better teams, but Zion is worth an approximate 300% odds boost, and for that reason, the prices are incorrect. I've said it before somewhere, but my statement holds true: UVA or Gonzaga is going to win, and we're getting crazy odds thanks to the Zion market correction. Zion may not be able to make any money until June, but we sure can! Rant over.
Back to the NBA talk! When the wife has Friday night shenanigans planned with her girlfriends, it automatically becomes a basketball/Game of Thrones/snack food night for Kyle Cash. Luckily for me, I'll have my laptop and my television going at once, so I'll be able to watch Jon Snow fight the White Walkers while Jokic throws alley-oops from half-court in the background. The Nuggets are marching into Golden State to avenge the shellacking they received in their last meeting. But with the Warriors' recent struggles, they are currently only favored by 6.5-points with the total set to a solid 233 points. You know nothing, Las Vegas.
See More NBA Picks: 76ers vs Rockets
Code Red
All ten of you Denver Nugget fans can calm down – I'm well aware of your team's resume. They have held their own and even toppled some of the league's premiere squads: Lakers, Rockets, Sixers, Blazers, Thunder, Raptors, Celtics, and even Golden State back in October. That's an Arya Stark-esque list of murder victims. I don't know why the perception of your team is that it's a fluke and doesn't stack up against the other elite teams – but I'm telling you that is the perception of your team. Don't like it? Fine. Beat the fricking Warriors on Friday night on national TV then. You use words like "underrated", "unappreciated", and "disrespected." You use these words as the backbone of an argument for your team's legitimacy – I use them as a punch line! I have neither the time nor the inclination to explain myself to fans who don't understand that if their team loses to other good teams, it discredits their elite status. I would rather the Nuggets just win an important game every once in a while and go on their way. Otherwise, I suggest you all shut up and stop complaining. Either way, I don't give a damn how good you think your team is!
I just launched into the "A Few Good Men" Colonel Jessup speech again, didn't I? God damn it. Always seems to happen to me.
Hard to top an opening like that, but it's important to me that you understand how Denver can win this game. The Nuggets' formula is laid out right in front of them – they just did it on Wednesday night against the Lakers. All five starters ended up in double figures in scoring and with at least three assists, and it was the best display of team basketball we've had this season.
And that is where Denver's strength resides. Golden State can, at times, play an individual style of basketball, and it's a team sport for a reason: things are easier when the ball moves around on offense. Denver owns the third-best offense in the NBA by Offensive Rating, and their deliberate pace is an interesting foil to Golden State's upbeat attack. If Denver's backcourt can keep pace with Steph while Jokic holds down the fort in the middle, there's no reason why the Nuggets can't walk out of ORACLE with their franchise's biggest win in…five years? Who knows. No one is a Nuggets fan.
Is It June Yet?
The definition of insanity is doing the same thing twice and expecting different results, but the definition of apathy is whatever the hell the Warriors did the other night versus Boston. The Dubs would've had a better chance if they had sat their top talent in favor of a couple of guys who would've tried harder and actually looked like they wanted to be there. Kevin Durant's apparent unhappiness continues to be the most perplexing character trait in sports, and if he can't figure out how to be happy on this dynasty of a Warriors team – well, have fun in New York, pal. Your new owner and his band will be playing some rhythm and blues at a cocktail party in a bar in Lower Manhattan while Kyrie and Zion bicker on the sidelines about whose turn it is to shoot on the next possession. What a dream scenario.
In their last match-up, the Warriors Big 3 combined for 89 points on 52 shots, which included 18 made 3-point field goal attempts. If we assume that they can repeat that performance tonight (sans Klay, however), then my job here is done. But if not, there are still ways for them to handle Denver easily. Gary Harris, Jamal Murray and Will Barton are all athletic guys and rounding into midseason form, but none of the three possess the tools necessary to slow down Steph or Durant for extended periods. If Klay is still out of the picture, we might be in for a classic Steph/KD your turn-my turn that ends up with them both north of 40 points. It can't be ruled out.
If not, there are other ways Denver can be exploited. Draymond will surely have his hands full on defense, but Golden State's small-ball Lineup of Death is a waking nightmare for the Nuggets. Jokic is shockingly lithe for a man of his stature, but the idea of him having to guard Steph in space on a switch is an abject nightmare. If his defense is repeatedly tested by the Warriors' offense, Denver may be in for another spanking.
50% Cash up to $250

Best Bet
It's been an unimpressive handicapping week by my own standards, and I think that I am going to wind up befuddled any time I see the Warriors or the Lakers pop up on the schedule for the remainder of the season. A lot of the analysis that I provide to you stems from my own extensive knowledge of the inner workings of an NBA team and the league in general. If I had the time or the patience, I could certainly impress upon you the X's and O's of how Golden State could attack Denver and vice versa. Or I could dig up some trend lines based on team, place, season data and the consensus of the betting marketplace to give you the gambler's perspective on this match-up.
But I find the macro parts of an NBA team both more fun to write about and a better indicator when it comes to gambling on a day-to-day basis. Yes, the Rockets are a very, very good team – but it's a Sunday morning game in New York City and they have a bunch of dudes who probably stumbled out of 1 Oak at 5 am. Those are the edges I normally provide you, but the Golden State situation has thrown me for a loop. It's unclear whether or not the Dubs have shifted into auto-pilot until the playoffs, if Klay's absence is hurting them, or if there are larger, underlying chemistry issues that are starting to bubble to the surface. For the sake of time, let's assume that it is a combination of all three. If Klay is suited up and ready to go, I feel slightly better about Golden State's prospects, but grabbing the points for an excellent team like Denver in an important "show me what you got" game feels like the right play no matter what. We can figure out what the hell is going on with Golden State later.
Final Score Prediction: Golden State 117 – Denver 115