[et_pb_dcsbcm_divi_breadcrumbs_module hide_homebreadcrumb="off" homebreadcrumbtext="Home" separator="sep-raquo" hide_currentbreadcrumb="off" homebreadcrumborientation="left" _builder_version="3.8″ fontsbreadcrumbs_font="Lato||||||||" fontsbreadcrumbs_text_color="#000000″ fontsbreadcrumbs_font_size="15px" fontsbreadcrumbs_line_height="16px" fontsseperator_font="||||||||" fontsbreadcrumblinks_font="||||||||" fontsbreadcrumblinks_text_color="#2567cf" custom_margin="25px|||" custom_margin_phone="30px|||" custom_margin_last_edited="off|desktop" custom_css_main_element="font-family: Helvetica Regular;" disabled="on" global_module="3641″ saved_tabs="all"][/et_pb_dcsbcm_divi_breadcrumbs_module]
OKC Thunder vs. Portland Trail Blazers Pick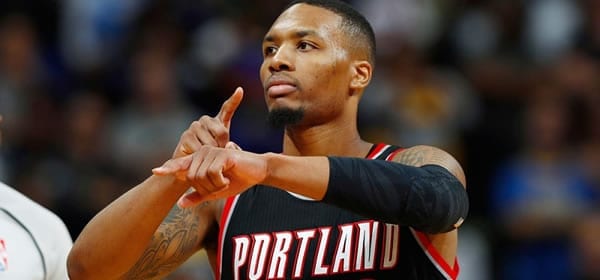 OKC Thunder (39-25, 33-31 ATS) vs. Portland Trail Blazers (39-25, 37-27 ATS)
When:
Thursday, March 7th, 2019 – 10:30 pm ET
Where
: Moda Center – Portland, OR
TV
: TNT
By
: Kyle Cash, NBA Basketball Handicapper, Predictem.com
Point Spread: OKC +3.5/POR -3.5
Total: 233.5
Last Night in the NBA
Phew. Catastrophe avoided. LeBron and the South Bay Lakers had me sweating for a minute, but the King must have run out of gas after doing his "I passed Michael Jordan" victory lap in the first half. LeBron James: the most durable basketball player in human history? 100%. The most talented? Maybe. The best? Give me a freaking break.
Elsewhere in the NBA, the Sixers decided to ruin my night for no good reason, the Celtics helped out with a Gordon Hayward game-winner, and the Knicks lost the Tank-Off 2019 and are now in the driver's seat for the worst record in the league. Too bad we fixed the lottery this year. Oops!
Tonight, I have the honor of digesting my new favorite basketball rivalry: Russell Westbrook vs. Damian Lillard. The OKC Thunder are marching into the land of the Soccer Moms to take on the Portland Trail Blazers in a game with major seeding implications. The visiting squad is currently a 3.5-underdog to Dame and his crew with the total set to a standardized 233.5 points. Let's crank the heat up tonight and see some more GIF-able trash talk. Sound good, Russell?
Read: Predictem's Top Sportsbooks For Each Type Of Bettor
Thunder Road
We're barreling towards the post-season at an uncontrollable rate, and it would behoove the OKC Thunder to right the ship now after losing 6 of their last 8 games. Paul George is nursing a shoulder boo-boo and Russell Westbrook is nursing a mental block that prevents him from consistently making shots outside of 8 feet. Or, as it's more commonly known: Markelle Fultz-itis (my first Fultz joke that I feel good about. Eff you, Markelle). A lot of smart people, myself included, have the Thunder as the only true opposition to the Warriors' dynasty come playoff time, but they can't usurp the champs if Russ is going to shoot the ball like this. The greatest shooter in basketball history vs. whatever the hell Russell is doing right now? Advantage: Stephen Curry and the Warriors.
I'm getting ahead of myself. Before we can have those two meet in the playoffs, the Thunder are going to have to deal with the friskier-than-usual Portland Trail Blazers. In a lot of ways, OKC and Portland are mirror images of one another: two superstars in their primes, a hulking center, defensive-minded athletic 3-and-D forwards and a pension for bowing out of the playoffs early. But where they differ is on the defensive end. OKC is an elite, long-armed, active defensive unit, and they've managed to maintain their cohesion while playing at an up-tempo speed. Their league-leading forced turnover percentage is going to do wonders against Portland's backcourt, and if they can force Lillard and McCollum into sloppy ballhandling, this will get ugly quick.
However, there still remains that 6'3" 205-pound elephant in the room, and while I love him, his attitude is worrisome heading into this one. Russell has taken it upon himself to neg Damian Lillard at every opportunity, and this feels like the game where there's a 6-minute stoppage for a flagrant foul as Reggie extemporaneously rants about "player safety in a post-Malice at the Palace world." Shoot me now.
Dame's Diss Track
I spoke in the beginning of the season a lot about how Portland's consistency really helped them steal some early games against less cohesive teams. Once teams rounded into mid-season form, however, the Blazers found themselves slipping down towards the lottery. But a resurgence based solely on a good scheme and star talent has allowed them to bounce back and regain some of their footing. The greatest thing about Portland's make-up is that their advantage has come full-circle; consistency is a key to a solid finish to the season as well. Teams like Philly and Boston are still tinkering with line-ups, and we have somewhere between 4 and 12 tanking teams that the Blazers will be able to torch. Portland is basically the girl at the bar that's not very attractive, but it's last call and you don't really want to strike out. When you're out of options, she's available and you could do worse – you just won't be bragging to your buddies in the morning. Can you tell my wife doesn't read my columns anymore?
Before I go any farther off of the rails, let's bring this back to basketball. In their previous loss to OKC, the Blazers' backcourt struggled to manufacture clean looks. The Thunder still possess the 4th-best Defensive Rating, and Russ' attention to detail on the defensive end is a problem for somewhat-less
athletic guys like McCollum and Lillard. Offensively, Portland needs those two to be nearly lights. If they aren't scoring efficiently, the offense crumbles around them. See last season's playoffs for examples.
But Portland is a sum of the parts team, and they are another entrant to my theory of having guys that don't suck. They have supporting guys with experience and no egos who perform their duties as requested, and their consistent effort is the key to Portland's success. If Aminu and Harkless can keep Paul George in check, OKC suddenly has a Russell Westbrook problem, and no one can fix that.
Best Bet
There's two forms of entertainment that I enjoy nearly above all others: Marvel movies, and Russell Westbrook against a guy that he has beef with. Luckily for me, I didn't give up either for Lent, and Thursday will be a gloriously entertaining day for Kyle Cash. Immediately following my viewing of Captain Marvel, I'll be able to jet home and catch Russell do his thing. And while I'm worried that Paul George's shoulder is more sore than we realize and that Portland is a very good basketball team with a very tough home environment, I'm willing to lay a few shekels on my friend Russell. Find me a guy who holds a grudge harder than Westbrook and I'll call you a liar. This one stays close throughout, and NBA on TNT finally gets its much needed Hardwood Classic for the 2018-19 season.
Final Score Prediction: OKC Thunder 128 – PDX Blazers 127 (Double OT)