Golden State Warriors vs. Los Angeles Lakers Pick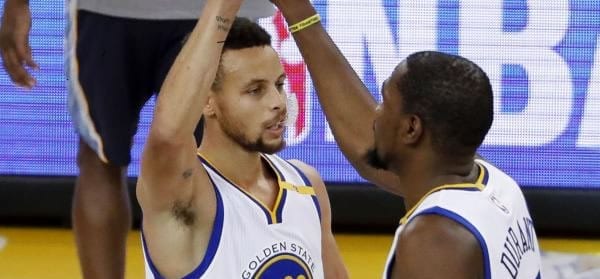 Golden State Warriors (53-24, 33-43-1 ATS) vs. Los Angeles Lakers (35-43, 32-45-1 ATS)
When: Thursday, April 4th, 2019 – 10:30 pm ET
Where: STAPLES Center – Los Angeles, CA
TV: TNT
By: Kyle Cash, NBA Basketball Handicapper, Predictem.com
Point Spread: GSW -13/LAL +13
Total: 227
Rest: GSW – 1st of back-to-back (Friday vs. CLE)/2nd of 3 in 4 nights; LAL – 1st of back-to-back (Friday vs. LAC)/2nd of 3 in 4 nights
Last Night in the NBA
For those of you keeping track at home, that's 7 victories in a row for the Cash man. We took the dub after taking the Rockets! While Harden fell 50 points shy of Kobe Bean's scoring record, the Rockets were raining 3s on the Clippers all night, and LA looked like a team that had traded away its best player mid-season. Maybe next year, Clippers.
Elsewhere in the NBA, the Hawks completed their season sweep over the stupid 76ers, Devin Booker finally cooled off as the Suns got pasted by the Jazz, and we had competing game winners by Andrew Wiggins and…Walt Lemon Jr.? WHO?
Look for me tonight in the background of the 76ers-Bucks game – I'll be the guy in the third row berating Ersan Ilyasova and Brook Lopez. And once that game is over, stay tuned to TNT to see the Warriors try to erase the Lakers from the face of the Earth. The Queen has pulled the plug on the rest of the NBA season, and as such, the Dubs are currently a 13-point favorite with the total set to a solid 227 points. This is going to be a 45-point victory – or is it?
And Now Our Watch Is Ended
Golden State's stranglehold on the Western Conference seeding is secure, and they just have to survive into next week healthy. Speaking of health, a story came out earlier this week about how Stephen Curry, the greatest shooter who ever lived, has needed corrective eyewear for all his career and just started wearing contacts. While I am unsure of the exact date of this change, Curry is 32-for-59 from 3-point land over his last 5 games. 6.2 3s per game on 54% shooting. What was it that I said last night? Rut-roh? Yea, everybody – rut-roh. That's what we in the business call "the rich get richer."
And we can make ourselves richer tonight if we can properly handicap this Warriors team. The Dubs are a solid 25-13 on the road this season, but double-digit road favorites is a tough spot to be in. They are 14-18 ATS as road favorites this season, which is a middling mark in comparison to other teams.
But the Warriors obvious own a collection of firepower the likes of which we have never seen. They have the highest offensive rating of any team by a country mile, and were sneakily in the midst of two of the better Steph and KD seasons that we've ever had. It's impossible to capture the talent gap that will exist in tonight's game, but suffice to say that any of the Warriors' superstars could choose tonight as their time to shine and bury the Lakers almost singlehandedly. If, that is, they are properly motivated to do so. Jury is out on that one.
The Baby Lakers
If you listen to the LeBron-onites of the world, you'll hear many, many excuses and proclamations that "he's saving himself for next season – watch out!" Okay. Sure. Let me lay out the sad truth for those of you too stupid to see the forest through the trees: LBJ has won his last championship. I said it in 2013, and one Draymond nut punch later, I was left eating crow. He won one that he didn't deserve; he ain't getting another. LeBron did not go to Los Angeles to play basketball – he went to Los Angeles to retire. They might as well be called the Shady Oaks Lakers because he's doing nothing but lounging around and eating sherbet for the rest of his basketball career. If you want to see LeBron being passionate about something, you're going to have to watch one of his TV shows because that's all he cares about right now. Basketball comes second, and so does he in the GOAT debates (for the record, I have him ranked around 8. Not surprising, I know.)
Without their fearless leader, the rudderless Lakers have had a rough go of it. Oh, wait, no – they're 1-1 after losing 11 of their previous 14. It's almost like having guys on the court that want to actually play and compete makes a difference.
Texas Tech vs. Michigan State Pick
But can they cover a 13-point spread against the best team ever assembled? The new-look Lakers were able to steal a road victory in NOLA before getting thumped by OKC, but I think the LA crowd will have some love for the young guys playing their hearts out. The Lakers can still be dangerous – Rondo is a legit problem, Lance makes 'em dance, KCP can get hot, and their bench is full of guys fighting for their NBA lives. Call me crazy, but hard work beats talent when talent doesn't work hard – could the Lakers actually sneak attack the Warriors tonight?
Best Bet
The Warriors' regular season Super Bowl took place the other night when they stomped all over Denver, and with a cupcake schedule to finish off the last week, their 1 seed is all but locked down. They own a 2-game advantage over the Nuggets in the loss column, and Denver's last 4 games are brutal. On paper, you look at this Los Angeles Lakers G-League squad and you say, "How much money can I gather up by tip-off to place on the Dubs?" But if my memory serves me well, I seem to recall a certain 73-9 team lose to a hapless Lakers team a few years ago, and there's something about the LA nightlife that really speaks to these Warriors. A Warriors blowout isn't even remotely outside of the realm of possibility, but I like the fact that the Lakers are currently playing a bunch of guys fighting for their NBA lives. Hungry dogs run faster, and the Warriors' bellies are full. I'm not calling for a straight-up victory, but there's a high chance that GSW sleepwalks through the first half and tries to get away with doing the bare minimum to steal a W. And yes – I really am laying my 7-game win streak on the back of Alex Caruso. What a world.
Final Score Prediction: Golden State 114 – LA Lakers 108
Who else wants $60 of FREE member picks & predictions?