Golden State Warriors vs. Portland Trail Blazers Pick 12/29/18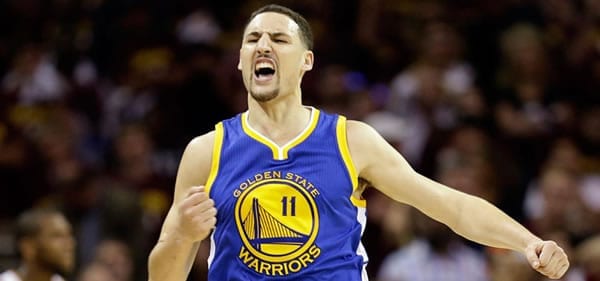 When:Saturday, December 29th, 2018 – 10:00 pm ET
Where:Moda Center – Portland, OR
TV:NBATV
Point Spread:GSW -3.5/POR +3.5
Total:224.5
Last Night in the NBA
Man, the things I do for love. Between the absurd amount of fouls called, the sloppy play, the horrible outside shooting, and Sindarius Thornwell swinging the momentum of the game, I honestly felt like I was watching an NCAA game. Programming note: at the end of the first half, Lonzo nearly turned it over, got it back, threw a behind the back pass to a wide-open Tyson Chandler, and then two possessions later banked in a 3-pointer. The Lakers announcers basically reacted like Jonah Hill when he sees Margot Robbie for the first time in The Wolf of Wall Street. Let's all calm down about a guy who literally couldn't dribble over half-court without getting his pockets picked by Avery Bradley, okay?
Elsewhere in the NBA, Andrew Wiggins gave us a very late candidate for NBA GIF of the year, Nikola Vucevic continued an all-time great Contract Year performance with a 30-20-8 stat line, and Anthony Davis basically played basketball like Jesus in a rock-and-roll band wearing a tuxedo t-shirt – formal, but ready to party. Well done, Brow.
Our win streak picked up exactly where it left off, and we'll keep it going tonight as we head to the Land of the Soccer Moms for a rematch between the Golden State Warriors and the Portland Trail Blazers. With revenge on their minds, the recently felled Warriors are 3.5-point favorites against Lillard and his crew with the total set to an appropriate 224.5 points. Ain't gonna be no rematch!
Narrator: There's a Rematch
Uh-oh. After playing at a 66-win pace for four consecutive seasons, the apathetic Warriors have come screaming back down to Earth, and they'll be lucky to scrape out mid-50s in this insane Western Conference. You want parity? I read tonight that the Houston Rockets have the best win streak by a West team this year – they've won 3 games in a row. The Warriors still have the numbers, and their record is okay, but a team with Kevin Durant and Stephen Curry should be penalized one home playoff game if they fail to win 55 games. Commissioner Kyle has spoken.
For a moment, it looked as though the Warriors were going to survive and advance, but Lillard Time snuck up on them and downed them when they least expected it. nIn order to reconcile their back-to-back losses, the Dubs are going to need to figure out a new way to generate some scoring in the guts of the game. Defenders are guarding Draymond like he has yellow fever, and they're more likely to sanitize the ball after he touches it than they are to close out on him while he's shooting a 3-pointer. However, Steve Kerr made comments this week about involving Draymond in more pick-and-roll to force his man to defend in space, and we may be in for a throwback 16-12-11-6 steals type of night from the big fella. Either way, the Dubs need Draymond to at least be a "positive" on offense. If he can't be, then he may need to just talk his shit from the bench.
Don't miss out any of these winning plays by visiting and bookmarking our
NBA Picks Page
Sweet, Sweet Victory
The only way that the Trail Blazers could have survived a 14-for-42 (33.3%) effort from Lillard and McCollum was with a 17-for-45 (37.7%) effort from their guard counterparts. In a game with razor thin margins, the Trail Blazers knocking down 21 of their 23 free throws was the biggest difference maker, and there's a reason why it's part of John Hollinger's Four Factors of Winning analysis. Practice your foul shots, kids.
The Blazers already figured out the recipe to take down the champs, and if Lillard and McCollum can get off the schneid, the Warriors might be in serious trouble. An Oakland native, Damian Lillard has long been a thorn in GSW's side, and his weird step-back hand-off game-winner despite a bad shooting night was all the evidence we need. There still aren't a ton of exploitable match-ups for Portland to poke holes in, but hitting the glass with Nurkic and Aminu while their backcourt freelances is as good a plan as any. The Warriors are cycling through centers quicker than Taylor Swift goes through men, and it's the Achilles Heel of an otherwise balanced squad. The Dubs can be beaten on the interior, and Portland is properly equipped to cause some serious damage. Now they just have to close their eyes and pray.
Best Bet
If you like to laugh at the absurdity of the NBA while marveling at the beauty of the game, feel free to check me out on Twitter @Philsphan330. But if you want to win some money, stick around. A 6-1 record over the last week isn't something to turn my nose up at, and I pride myself on providing you with the most sound and logical analysis that I can. I pour over statistics. I religiously watch the games to the detriment of my own personal life and relationships. I listen to podcasts and radio shows and YouTube videos and try to figure out the exact score for you each and every night. And then some nights, I take one look at the game and say, "The Warriors aren't losing three games in a row." Simple as that.
Final Score Prediction: Golden State 115 – Portland 109