Houston Rockets vs. Denver Nuggets Pick 2/1/19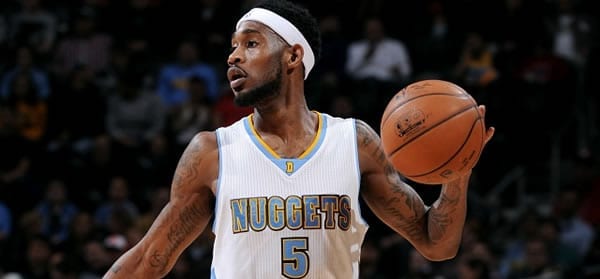 Houston Rockets (29-21, 23-26-1 ATS) vs. Denver Nuggets (35-15, 27-23 ATS)
When: Friday, February 1st, 2019 – 10:00 pm ET
Where: Pepsi Center – Denver, CO
TV: ESPN
Point Spread: HOU +4.5/DEN -4.5
Total: 227
Last Night in the NBA
The last time that I lost an NBA bet, Anthony Davis was still featured in New Orleans' intro videos, and the New York Knicks fans still had the will to live. We're still a week away from the trade deadline, and the NBA has already turned into the Thunderdome. With the AD saga still looming and the Lakers offering the Pelicans everything that isn't nailed down in Staples Center, we might be in for a wild landing. If the deadline is as active as it's shaping up to be, the buy-out market is going to be rife with potential candidates – and that is exactly where the Sixers thrive. Let's do this thing.
While we were away, Jerryd Bayless became an All-Star caliber point guard (seriously), Kyrie and LeBron openly flirted with each other, and the Sixers did my favorite thing: they destroyed the Lakers. Mid-season form for Joel and Ben. Y'all better watch out.
It's been a horrifyingly cold week here in Philadelphia, and I'm looking forward to a nice, relaxing Friday evening watching hoops and preparing for the Super Bowl. ESPN has been gracious enough to bless us with one horrible game (Boston vs. New York) and one spectacular contest for which I am legitimately excited. The Houston Hardens are strolling into Mile High City to take on first-time All-Star Nikola Jokic and the rest of his cohorts. Even with Chris Paul back in the fold, the Denver Nuggets are favored by 4.5 points with the total set to an easy 227 points. Yes, I'm serious – and don't call me Shirley.
Like a Good Neighbor
He's been gone for most of the season, but now that he's done chatting with Jake from State Farm, Chris Paul can get back to the business of basketball. Unfortunately, it's going to take a little bit of an adjustment period for Houston to come out of their James Harden-induced coma. The reigning MVP finally was assisted on one of his buckets, but he's still in takeover-mode, and he's shot the ball 59 times in the past two games. It's fine for this to be a soft transition as CP3 gets his sea legs back under him and they take a break for All-Star weekend. But unless Houston can find a way to take this team from a monarchy to a something more closely resembling a meritocracy, they're just going to meet the same "ill-fated" end in the playoffs that they always do.
For the time being, there's no reason to hit the panic button. I've often spoken about the dilemma that Duke opponents face, and the same applies to teams that play the Rockets: who do you have to stop James Harden? Denver's defense is much-improved this season, but we're staring at one of the three best scorers in the history of the NBA. Even if his role is slightly diminished with Paul back in the mix, it's more in the capacity of a playmaker as opposed to as a go-to guy. Instead of having to spend even a shred of thought on setting up his teammates, Harden can fulfill his destiny as one of the greatest weapons the league has ever offered.
Defensively is where the Rockets are likely to struggle. The Rockets are already down to 26th in the NBA in Defensive Rating on the season, and that number is only going to drop in Clint Capela's absence. Kenneth Faried has done an okay job as a fill-in starter, and DeAndre Jordan might be on the way in a week or so, but Houston prefers to operate without a center for the most part. News flash: that isn't going to fly against Nikola Jokic. If Houston's offense falters at all, this game is not going to be pretty.
Nikola Jokic, All-Star Point-Center
It's satisfying to see one of the league's most unique talents – the 41st pick in his draft, mind you – be awarded for playing at such an elite level so early into his career. Almost everybody knows about Jokic's prowess, but Denver has had some unheralded success at nailing draft picks in unconventional spots. Monte Morris was nearly Mr. Irrelevant last year, and now he is having games of 20-7-7 while maintaining an elite assist-to-turnover ratio. Malik Beasley was a shot in the dark, Jamal Murray wasn't a top-5 pick, and Trey Lyles and Mason Plumlee were shrewd acquisitions that became valuable rotation players. Even if Michael Porter Jr. never pays off for them and Isaiah Thomas spends the rest of his career on ice, the future is bright in Denver.
They've done plenty to prove their elite status but taking down James Harden on national television would do wonders for the Nuggets' Q-score, but to do so, it's going to take a village. Gary Harris, Will Barton, and Malik Beasley will all likely have their hands full in defending Harden, and it's a pretty fair 3-on-1 fight. On paper, the Nuggets have the bodies to keep the Beard in check, but this is no mere mortal we're talking about here. I'll believe it when I see it.
In case Harden goes off (again), Denver at least has a "Break Glass In Case of Emergency" in Nikola Jokic. The Man Who Would Have A Dad-Bod has been out of his mind this season. Seriously – 20 points, 10 rebounds and nearly 8 assists per night. He's the center! With P.J. Tucker as the de facto big man in Houston right now, I like Nikola's chances at getting his just desserts. As long as the players around him can knock down open shots, Denver should have nothing to worry about. Except, of course, the guy on the other team averaging like 40 points per game. Maybe worry about him a little bit.
Best Bet
Now for the fun part! Harden and I haven't exactly been on the same page over the last couple of weeks, but Gonzaga did away with my perfect week anyway, so I don't have to worry about that anymore. The people of America love to bet on James Harden, and I don't blame them. He's a sorcerer supreme. On the other hand, I love the home-court advantage that the Nuggets have built for themselves. The combination of high-altitude with medicinal marijuana feels more like tampering than any nefarious text messages between Magic Johnson and Anthony Davis. How is this still allowed?! I love the Nuggets chances to put this haphazard team away – but I'm going the other way. Friday night national TV games belong to the superstars of the league, and James Harden is the hero we need, if not the one we deserve. I think we're in for a classic "Rockets down by two, Harden tries to draw a foul, and the refs swallow their whistle" ending to this one. Kyle Cash-stradomus – coming at ya.
Final Score Prediction: Denver Nuggets 114 – Houston Rockets 112