Houston Rockets vs. Utah Jazz Game 3 Pick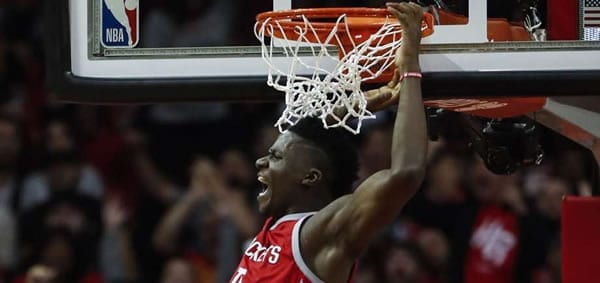 Houston Rockets (55-29 SU, 42-39-3 ATS) vs. Utah Jazz (50-34, 44-38-2 ATS)
When: Saturday, April 20th, 2019 – 10:30 p.m. ET
Where: Vivint Smart Home Arena, Salt Lake City, Utah
TV: ESPN
Point Spread: HOU +2.5 / UTA -2.5 (MyBookie Sportsbook)
Total: O/U 215.5
Last Time Out: Houston won game two 118-98. Rockets lead the series 2-0.
Around the League:
With round one getting closer to the end, we see that the favorites have started to fare well in this round. At the time I am writing this, the underdog has not yet been able to cover the spread in a losing effort. So, either the underdog wins outright, or they lose by enough where they fail to cover the number.
Now that game two was played on April 17th, meaning both teams will receive two days of rest before game three. When these teams each receive two days of rest, the Rockets are 10-5 straight up and 9-6 against the spread. For the Jazz, they are 6-10 straight up and against the spread given the same scenario. This makes me believe the Rockets will come out ready to play and they are my initial to lean to get the outright win.
Rock n' Rollin' Rockets:
Last time I wrote about the Rockets was in game one of the series. I questioned their ability to stay focused an even took the Jazz to cover. They quickly proved me wrong as they not only blew out Utah in game one but also in game two. But let's look at what has worked for the Rockets and what will need to happen if they are going to keep their foot on the pedal.
Now we know James Harden will get his points. Whether he takes 20 shots or 30 shots in the game, he is almost guaranteed 25+. That said, I am not going to talk about Harden as the key to a Rockets win. No, I believe Eric Gordon will be a vital piece of this Rockets offense. I did a lot of research and found two things. One is Eric Gordon was terrible against the Jazz in their four games in the regular season. He scored 40 points in total, an average of 10 per game. He shot 16 of 54 from the field (29.6%) and 5 of 26 from three-point range (19.2%). Sounds bad right? However, the second point I want to make is how much improved Gordon has been in the playoffs. In just two games against the Jazz, Gordon has scored 33 total points, an average of 16.5 points per game. He also has improved his shooting drastically, going 11 of 21 from the field (52.3%) and 6 of 11 from three-point range (54.5%). So, this right here is the reason I believe the Rockets will be able to win. By having Gordon play well, it just creates another legitimate scoring threat, and it will be too much for this Jazz defense to handle.
Rogue Defense:
Before I get into detail about what the Jazz need to do to win game three, spoiler alert for the Game of Thrones reference I am about to make. So, you know in season 7 episode 4 (The Spoils of War) when the Lannister's are escorting their gold back to King's Landing? And then suddenly, an army of Dothraki riders come screaming over the hill? The Lannister's decide to set up their defensive positions to stand and fight, but when the Dothraki reach their shield the wall, they get absolutely obliterated by both an army and a dragon. This iconic battle scene is basically what the Rockets did to the Jazz in games one and two. The public, including myself, thought this could be an interesting series because it would involve one of the best scoring teams and one of the best defensive teams in the league. Many believed that the Jazz could at least slow down James Harden, but as of right now that is the opposite of what has happened. Let's take a more in-depth look at some stats and figure how what went wrong for Utah in their first two games in Houston.
To start, the Jazz had the 4th best defense this year in terms of points allowed per game. Of course, this was in the regular season, so those stats mean less now that we are in the playoffs. Nonetheless, the Jazz allowed an average of 106.5 points per game in the regular season, but this number has jumped considerably in just two games in the playoffs. They are now allowing 120 points on average in the playoffs, hence why they got dismantled in both games. But why did this happen? Starting with game one, the Jazz allowed Houston to make 15 three-pointers, good for 45 points and about 37% of their 122 total points. This falls on the shoulders of the Jazz guards, guys like Donovan Mitchell and Ricky Rubio. They failed to contain the Rockets' shooters, such as James Harden and that really was their downfall. Next up we have game two. It was a similar story in this game as the Jazz allowed the Rockets to make 17 three-pointers, 51 points and 43.2% of their 118 total points. See what I am getting at here? Defending the three-point line has been the kryptonite of the Jazz and is the most significant area that needs to improve in game three.
The next question is, "How can they fix this in game three?" Well, the Jazz will be desperate to get a win, so I believe they are going to have to double-team Harden to keep him off-balanced. Of course, this could easily backfire because it would leave one of the other Rockets' players open, but it is a risk they need to take. Harden is by no means impervious to turnovers (averaging 5.0 per game this season), so the only chance for the Jazz is to force one of the supporting cast members of the Rockets to beat them. If they can at least take Harden out of the equation, they will have a great chance to hang with the Rockets this time around.
Best Bet:
The Rockets have proven me wrong and seem to be laser-focused on the task at hand. Even their defense has stepped up to lead them to this series lead. With the Rockets as a 2.5-point underdog, I love them in this game and think it will be another double-digit win for Houston. Take the Rockets to win on the road and to take a commanding 3-0 lead with a spot in the Western Conference semifinals looming.
NBA Free Pick: Houston Rockets +2.5