Jazz vs. Kings 10/22/21 Picks, Odds, Prop Bets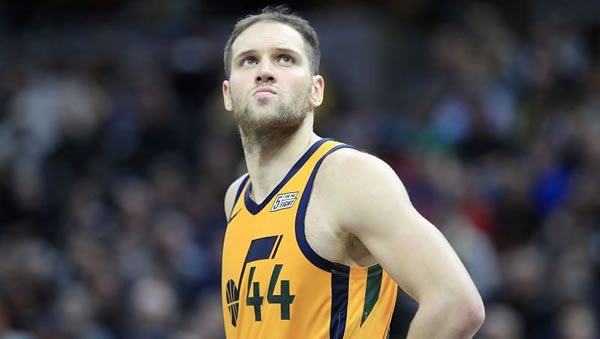 Utah Jazz (1-0-0 SU, 1-0-0 ATS) vs. Sacramento Kings (1-0-0 SU, 1-0-0 ATS)
When: Friday, October 22nd, 2021, 10:00 PM (ET)
Where:Golden 1 Center: Sacramento, California
TV: NBA League Pass
Point Spread: (UTA -6)/(SAC +6) (Opened at -5.5)
Total: 226 (Opened at 225.5)
Money Line: Jazz -225
Power Rating: -14
(Find the best parlay odds >>> Some books pay more than others!)
Probable Starting Lineups
Utah Jazz: PG Mike Conley, SG Donovan Mitchell, SF Bojan Bogdanovic , PF Royce O'Neale C Rudy Gobert
Sacramento Kings: PG De'Aaron Fox, SG Tyrese Haliburton, SF Harrison Barnes, PF Maurice Harkless, C Richaun Holmes
Key Injuries
Jazz: Rudy Gay (Out)
Kings Maurice Harkless (GTD)
Recent Form
The Utah Jazz started their season off on the right foot with a 107-86 win over the Oklahoma City Thunder. Despite only shooting 29% from downtown, the Jazz still managed to win by 21.
Offensively, the team was led by Bojan Bogdanovic, who finished the night with 22 points. The veteran forward was efficient with his 17 shots, making 10 (58.8%). Center, Rudy Gobert resumed his usual duties of cleaning up the glass, finishing with 21 rebounds.
Joe Ingles was the team's leading three-point shooter, connecting on 4 of 7 from long range. With his 14 points, Ingles was the only bench player to make much of an impact.
The Sacramento Kings also opened their season in impressive fashion, knocking off the Trailblazers 124-121. The story of the night was Harrison Barnes putting up a career-high 36 points.
For the game, Barnes finished 8/11 on three-point attempts. In his career, the veteran forward has shot 37.8 % from downtown. Therefore, don't go loading up on Harrison Barnes player props, but the Kings would love to get a few more performances like this.
On offense, point guard De'Aaron Fox filled with box score with 27 points and eight assists. Because he has spent his young career playing on bad teams, Fox has flown under the radars as one of the league's best point guards.
Entering his 5th year in the NBA, De'Aaron Fox averages 18.2 points and 6.4 assists per game. Still just 23 years old, it will be fun to watch him continue to make a name for himself in the league.
For the past few years, there have been constant rumors that Buddy Hield wanted out of Sacramento. However, he is still with the team and put 17 points off the bench. In his career, Hield has built a reputation as a marksman from 3-point territory. Against the Trailblazers, he started the season in midseason form, connecting on 4/7 attempts from deep.
The Tempo Of Jazz
The Sacramento Kings are one of the fastest-paced teams in the NBA. Last season they averaged 103.2 possessions per game. When the Utah Jazz met up against teams similar to Sacramento, they slowed the games down. This proved to disrupt their opponents as the Jazz won 70% of their games vs. high-paced teams.
Utah plays more towards the league average in pace. Last year, the Kings did not dictate the style of play as their games slowed to well below their normal output. When they couldn't play their normal game, the team struggled, winning just 33% of their contests.
Top Offenses Collide
This matchup projects to be troubling for both team's defenses. Last season when competing against top offensive teams, opponents scored at an alarming rate. Typically a good offensive team in the NBA averages 114 points per game. Against the Kings, these units averaged 122 points per game.
This helps explain why Sacramento won just 38% of their games against top 10 offenses, losing by an average margin of 8 points.
On the opposite end, Utah made good offenses look like average units. The league's most efficient offensive teams average just 110 points per game vs. the Jazz. Utah won 67% of these games with an average scoring margin of +8 points.
Sacramento Can Score, But Will They Win?
Last year, playing good defense was not the forte of the Sacramento Kings. This is music to the ears of the Utah Jazz as they feasted on bad defensive teams, winning by an average spread of 16 points.
All around, Utah has the edge as last season they were among the league's top 10 teams in defensive efficiency. I don't expect this to dramatically affect the Kings as they scored 3 points above average vs. good defensive units. However, this did not translate to wins as they won at only a 23% rate.
More Picks (MLB): Boston at Houston Game 6 Best Bets >>>
The Historicals
In the 2020-2021 season, this series was not particularly competitive, with Utah taking all three games. Combined, the Jazz scored 403 points to the Kings 316.
This extreme difference in points was primarily due to a 154 point outburst by Utah in the series' second game.
How the Public is Betting the Jazz vs. Kings
64% are betting the Jazz against the spread.
89% are wagering on the game to go over the posted total of 226.5.
Betting Trends Worth Noting
Utah is 4-0 ATS in their last four meetings vs. Sacramento.
Joe's Pick to Cover the Spread
In this game, everything is screaming to take the Jazz. Last season, Utah owned the series, and I don't see any drastic improvement to the Kings roster. It took a 36 point outburst from Harrison Barnes to take down the Blazers. That isn't happening in tonight's game. I'm taking Utah up to -7
Prop Bets Worth Wagering
I anticipate this game going slightly over its total of 226.5, so I will be targeting a few players to go over their prob bet point totals.
I recommend taking De'Aaron Fox to go over his line of 25.5. Fox consistently has the ball in his hands and can score in multiple ways. I expect he will take more 3's than usual as Rudy Gobert is a menace in the paint.
For the Utah Jazz, I will be taking Bojan Bogdanovic to go over his line of 15.5 points. Bogdanovic is coming off an efficient shooting night and is one of the team's most consistent 3 point shooters. Sacramento isn't too interested in playing defense. Look for the Jazz forward to approach 20 points in tonight's game. Question: Did you know that you could be saving $5 per $100 you're trying to win, simply by taking 10 minutes to change sportsbooks? It's likely that you're laying -110 odds on your bets. You only have to lay -105 at BetAnySports! It'd be wise to read our article on reduced juice sports wagering. It'll change the way you bet on games forever and you'll be so glad you made the switch!
100% REAL CASH up to $300

USE BONUS CODE:
PREDICT100