[et_pb_dcsbcm_divi_breadcrumbs_module hide_homebreadcrumb="off" homebreadcrumbtext="Home" separator="sep-raquo" hide_currentbreadcrumb="off" homebreadcrumborientation="left" _builder_version="3.8″ fontsbreadcrumbs_font="Lato||||||||" fontsbreadcrumbs_text_color="#000000″ fontsbreadcrumbs_font_size="15px" fontsbreadcrumbs_line_height="16px" fontsseperator_font="||||||||" fontsbreadcrumblinks_font="||||||||" fontsbreadcrumblinks_text_color="#2567cf" custom_margin="25px|||" custom_margin_phone="30px|||" custom_margin_last_edited="off|desktop" custom_css_main_element="font-family: Helvetica Regular;" disabled="on" global_module="3641″ saved_tabs="all"][/et_pb_dcsbcm_divi_breadcrumbs_module]
LA Lakers vs. Boston Celtics Pick 2/7/19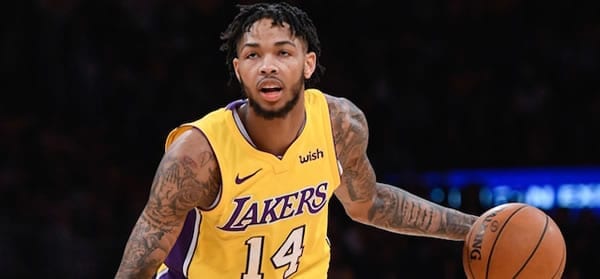 LA Lakers (27-27, 24-29-1 ATS) vs. Boston Celtics (35-19, 27-26-1 ATS)
When: Thursday, February 7th, 2019 – 8:00 pm ET
Where: TD Garden – Boston, MA
TV: TNT
Point Spread: LAL +7/BOS -7 (5Dimes)
Total: 221.5
Last Night in the NBA
'Twas the night before trade deadline, and all through the NBA, not a GM was stirring…except for the fact that the league has lost its goddamn mind and players are getting traded mid-game and for picks and cash considerations and the Pelicans are holding the Lakers over a barrel but the Celtics are still lurking, and Tobias Harris is a Sixer, but we gave up two firsts for him whereas Harrison Barnes and Otto Porter didn't get any firsts and holy SHIT WHAT IS GOING ON.
Let's recap the night before I have another mental breakdown. In a busy night of hoops, Giannis singlehandedly dismantled the Wizards and gave us a 50-point quarter, Luka got another triple-double by getting assists to a guy who literally was no longer on his team, and most importantly, we won our bet as the Warriors casually sauntered into a 39-point victory. I told you that 11 points weren't enough.
It's only fitting that the trade deadline ends with a bang as the Celtics host the Lakers on Thursday night TNT hoops. With the amount of uncertainty going on in the league right now, I don't blame Vegas for withholding literally every point spread for tonight's slate of games. If all things stay the same for these two (and it seems like we're trending in that direction), the Celtics should be favored by a few points. Let's just make our analysis and give some general thoughts on what may end up being a very, very wacky night. Inject it into my veins, please.
Magic's Trick
Let me just get this out of the way: the Lakers trade package is terrible. Apologies to whoever made this joke on Twitter, but LA offering Ingram, Lonzo, Kuzma, Zubac, Rondo, and Stephenson for AD would be like if someone offered you six Huffy bicycles for your Lamborghini. Just because there's more players and picks doesn't mean its equal value – 0 + 0 = 0. The Lonzo/Ingram hype machine is unlike anything I've ever seen. Ingram is too slow to defend guards and too frail to guard bigs, his shot hasn't translated well to the NBA, and his basketball IQ is average at best. Lonzo, meanwhile, is, by all statistical measures, one of the worst non-center shooters in NBA history, he hasn't played 40 consecutive games without getting hurt, and his dad is a raving lunatic. Let's all stop pretending this is a Godfather offer, okay? Rant over.
I could legitimately write another 2000 words about how idiotic this entire situation has been, but I'll begrudgingly digress. Assuming this team is still intact by 8:00 pm ET tonight, they'll have their hands full versus Boston in their home arena. LeBron has notoriously murdered Boston throughout his career, and other than his groin injury or bad attitude acting up, I can't think of a reason why that won't continue. LeBron is going to be awesome – not exactly a hot take.
What's more concerning is the collection of talent around him (aka the guys above who I just skewered). It's very possible that the Lakers current best five-man unit is LeBron-Rondo-Kuzma-Hart-Zubac. Let me just remind you all again: this is a team that the media thinks is going to be scary in the playoffs. I feel like I'm in the fricking Twilight Zone. To take out the Celtics, the Lakers will need to improve upon their 20th-ranked offense, and I'm not sure that will be possible against a top-5 Celtics D. More importantly, we just saw LA get blown away by a crappy Pacers team. Is there any possible way that this team is properly motivated to take on Boston? I'll go with D. Unlikely. Final answer.
Ticking Time Bomb
I thought of this the other day, and it's apropos of the situation: I think Kyrie Irving is the Shia Labeouf of the NBA. At first, he's a lovable character about who we don't know too much, but we like what he does. Then, out of nowhere (and not entirely on his own merit), his Q-score goes through the roof, and he's suddenly a huge, famous star. As the years go by, a stray story starts to trickle out here or there, and we think, "Hmm. That's a little bit strange coming from him. I didn't know he was like that." Next thing we know he's showing up to his own art gala with a plastic bag on his head and is quitting his job to become a teacher – or fleeing a perennial contender to play for James Dolan and the Knicks. It all fits! I, of course, immediately ran this by my NBA consigliere, who responded: "But what was Shia's Game 7 NBA Finals game winner moment?" Easy: making out with Megan Fox in Transformers. It always comes back to her, doesn't it?
There's just so much juicy non-basketball basketball content right now that I don't know where to begin. For the Celtics, taking down the King is always a tall task. Ever since his famous 45-point game in Game 6 of the 2012 playoffs, he's kind of had their number. I don't doubt his ability to go off in this game – the Celtics just need to stop everyone else.
While it's not the most daunting task in the world, blind squirrels stumble upon stray nuts sometimes. To offset the Lakers' non-LeBron talent, now would be as good a time as any for Jayson Tatum to get back into the groove. With Gordon Hayward struggling hardcore and Jaylen Brown and Terry Rozier being one temper tantrum away from being shipped off to the NBA Siberia (Memphis or Orlando), Boston is going to need Tatum to return to his alpha-dog go-to scorer mentality that he had a year ago. If he can muster up some of that anti-LeBron juice for one night, this one should be a breeze.
Best Bet
I can honestly say that I've never been this excited for an NBA Trade deadline. Part of that lies in the fact that my Sixers may not be done/I get to see this first hand at Friday night's game. But the majority of it is that, while the amount of player movement right now is verging on scary, it's so thrilling. It's a real-life video game, and I am here for it. The only difference is that when you're playing NBA2k, there's no real-world politics involved. People's feelings aren't getting hurt, and their cyber personas don't have to deal with the noise of a tense trade deadline. But the Lakers do. A 40-point loss to the Indiana Pacers? You ain't seen nothing yet. Say hello to the new worst-run franchise in the NBA, everybody – your Los Angeles Lakers. Let's go Celtics!
Final Score Prediction: Boston 123 – LA Lakers 105