Miami Heat vs. Portland Trail Blazers Pick 2/5/19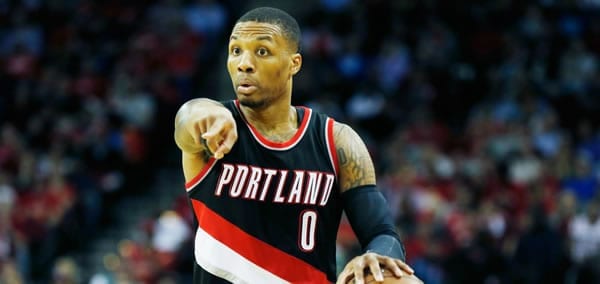 Miami Heat (24-27, 26-25 ATS) vs. Portland Trail Blazers (32-20, 29-23 ATS)
When: Tuesday, February 5th, 2019 – 10:30 pm ET
Where: Moda Center – Portland, OR
TV: TNT
Point Spread: MIA +7.5/POR -7.5 (Bovada)
Total: 213
Last Night in the NBA
The jury is out on whether or not Popp and the Spurs are going to try in this game or not but rest assured that they will suffer the consequences if they drop one to the Kings. Don't worry too much – DeMar DeRozan is just starting to heat up, and Sacramento's bench has outscored their starters 26-25. The game is well in hand.
UPDATE: Marvin Bagley is a real son of a bitch, and the Spurs are now dead to me. That is all.
While the Spurs polish off the up-start Kings, the rest of the NBA is hard at work. Stanley Johnson and Andre Drummond had matching "Trade for us by Thursday" games, Washington reached a new low in a home loss to the Hawks, and the Pelicans are too busy playing phone tag with Magic Johnson and Danny Ainge to worry about, you know, winning basketball games. The NBA is in absolute chaos right now. I love it.
I'll be knee deep in Sixers-Raptors box scores by the time this game rolls around, but it's hardly worthy of my attention. The lifeless Heat has to travel cross-country to the Northwest corridor to take on the Portland Trail Blazers in their own arena. With the benefit of a 6-day vacation, the Blazers come into this game as 7.5-point favorites with the total set to a measly 213 points. Hasta la vista, Miami.
Heat Waves
It feels like twenty years since LeBron fled Miami to join Kyrie Irving and Kevin Love back in Cleveland. Since then, the Heat lost Chris Bosh to a freak injury and are about to lose Dwyane Wade to poor nutrition and a lack of a developed 3-point shot. Almost all of the key pieces of the last Heat run have moved on to bigger and better things. Or, at least, other things. Mario Chalmers, Shane Battier, Mike Miller, Ray Allen, Udonis Haslem (this is a lie – he's Heat Mafia for life). Hard to believe that was only five years ago. While they've enjoyed mixed results of success and failure, this season is finally one to forget. Outside of a lone 5-game win streak, the Heat haven't cobbled together more than two wins in a row for the entire season in the weakest division in basketball. Shame on you, Spo. You're better than this.
It'll be a tall task for the Heat to keep pace with the Blazers in this one, and there's really no solid road map. The Miami Heat are like a mid-major in the NBA. They have a bunch of guys averaging between 11 and 17 points per game, but no real standout star. Their "best" player, at least by accolades and clout, is a fifth-year senior on his way out the door, and the rest of the team is uninspiring at best and dangerously apathetic at worst. What a weird group.
In order to take out the Blazers, the Heat are going to need to get things done on the defensive end. When he wants to be (almost never), Hassan Whiteside is a legitimate beast patrolling the paint, and Justise Winslow and Josh Richardson are theoretical nightmares for Portland's backcourt. The Heat still sits in 7th in the NBA in defensive rating, and Spo can game plan the shit out of a team when properly motivated. Luckily for Miami, Portland isn't exactly a run-and-gun type of team (which they should be), and they may actually be able to dictate the pace in a road environment. In a game projected to be low scoring, covering a 7.5-point number may not be as daunting of a task as it seems.
Trail Mix
Whenever you dive into a bag of trail mix, there's a lot of shit to sift through. (And yes, Dad, I am aware that I've never eaten trail mix in my life. Stay with me on this one). In any bag, there's the crappy oats and almonds and cashews and dried pieces of fruit on top that you have to eat for nutrition, but you're not super excited about. But if you dig deep enough, you'll be able to find a chocolate chip or an M&M or a delicious, salty pretzel. That's the Portland Trail Blazers in a nutshell (no pun intended): mostly bland with a couple of sweet treats. Did I bring that analogy home? Let's pretend I did.
Luckily for the Blazers, they're M&M's are two of the best in the business. My philosophies on the alchemy of a basketball team are well-documented, and Portland's superstars doubling as their irrational confidence/heat-check guys is an interesting wrinkle in their chemistry experiment. Unlike the hedonistic behavior going on down in Houston, Portland actually strikes a nice balance between their "Big Three," and their superstar backcourt is amongst the scariest in the league.
If their offense fails them, Portland at least has the long, rangy athletes to disrupt Miami's toilet bowl offense. With new acquisition Rodney Hood looking to get into the fold, we may be able to see some interesting small ball lineups from them to try to keep teams off-kilter. It's a new, unexplored wrinkle, but if the Heat can get their juices flowing on the road, it may be one worthy of experimentation. Food for thought, Mr. Stotts.
Best Bet
I have very few predisposed views when it comes to sports gambling. I'm hardly ever swayed by trends, I don't really give a crap about the weather for football, and I refuse to cross off any team or player just because they burned me in the past. Real gamblers have short memories. But I think I'll go ahead and enter it into the NBA Gambling Manifesto that if a team has to travel from one corner of the control to the polar opposite to take on a top 8 team with 6 days of rest, you can go ahead and wager against them. If Miami were a 10% better team, the 7.5 number might give me some pause, but the reality is that the Heat are going nowhere fast, and the only place we're going is back to the betting window to collect our winnings. Write that down, kids.
Final Score Prediction: Portland 112 – Miami 96