[et_pb_dcsbcm_divi_breadcrumbs_module hide_homebreadcrumb="off" homebreadcrumbtext="Home" separator="sep-raquo" hide_currentbreadcrumb="off" homebreadcrumborientation="left" _builder_version="3.8″ fontsbreadcrumbs_font="Lato||||||||" fontsbreadcrumbs_text_color="#000000″ fontsbreadcrumbs_font_size="15px" fontsbreadcrumbs_line_height="16px" fontsseperator_font="||||||||" fontsbreadcrumblinks_font="||||||||" fontsbreadcrumblinks_text_color="#2567cf" custom_margin="25px|||" custom_margin_phone="30px|||" custom_margin_last_edited="off|desktop" custom_css_main_element="font-family: Helvetica Regular;" disabled="on" global_module="3641″ saved_tabs="all"][/et_pb_dcsbcm_divi_breadcrumbs_module]
Minnesota Timberwolves vs. New Orleans Pelicans Pick 2/8/19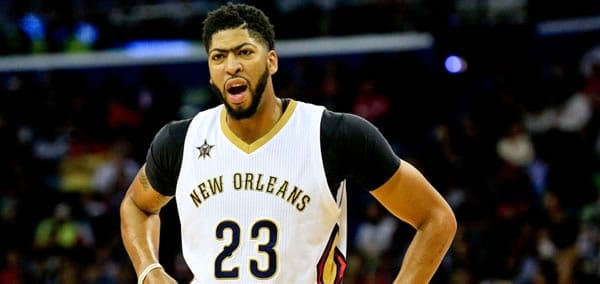 Minnesota Timberwolves (25-28, 26-27 ATS) vs. New Orleans Pelicans (24-31, 27-27-1)
When: Friday, February 8th, 2019 – 9:30 pm ET
Where: Smoothie King Center – New Orleans, LA
TV: ESPN
Betting Odds
Point Spread: MIN +5/NO -5 (Bovada)
Total: 233.5
Last Night in the NBA
This game was well on its way to an absolute blow out, but a closer examination of the Celtics reveals that they take a lot of terrible shots. They're almost definitely not going to cover the 9-point spread in this one, and the game is now in doubt. I guess this is the kind of effort you can expect from the 4th best team in the Eastern Conference. I shouldn't be surprised.
Meanwhile, the NBA's axis can continue turning now that the trade deadline has passed. Anthony Davis stayed put in New Orleans and is now going to mail in the rest of the season worse than Ben Affleck in Justice League, the Markelle Fultz saga in Philadelphia came to its logical, depressing end, and the Eastern Conference semi-finals are shaping up to be the best final four in recent memory. College basketball can't even claim the title of best Final Four this season. Sad.
With the State of the NBA's Union now in the past, we can finally figure out just exactly what these teams are as we barrel towards the playoffs. Tonight, however, we're just going to casually get to know these two teams as friends – not as potential suitors for the NBA title. The last time I checked, Jerryd Bayless was the best guard on the Timberwolves, and the Pelicans' starting center was Jahlil Okafor. With Anthony Davis' fate for the rest of the season undetermined as of the time of writing this, we're left without a line or total. Let's make our analysis and assume that sportsbooks will like this one to be a semi-tight, semi-high scoring affair. Just trust me on this one. Have I ever steered you wrong before? Wait – don't answer that.
Howl at the Moon
It's been a pretty forgettable start to the Ryan Saunders-era in Minnesota, and they'll be glad to escape the frozen tundra of Minneapolis in favor of Bourbon Street. The Timberwolves have relied heavily on Karl-Anthony Towns in the wake of the Jimmy Butler trade, and this is the destiny of a team with one superstar: NBA purgatory. The Timberwolves are a team going nowhere fast. Andrew Wiggins is eating their cap alive, and KAT, while uber-talented, still has some glaring weaknesses. The rest of their squad is either still recovering from Thibs-itis or generally underwhelming, and a once bright future in Minnesota has been snuffed out almost entirely. What a shame.
It may be a long road ahead, but the Timberwolves are just prideful enough to continue to scratch and claw their way to victories. With their pick virtually locked into a late lottery slot, there's nothing left for the Wolves to do but to go out and compete.
And compete they have. An average team by any and all metrics, the T'Wolves still find ways to keep games competitive. In their last 8 losses, 5 of them were decided by five points or fewer, and KAT's dominance has offset an otherwise lackluster roster. To take down the Pelicans, it'll require a superhuman effort from Towns – anything outside of that is just a bonus. Only one question remains: will AD be suited up to guard the Wolves', big man? Or is he free to roam free versus Jahlil Okafor?
Hello Boys! I'm BAAAAACKKK!
I gotta give it up to the non-Anthony Davis New Orleans Pelicans. When your star player demands a trade, it's a direct insult to your basketball skill. Some guys crumble under the implication that they aren't very good; others rise to the occasion. Jahlil Okafor and his new, svelte frame have looked more and more like the guy we saw at Duke University over these last couple of weeks, Randle and Jrue were their usual excellent selves, and even guys like Darius Miller and Kenrich Williams stepped up to the plate and took a few swings. There hasn't been a better Ewing Theory candidate in the NBA since Patrick Ewing himself, and I hope that New Orleans figures out a way to become a successful franchise after they inevitably lose the Brow. If they can't…well, then I'll see them in Seattle. Win-win for Kyle Cash.
The Pelicans haven't exactly been racking up the wins in the last few weeks, but it's understandable given the circumstances. At the very least, they were competitive in almost every game. With their best player presumably back in the fold, maybe some magic can happen, and we'll find the Pelicans back in the playoffs (where they'll meet a swift, painless end at the hands of Golden State). To do so, it'll have to start tonight.
The Timberwolves, while they possess a lot of heart, are a bit short in the talent department, and though he may lament his teammates, the Pelicans have three of the four best players in this contest. For the league's fifth-best offense, that may be all it takes to put the T'Wolves away mercifully. But AD hasn't played in a couple of weeks, and it's conceivable that this may be a game to shake off the rust. There's also the unknown revolving his load management – are the Pelicans really going to throw their lone blue chipper and prized possession into the fray for 40 minutes per game? To what end? With so much up in the air, it might be best just to sit this one out and figure out just what the hell the Pelicans are going to do with the rest of this season (I'm kidding – we're absolutely betting this game. Keep reading, dummy).
Best Bet
Statistically, there are reasons to like the Pelicans in this one. Anthony Davis, if he's actually playing, was demanding a large trade package for a reason – he's really freaking good. Meanwhile, Jrue Holiday is in the middle of another spectacular two-way season and Julius Randle, sans Nikola Mirotic, will have the room and opportunity to wreak the havoc he so gleefully wreaks. But narratively – I mean, how the hell is this team going to handle the Anthony Davis debacle? We just saw what happens when a club is heavily involved in trade rumors when we watched the Lakers get waxed by Indiana. Chemistry is far and away the most underrated aspect of a successful basketball team. I cannot tell you how many times I've intentionally missed "shoot to play" free throws to avoid being on a team with a guy that I hate (looking at you, Michael J.). We don't know how the rest of his team has reacted to this media circus that AD and his moronic agent Rich Paul have created, but if it were me, I wouldn't be too happy. For the sake of my own conscience, let's bet against the guy who was once my favorite non-Sixer. You've forsaken me, Anthony – and now you must suffer the consequences.
Final Score Prediction: Minnesota 116 – New Orleans 112