NBA Futures – Rookie of the Year Betting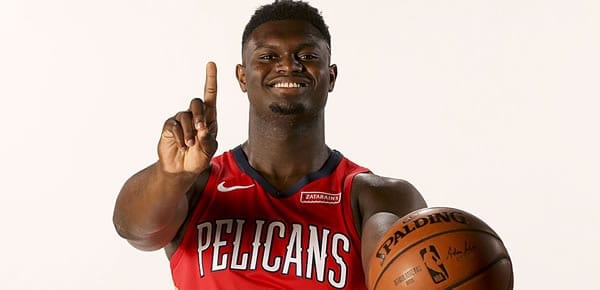 Rookie of the Year Betting - Is There a Zion Alternative?
Williamson is runaway favorite to win it
There was a period of a couple of weeks between the NBA Draft and the beginning of the free agency period. And that had been the time for speculation - about how the rookies will ultimately fit in with their new teams and which free agents will find their way into new locales.
Well, it won't be all that long before the first-year players show us what they have, as the NBA hosts a Summer League in Las Vegas (which runs from July 5-15). And at the risk of making a gratuitous plug, VietBet is going to have numbers on those Summer League games, many of which are going to be televised on NBA Network and other outlets.
It is not expected that there will be a widespread impact on the part of these draft picks. Some NBA personnel execs have referred to this as a "three-man draft," and we wonder whether it's going to go too far beyond that.
Will Zion be all that?
It certainly seems to be the consensus among most NBA observers in the know that Zion Williamson is one of those "transformational" players who is going to come in and make quite a bit of difference right away. I have no doubt that he is going to be a great "numbers" guy, and New Orleans Pelicans coach Alvin Gentry is going to give him every opportunity to be the focal point of the offense.
But as a guy who is 6'6″, you'd have to wonder whether he won't wind up being a little compromised by height, if nothing else, if he is playing the power forward position. If they call upon him to play center in a smallish lineup, well, let's just say that just because Draymond Green can do it doesn't mean everybody can do it. Or ANYBODY else, for that matter. And does Williamson have enough of an outside shooting game right now to make NBA teams honest?
A lot of the pundits have been very kind to him when it comes to his defense, as they admit that it could use some improvement. And then there are those who laud him as a defensive "stud," producing a lot of favorable metrics to prove it. So we'll see.
I don't know; Duke had three players taken among the first ten picks of the NBA Draft, with a "genius" coach, and not only couldn't make the Final Four but were extremely fortunate to make it past the second round of the NCAA Tournament (and the third, for that matter). I worry about that.
Nonetheless, at VietBet, Zion is not only the -230 favorite to win the Rookie of the Year, but is also priced at +3500 to win the league's MVP award. So the hype engine continues to churn.
The Creator
If I had the No. 1 NBA pick in my possession, I'm not sure I wouldn't have strongly considered swapping with the #2 team (in this case, Memphis), getting some real value in terms of picks and/or players, and then grabbing Murray State guard Ja Morant on top of that.
I say that because Morant is truly a rare bird. Sure, I know that he may have his defensive problems as he gets started in this league, but he is very unique when it comes to his ability to creating something out of nothing. I haven't seen many point guards in the NBA like that. His court sense is off the charts, and he will have the effect of making his teammates better. He is also unbelievably athletic in attacking the rim. I can't think of a scenario where he is not a high-impact player, and in a much more positive way than, say, Trae Young was for Atlanta last season. That is because unlike Young, Morant does not need to be the principal shooter to be the best player on the floor for his team at any given time.
Morant is +350 to win the Rookie of the Year award.
And if you want to bet on Rookie of the Year……
Here are the top candidates, as they are listed at VietBet. We have out their team in parentheses, since you may not be all that familiar with some of them:
NBA Rookie of the Year Odds
Zion Williamson (New Orleans) -230
Ja Morant (Memphis) +350
RJ Barrett (NY Knicks) +600
Darius Garland (Cleveland) +1400
De'Andre Hunter (Atlanta) +2000
Michael Porter Jr (Denver) +2000 *
Jarrett Culver (Minnesota) +2500
Cam Reddish (Atlanta) +3500
Coby White (Chicago) +3500
Rui Hachimura (Washington) +4000
PJ Washington (Charlotte) +5000
Romeo Langford (Boston) +5000
Jaxson Hayes (New Orleans) +6500
Brandon Clarke (Memphis) +7500
Nassir Little (Portland) +7500
Sekou Doumbouya (Detroit) +7500
Is Porter an Intriguing Proposition?
* Michael Porter Jr. was taken in the first round last year but sat out the season after back surgery. So he's a rookie. You may remember that Porter Jr. was, in the opinion of many, the top player in the country coming out of high school (others may have favored someone like Marvin Bagley). He got injured and didn't get to play a lot as a freshman at Missouri, and then his back problems required he go under the knife.
He has talent, and could make for a very interesting option in Denver because of his ability to play outside, although the general consensus is that he is a rather "soft" 6'10". Still, who knows? He could wind up with a lot of playing time. And there are a lot of people anxiously awaiting his debut in the Summer League. He could be a darkhorse at +2000 if he can work his way into the starting lineup somehow.
The "Bol Bol" Problem
Ordinarily, I would say that 200-1 on Bol Bol to win the Rookie of the Year would be well worth a shot. After all, he is the most talented big man in the draft, able to run the floor as well as any seven-footer, shoot from the outside and drive to the hoop, with a very intimidating defensive presence in the lane.
But he hurt his foot and required surgery after just nine games at Oregon. Foot problems, as you know, can kill a center. You had Bill Walton and Yao Ming, and we could just go on and on from there. But for a guy with his upside to last until #44 in the draft was almost criminal.
Well, Denver was the beneficiary (by way of a trade with Miami). But the Nuggets seemingly want to be very careful with him, so they have left him off the Summer League roster. That could be a bad sign. And you wonder how much time he'll get as a rookie, especially since Denver has one of the best players in the world (Nikola Jokic, who is +1500 for the MVP at VietBet) in the pivot. Still, if Bol Bol can remain healthy, he can be All-Star-caliber.
Remember that you can take advantage of NBA futures like Rookie of the Year and MVP betting at VietBet, And if you want to keep the action going on sports like baseball right now, real-time wagering comes through Live Betting Ultra……. Open your account using a major credit card or person-to-person transfers. You can also use cryptocurrencies like Bitcoin, which NEVER incurs a transaction fee. …….. Enjoy TWO live casinos as well, including the brand-new Lucky Live Dealer Casino, which will blow you away.
Sign up for an account through this site and get a Welcome Bonus of 50% on your initial deposit up to $1,000. Be sure to mention PREDICTEM when signing up and contact support once you have made a deposit to get your Free Play funds posted!