[et_pb_dcsbcm_divi_breadcrumbs_module hide_homebreadcrumb="off" homebreadcrumbtext="Home" separator="sep-raquo" hide_currentbreadcrumb="off" homebreadcrumborientation="left" _builder_version="3.8″ fontsbreadcrumbs_font="Lato||||||||" fontsbreadcrumbs_text_color="#000000″ fontsbreadcrumbs_font_size="15px" fontsbreadcrumbs_line_height="16px" fontsseperator_font="||||||||" fontsbreadcrumblinks_font="||||||||" fontsbreadcrumblinks_text_color="#2567cf" custom_margin="25px|||" custom_margin_phone="30px|||" custom_margin_last_edited="off|desktop" custom_css_main_element="font-family: Helvetica Regular;" disabled="on" global_module="3641″ saved_tabs="all"][/et_pb_dcsbcm_divi_breadcrumbs_module]
NBA pick: Houston Rockets vs. Washington Wizards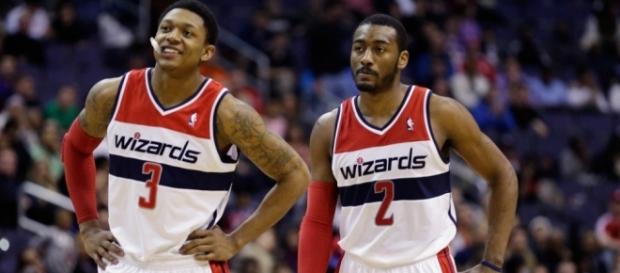 Houston Rockets (9-9, 7-11 ATS) vs. Washington Wizards (7-12, 7-12 ATS)
When: Monday, November 26th, 2018 – 7:00 pm ET
Where: Capital One Arena – Washington, D.C.
TV: NBATV
By: Kyle Cash, NBA Basketball Handicapper, Predictem.com
Point Spread: HOU -3.5/WAS +3.5
Total: 223.5
Last Night in the NBA
Jimmy. G. Buckets. I'm loving the Jimmy Butler-era in Philadelphia, and he's already hit more game winners in the last 10 days than Andre Iguodala hit in his entire Sixers tenure. It would be nice if the Sixers could start to beat teams without having to hit step-back 3s at the buzzer, but it's a work in progress. I'll be patient.
At the time of writing this, the Clippers are safely covering, and it's looking like we're going to start the week on a high note. Let's keep the ball rolling here down to the DMV as the former Washington Bullets play host to James Harden's Rockets team. Chris Paul carries a questionable tag in this one, but some Vegas books have given us a line of 3.5-points in favor of the visiting team with a total of 223.5 points. For our purposes, this line will do.
Rockets Implode
After another 40-point effort on Saturday evening, James Harden has catapulted to the top of the NBA's Points Per Game leaderboard. His per-game efforts are now nearly identical to the ones he produced a year ago in his MVP season, but with a 9-9 record and a 9th place standing in the Western Conference, he's probably pretty far down the MVP totem pole. The top of Houston's roster doesn't seem to be a problem for them; Chris Paul and James Harden are both a year older, but outside of some minor injuries, they've been producing at or near their All-NBA levels. I would not even necessarily chastise their supporting cast either. Their role players are playing their role, and their 65-win system should be in place. I think that their true problem lies in the fact that the rest of the league caught onto their schtick, and they're not the cool kids in town anymore. It's a copycat league, and Houston was the original copy. Now, their ink is starting to fade, and it might be time for a course correction.
NCAA Hoops Pick: Clemson vs Nebraska
A trip to Washington is the spoonful of sugar that helps the medicine go down. Let's just say that some players on the Wizards roster have had an…interesting weekend. More on that later. For now, I'm merely suggesting that the already-cracked frame of the Wizard's foundation might be nearing a tipping point. To add to Houston's chances, they are – on paper, at least – the far superior team. They outrank Washington in both Offensive and Defensive Rating, and their individual match-ups are juicy. John Wall and Brad Beal might be able to get the job done on offense, but they subscribe to the Bill Murray "Space Jam" ethos of playing defense i.e. they don't. If Chris Paul suits up, it's a 1-2 punch knockout for Houston; if not, I'm thinking that the guy who just had 40 points and 13 assists might be able to fill that void nicely.
Dwight, You Ignorant ****
Oh boy. What a weekend. Live your life, Dwight – it's none of our business. For those of you that aren't aware of the situation brewing in Washington, go ahead and give it a Twitter search. Suffice to say that Dwight Howard may not be the great guy that I made him out to be a few weeks ago. He also does not appear to be dating a 21-year old WNBA player. That's all I can legally say.
They said Dwight Howard ball handling got moved to 99 😂😂😂 pic.twitter.com/ILCQcATZhH

— Jeremy Mason (@JeremyJ__) November 26, 2018
The situation on the court is nearly as bad as the one off of it. Washington sits at 18th in Offensive Rating and 29th in Defensive Rating with a 7-12 record and 11th in the Eastern Conference – and I'm not even sure those numbers are a poor enough representation of the team. I will say one thing: slotting Kelly Oubre Jr. into the starting lineup to allow Otto Porter to play the power forward position has done wonders for Porter, and it's something to monitor as we move along through the season.
For their match-up versus Houston, it all depends on whether or not John Wall and Bradley Beal feel like playing well tonight. You don't need advanced stats to see that Beal and Wall are at war with one another on the court. Beal is the better player at this point, and he expects to be compensated as such in terms of touches and shots. Wall, however, is unwilling to concede such a position, and unrelenting in his pursuit of his ball-hogging. James Harden is too smart and too savvy to have an off-game against, and unless Washington can hunker down and improve upon their putrid shot defense, the rainmaking Rockets are going to pour in the points on Monday night.
Four Factors of Winning
Since we're all about finding the edge here at Predictem.com, let's take the time each day to dive into the stats that lead to winning basketball games. According to a theory posited by Dean Oliver, a win in basketball can be narrowed down to four factors: shooting, turnovers, rebounding and free throws. Each day, I will take a look at the areas that each team excels at or is susceptible to, and we will see if we can find a specific reason why Team A will beat Team B.
Neither one of these teams jumps off of the page as a four factors juggernaut. You would think that Houston has an exceptional free-throw rate, but they sit at 12th to Washington's 4th in that department. Houston makes a ton of shots and hunts for second-chance opportunities, but they also foul a ton and fail to secure the defensive rebound more often than 24 other teams. Luckily for them, Washington struggles in the same areas, and excels in similar ones as well. Both teams force turnovers while coughing up a ton themselves, so expect a bit of a sloppy affair. Overall, the most important factor is that Houston makes shots, and Washington lets other teams do so. Good luck, Wizards.
NBA Pick
The NBA is the gift that keeps on giving. We're heading towards the holiday season, and I appreciate that off-court theater is just as entertaining as the on-court product at times. That's not even an indictment of the play – the NBA is in a better place now in terms of teams, owners, general managers, players, entertainment, fandom, and popularity than it ever has been. It's just that NBA Twitter is – as the kids say – "LIT" almost every night. Tonight's Meme-Off could only be improved if there is some type of scuffle between former frenemies Dwight Howard and James Harden, but Dwight's injury and situation is probably going to prevent that. My hope is that nothing ugly happens in this game involving Dwight, but I'm expecting a lot of ugly in this one in terms of the game itself. Houston needs a get-right game after their loss to Cleveland, and only giving 3.5-points to a team that is on the precipice of a major crisis feels like free money. Go ahead and bet on the Rockets – then mute the TV, dim the lights and lock in to social media to watch the GIFs and videos fly. It's going to be LIT.
Final Score Prediction: Houston Rockets 118 – Washington Wizards 105
<h4 class="widgettitle">NFL Picks</h4><!-- [et_pb_line_break_holder] -->
<!-- [et_pb_line_break_holder] --><div class="widget-footer"><a href="https://www.predictem.com/nfl/">See all the NFL picks.</a></div><!-- [et_pb_line_break_holder] --><hr><!-- [et_pb_line_break_holder] --><style><!-- [et_pb_line_break_holder] -->ul.postsbycategory {list-style-type: none; margin:0; padding: 0; margin-left: -3px}<!-- [et_pb_line_break_holder] -->.postsbycategory li {padding: 5px 0px; display:block; clear: both; border-bottom: 1px solid #ccc;line-height:16px!important; min-height: 50px;}<!-- [et_pb_line_break_holder] -->.postsbycategory li a{color: #000; font-size: 14px!important;}<!-- [et_pb_line_break_holder] -->.postsbycategory img {width: 85px!important; height: 40px;<!-- [et_pb_line_break_holder] -->float:left; <!-- [et_pb_line_break_holder] -->padding:0px;<!-- [et_pb_line_break_holder] -->margin: 0px; margin-right: 8px;<!-- [et_pb_line_break_holder] -->border: 1px solid #EEE;<!-- [et_pb_line_break_holder] -->}<!-- [et_pb_line_break_holder] --> .widget-footer a {color: #666;}<!-- [et_pb_line_break_holder] --> .widget-footer a:hover {padding-top: 2px;}<!-- [et_pb_line_break_holder] --></style>
<aside><p align="center"><!-- [et_pb_line_break_holder] --><a href="http://www.bigal.com/" target="_blank" rel="nofollow"><img src="https://www.predictem.com/wp-content/uploads/2018/11/BigAl-300x250-gif.gif" alt="Free Picks From Doc Sports"></a></p></aside><!-- [et_pb_line_break_holder] -->