NBA Pick: Jazz vs. Golden State Warriors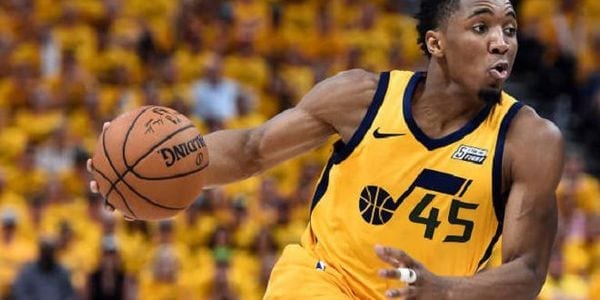 Utah Jazz (32-24, 28-26-2 ATS) vs. Golden State Warriors (40-15, 24-30-1 ATS)
When: Tuesday, February 12th, 2019 – 10:30 pm ET
Where: ORACLE Arena – Oakland, CA
TV: TNT
By: Kyle Cash, NBA Basketball Handicapper, Predictem.com
Point Spread: UTA +8.5/GSW -8.5 (MyBookie Sportsbook)
Total: 229
Last Night in the NBA
No NBA article last night from Kyle Cash, but fear not: my basketball handicapping skills work for all levels of the sport. Professional, college, high school, pick-up, kindergarten, NBA 2K – you name it, I'm on it. I came damn close to predicting the final score of a Kansas-TCU game, and I had seen approximately 13 seconds of this TCU team before making my analysis. Imagine what I can do with the last four years of studying the Warriors like they're the cure for cancer.
While I was away, it was a magnificent night in the NBA for individual achievements. James Harden made his own ESPN 30 for 30 by dropping 30 points in 30 straight games, Lou Will went into the way-back machine for a vintage 45-pointer in a losing effort, and Paul George decided to hop on the Russell Westbrook bandwagon with a 47-point triple-double of his own. Oh, and Russ broke a 51-year NBA record. NBD.
With the All-Star break looming, we come in for a landing with the Utah Jazz visiting the Golden State Warriors in a TNT showdown. Utah dispatched the Spurs and Suns with ease, and Golden State used their loss to Philly as nightmare fuel for the rest of the league. A fully loaded Warriors team is favored by 8.5-points over the visiting Jazz with the total set to a steady 229 points. Special announcement: I've adopted a child, and his name is Tobias. Tune in to Sixers-Celtics tonight to see him play with his brother, Joel. The Cash family is ecstatic.
Along Came A Spida
The NBA's most consistently inconsistent team is committed to the brand that they've built. Some people would argue that a tough defense and a budding superstar on offense would lead to a decent amount of regular season success. And to them I would say: 1 out of 2 ain't bad, I guess. Of the 17 players attempting 18 or more field goal attempts per game, Donovan "Spida" Mitchell (ugh – gag) is 16th in Win Shares, and his shooting splits are about 7% better than Russell Westbrook who is in the midst of the worst shooting performance by a guard in NBA history. Keep holding on to all of your Donovan Mitchell stock. But as my main man LeBron says: let's call a spade a spade. Donny Boy ain't a big-time shot maker – he's a big-time shot taker. And a bad one, at that.
Utah has a Donovan problem, but other than that, it's a roster that makes sense in today's NBA. A good coach, an All-World defensive/rim-running center, a playmaking guard and secondary playmaking wing, plus an army of 3-and-D guys cycling in and out of the lineup. Unfortunately, the alpha dog "put the team on my back" guy is more likely to carry them to the Drew League playoffs than to the NBA Finals, and it's a weakness that GSW can exploit.
While Utah's offense may sputter, they'll be able to hang in this game on the defensive end. Gobert will have his hands full with Cousins, but Utah's surrounding cast has the tools to keep the Warriors at bay. Most importantly, Utah is an elite turnover-producing team, and if they can gain some momentum by turning defense into offense, the Warriors might be playing catch up in their own home. If not, than Utah is, as the kids say, shit out of luck.
The Home Stretch
Don't look now, but the Warriors are very, very quietly on pace for another 60-win season and are 1-game back from Milwaukee for the best record in the NBA. The Eastern Conference race may be shaping up to be one of the most competitive in recent memory, but that may be the best we can hope for if the Warriors ever reach their true potential. Denver is a cute story, the OKC Thunder are probably fatally flawed by Russ, Portland = no thank you, Houston and Harden can go to hell, and the Jazz/Spurs/Clippers/Kings are a no-go for various talent/age-related reasons. And you LeBron idiots can pretend that this Lakers team, currently 0.500, can push the Warriors to the brink in a playoff series. But the last time I checked, Queen James was 3-6 in the playoffs versus Western Conference opponents, and that's assuming that this shitty Lakers team can even beat out the Ladybird Kings for the 8th and final spot. I'm riding with my guy De'Aaron on that one.
Amazing how I can always bring it around to LeBron, isn't it? Never gets old. And neither does the Warriors beating up on the Western Conference. The Dubs are in the middle of an absolute tear, and this is their last home game before the All-Star break.
In their previous two match-ups, Gobert has done a good job at limiting the Warriors' penetration and snuffing out passing lanes before they materialize. But the secret sauce of Utah's success has more been about Golden State's failures, and with Boogie now in the mix, the Stifle Tower actually has to commit to one man. As Gobert's Eye of Sauron focuses on the Warriors' superstar center, the Klays and Stephs of the world will reap the benefits in the form of wide open 3s. You know – that thing they do better than any backcourt in history. Might be an issue for Utah.
Best Bet
The Warriors showed their first real sign of a crack in their armor as they nearly blew a game to the lowly Heat this weekend. Right around now is usually when teams minds start to drift towards the holiday. Think back to how productive you were in the finals day heading into Christmas break back when you were in high school. Not very, I'm guessing. Now imagine that you've gotten nothing but straight A's, Student of the Month and Teacher's Pet Honors for the last five years – would you really care about a pop quiz on the day before Christmas? The Warriors are the bad boys of the NBA for a reason; they don't really give a crap about some random opponent in the middle of February. They can study for their final exam in June and still be able to make an "A" in the class. However – this isn't the game that they falter. Wednesday night in Portland is a guaranteed let down game, and I wouldn't be surprised if Draymond already had his sunglasses on and was putting on suntan lotion for the beach while guarding Al-Farouq Aminu. But Tuesday is all business, and I think the Dubs have one final beatdown in store for the Jazz. At least I hope they do.
Final Score Prediction: Golden State 122 – Utah Jazz 109
TIRED OF YOUR CREDIT CARD NOT WORKING AT SPORTSBOOKS? IT WILL AT MYBOOKIE+ GET a $1000 Free Play!
Who else wants $60 of FREE member picks & predictions?
(NO commitments. NO Credit Card. NO Salesman.)