NBA Pick: Utah Jazz vs. Portland Trail Blazers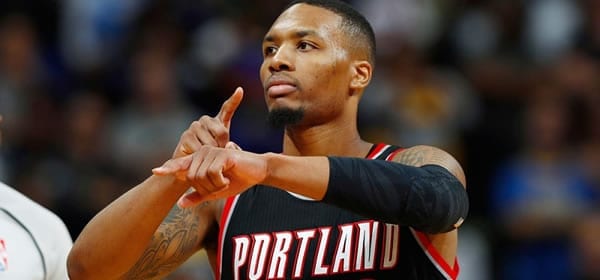 Utah Jazz (29-22, 25-24-2 ATS) vs. Portland Trail Blazers (31-20, 28-23 ATS)
When: Wednesday, January 30th, 2019 – 10:30 pm ET
Where: Moda Center – Portland, OR
TV: ESPN
Point Spread: UTA +1.5/POR -1.5
Total: 218
Last Night in the NBA
I know it's been a whole day, but don't forget about me. Allow me to take you back to that glorious Monday night victory, as the Golden State Warriors brushed away the Pacers with ease and we won our third consecutive NBA game. I'm pulling double duty this week, and if you feel like praising my skills twice in one evening as opposed to only once, feel free to check out our College Basketball picks. And if you want to thank someone for creating me, look no further than my amazing mom, who is celebrating her 27th consecutive 29th birthday today. She's aging better than Tom Brady. Happy birthday, Mom!
While I was busy, the NBA was busier. Jahlil-sanity is taking over the soon-to-be-vacant New Orleans superstar slot, Rudy Gay turned back the clock for a midrange game-winner, and Jimmy Butler made it abundantly clear what he's been doing with Amir Johnson in his free time.
If I am awake for this game tonight, there is something seriously wrong with me. Nonetheless, I'll thoroughly enjoy previewing it now as we take a look at a Western Conference rivalry game between the Utah Jazz and the Portland Trail Blazers. The Soccer Moms are currently favored by 1.5 points with the total set to an upsetting 218 points. We want points! Defense is for nerds!
The Second Half Team
I'm not sure what was the inciting incident that thawed out Donovan Mitchell, but all 26 Jazz fans are probably jumping for joy right now. After a rocky start to a season with high hopes, the Jazz are now living up to their potential, and they're arguably the hottest team in the NBA. With Rudy Gobert manning the middle and a spare parts roster cobbled together around him, the Jazz have officially supplanted the Grizzlies as the "we will beat the shit out of you and we don't care" team in the league. Just like the Grizzlies before them, you would be hard pressed to find a team ready and willing to take on the Jazz come playoff time.
Especially a team like the Portland Trail Blazers. With the dominating force of the Trail Blazers being two undersized guards, having excellent perimeter defenders coupled with a stifling presence in the middle is a recipe for disaster. Utah should be studying the playbook that the Pelicans used last year in the playoffs to upend the Trail Blazers: get the ball out of Dame and C.J's hands and then pack the middle.
While the defense should be solid, there's more concern over the offensive prowess of this Utah team. They canned 15 of 39 3s in their last victory, but their team shooting may plummet in a road match-up. Donovan Mitchell with confidence is just as dangerous as Donovan Mitchell in a slump, and while Portland's guards aren't defensively-inclined, we've seen Donovan beat himself more times than his fans care to admit. The Jazz are red-hot, but the bucket of cold water is coming. Will it be tonight? Time will tell.
Oregon Trail
The redemption road is long and winding, and it's already been an up-and-down year for the Trail Blazers. After suffering an embarrassing loss to AD and the Pelicans last spring, Portland came into this year with the boys back in town and ready to rock and roll. A December malaise saw them backsliding towards mediocrity, but the stellar play from top to bottom has kept them firmly in the home-court advantage hunt. Outside of the guards, the Bosnian Beast Jusuf Nurkic has been the shining star of a solid team, and with three pseudo-stars, any playoff possibility is in play.
To secure home-court advantage in round one (and keep Utah from getting to the 5-seed), this is an important game to win. Lillard's spotty health as of late is a slight reason for concern, especially against a Jazz team ranked 2nd in the NBA in Defensive Rating. There's very little room for error for Portland's backcourt.
Assuming the offense does its job, Portland should have no problems containing Utah's attack. A Donovan Mitchell-Rudy Gobert pick-and-roll can be snuffed out by Nurkic at any moment, and the fringe help in Al-Farouq Aminu and Moe Harkless goes a long way. It's a standard hazard warning to put on all Jazz games, but if Donovan Mitchell looks more Westbrook-ian than Clarkson-ian, it's trouble for Portland. If Utah's "superstar" does superstar things, one of Portland's own will have to do the same.
Best Bet
Streaks are made to be broken, and I've put myself in a real pickle with this one. If you were asking me which game I would be gambling on for tonight's NBA slate, I would probably steer you in the direction of Dallas or Denver and call it a night. Portland and Utah is a legitimate playoff matchup with playoff implications. If that's the atmosphere that we're dealing with, then all of the stats and trends can get thrown out the window, and we're left with one conclusion: it's Dame time.
Final Score Prediction: Portland 106 – Utah 104