NBA Playoff Betting: Game 6 Must-Win for Bucks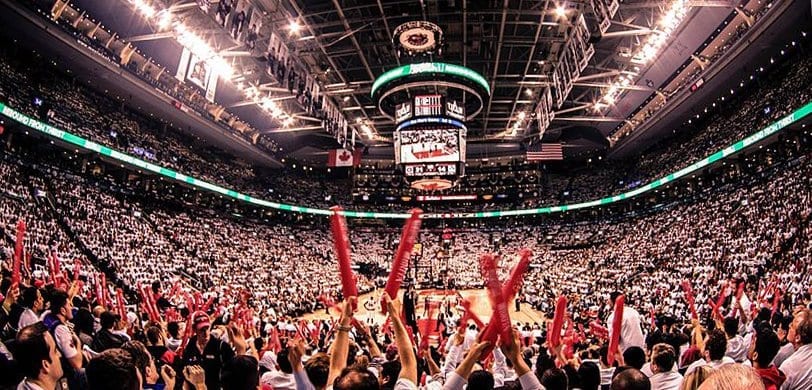 NBA Playoff Betting — Raptors-Bucks: It's Win Or Go Home For Milwaukee
Bucks have now lost three straight for first time this season. It was not very long ago that the Milwaukee Bucks were looking very much like the beast of the East. Now their backs are firmly against the wall.
As the #1 seed, they would be able to advance to the NBA Finals simply by winning their home games. But that plan is shot to hell, as the Toronto Raptors have managed to "break serve." That came by way of a 105-99 victory at the Fiserv Forum on Thursday. So they are up 3-2 in this Eastern Conference championship. And that makes Game 6 a genuine "must-win" situation for the team with the NBA's best regular season mark.
It takes place on Saturday at 8:35 PM ET at Toronto's Scotiabank Arena, and TNT will televise it.
Here are the NBA playoff betting odds for Game 6. You'll notice as well that they are infused with "reduced juice," the best deal you'll get at an online sportsbook. It allows you to avoid having to lay the 11-to-10 (-110) on your hoops action. These odds were taken from value sportsbook, VietBet.
Toronto Raptors -2.5 (-101)
Milwaukee Bucks +2.5 (-109)
Over 213 points (-105)
Under 213 points (-105)
Raptors to win outright -135
Bucks to win outright +125
We're seeing that several patterns have been broken of late. The Bucks had not lost three games in a row all season, and now they have. They were 19-4 against the spread after a straight-up loss. But now they've failed to cover two in a row under those circumstances.
In four regular season meetings, Milwaukee held Toronto to just 27% shooting from beyond the arc. That was significant, in that the Bucks allowed their opponents to attempt more triples than any other team during the campaign. But the Raptors have done better than that in this series. They converted 34.1%, 37.8%, 31.3% and 35.7% in the first four games. And in Game 5, they hit just short of 42%, as Fred VanVleet led the way with seven treys.
Kyle Lowry has experienced quite a turnaround from his regular season results against the Bucks. Hounded mostly by Eric Bledsoe (who was recently named to the NBA's All-Defensive first team), he was held to just one-of-20 from downtown in three regular season games. But in this Eastern Conference finals he has been 43.6% accurate. And he's been doing it with an injury to his left thumb.
VanVleet has been breaking his own individual patterns as well. Beginning with the second game of the Orlando series, he went through a stretch where he had made just five of his 35 attempts from long range. Then, after the birth of his child, things changed in a hurry. In these last two games against the Bucks, he's made ten of 12. He blows hot and cold, but he has been a catalyst as the Toronto bench has taken the measure of Milwaukee's in the last two contests, outscoring them by 45 points. That's huge for a team that had relied almost exclusively on offense from Lowry and Kawhi Leonard in the first two games.
The Raptors have looked like the team with more "hustle" in them, in the process of going ahead in this series. They were not known as a particularly strong team on the glass as it was. In the first three games their offensive rebounding rate was just 13.8%, which, if projected over a full season, would have made them the worst in the NBA in that category by a wide margin. But they have held a 20-15 edge over the Bucks in that statistic in Games 4 and 5. That has to be somewhat encouraging.
Interestingly enough, one pattern that has held in place involves a certain pair of officials. The Raptors have now won the last seven games in which Marc Davis has been one of the referees. And they've won 15 of the last 16 officiated by his colleague, Tony Brothers.
Both were part of the festivities on Thursday. And for what it's worth, Toronto had thirteen more free throw attempts than Milwaukee in Game 5. There was also a controversy, as the Bucks clearly committed an intentional foul on Lowry in an attempt to extend things. Such a thing is often the case for a team that is behind, and was to be expected. But that became a rather conspicuous non-call, as Lowry was able to get the ball to Pascal Siakam, who made an uncontested slam dunk. Milwaukee head coach Mike Budenholzer was apoplectic, and perhaps with very good reason.
TNT's Charles Barkley was critical of Budenholzer's decision to start Malcolm Brogdon on Thursday, His rationale was that Brogdon, who had been coming off the bench since returning from an foot injury, is a shooter, and his presence in the starting five did not afford Khris Middleton to get into his rhythm quickly enough. Middleton, the small forward who made his first All-Star appearance this year, ended up two-for-nine from the field.
More: Read Keith's take on Game 6
But it arguably made sense to start Brogdon, provided he was in condition to go a lot of minutes. First of all, NBA playoff bettors may be aware that he was a 50/40/90 player this season. That means he shot 50% from the field, 40% from three-point range and 90% from the line. That makes him a very unique player. How unique? Well, there are only eight full-time players in the history of the NBA who can claim all of that.
And there is no argument that the Bucks were much better with him on the floor against Toronto this season, as they outscored the Raptors by 26.9 points per 100 possessions. Brogdon's plus-minus rating in Game 5 was +18, which was easily his team's best.
Realistically, can you take issue all that much with Nikola Mirotic's role being reduced in favor of Brogdon? The 6-10 forward, who took almost 60% of his shots from beyond the arc this season, has now made six triples in 31 attempts. It is unknown as to what his participation will be going forward.
However, NBA bettors should know that lineup adjustments alone aren't going to get the job done for Milwaukee. This is a team that ranked first in the league in Defensive Rating. That not only went for the regular season, but for the first two rounds of the playoffs as well. They led the NBA in point differential. And seven of their eight playoff victories in the first two rounds had been by double digits. Now they are starting to look like they've been left wanting for a "Plan B" when sufficiently challenged. What they thought they could count on isn't working at the moment. As one NBA beat writer put it, upon traveling to Toronto, their game may have been "confiscated by customs."
So you can give some credit to Raptors' coach Nick Nurse, who has paid his dues, kicking around in Britain, Belgium, NAIA ball, the United States Basketball League, NBA summer leagues and the D-League (now known as the G-League) on his coaching journey, before serving five seasons as a Toronto assistant.
And general manager Masai Ujiri draws kudos for pulling the trigger as well. There are ghosts of playoff failures past in this team's history, and those are on the verge of being erased. Leonard's presence has meant everything to this team. It was really a no-brainer to deal DeMar DeRozan away for him, which was the transaction, in effect. And we say that even considering that Leonard is a pending free agent. DeRozan is not known as a defender, and offers little in the way of long-range shooting. Kawhi expands Toronto's horizons on both counts.
He played through pain (nagging leg injury) to chalk up 40 minutes in Game 5. Successful on five triples (in eight attempts), he had 35 points and nine assists. And he's missed just four of 50 free throws. That's a big difference between him and his superstar counterpart, Giannis Antetokounmpo, who is just 60% from the charity stripe (30 of 50). The effect becomes magnified when you consider the proportionate chances they get. Giannis has taken 36% of his team's foul shots, while Leonard has taken 39% of Toronto's, and Kawhi is +16 in the category.
So Budenholzer has plenty to concern himself with.
Oh, and then there's Drake.
The Milwaukee coach let the famous rapper, a "Global Ambassador" for the Toronto franchise, get under his skin in Game 4. Drake is animated and demonstrative during games. And he sometimes gets on the court itself, interacting with the team or even the officials. He generally annoys the opposition, and we suppose that's part of the mission.
"There's certainly no place for fans - or whatever Drake is for the Raptors - on the court," Budenholzer said in a conference call. "There's boundaries and lines for a reason."
Those VietBet patrons who are faithful to the Bucks are going to see some value in Saturday's number. And indeed this appeared to be the team with a lot of the fundamental advantages coming into the series. But as we alluded to, those things that Milwaukee considered to be constants are going the other way. Their Defensive Rating here (106.8) is more than eight points worse than it was in the two previous series. The bench has less energy.
Perhaps most importantly, they seem to be losing the mental battle. And that's the kind of thing that may not show up in anyone's power ratings. Toronto, the underdog, came out and took the Bucks' best punches early. Then they showed resilience by punching right back, and doing so with stars who are hurt. Milwaukee hasn't answered that clarion call with enough verve. You can even look at this from another angle, which is that if the Raptors hadn't fallen apart at the end of Game 1, this series could be over by now.
The Game 3 total was 222. In the next two games it was 215 and 215.5. Here, it's 213. A drop in the total was expected, and it's for good reason. Teams tend to deal with possessions a little more deliberately in the latter stages of a series. And they are able to make certain adjustments defensively, as this opponent is the only one they have to study.
In fact, if you look at the last thirteen seasons, the "under" in the sixth and/or seventh game of a playoff series is a 58% proposition. Since defense and careful play is likely to carry the day here, we will move in the direction of that trend, which has shown some "legs."
And for those of you looking to bet the side, by all means keep an eye out for those referee assignments, which will be posted by the league at 9 AM ET on Saturday. As we've seen, they could make something of a difference.
Remember that you can avail yourself of reduced juice at VietBet. And so you don't have to lay the customary -110 in NBA playoff betting. Could there be a better deal than that? And if you want to keep the action going, real-time wagering comes through Live Betting Ultra. …….. Open your account using a major credit card or person-to-person transfers (like Western Union or MoneyGram). You can also use cryptocurrencies like Bitcoin, which NEVER incurs a transaction fee. …….. Enjoy TWO live casinos as well, including the brand-new Lucky Live Dealer Casino, which will blow you away.
And listen up - when you sign up for an account, mention PREDICTEM and you'll get a 50% Welcome Bonus up to a $1,000 Deposit!