NBA Pick: New Orleans Pelicans vs. Portland Trail Blazers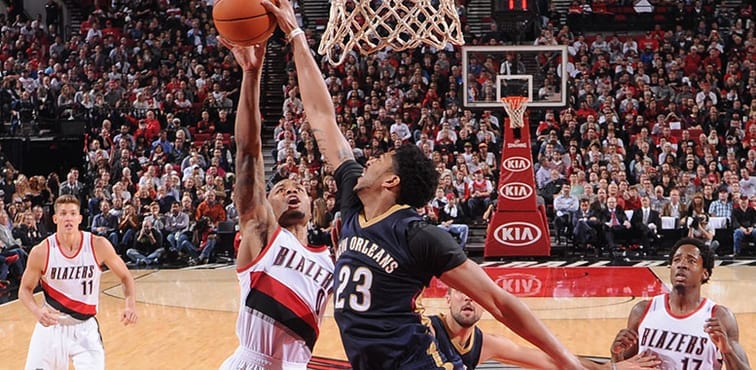 New Orleans Pelicans (4-3, 4-3 ATS) vs. Portland Trail Blazers (5-2, 5-2 ATS)
When: Thursday, November 1st, 2018 – 10:30 PM ET
Where: Moda Center – Portland, OR
TV: TNT
By: Kyle Cash, NBA Basketball Handicapper, Predictem.com
Point Spread: NO +4.5/POR -4.5
Total: 232
Last Night in the NBA
A wise man once told me: "It's not about whether you win or lose – it's whether you cover." A win is a win, so I'm glad that my bashing of the New York Knicks did not come back to bite me in the butt. Thank you, Victor Oladipo! Meanwhile, Derrick Rose hopped into his DeLorean for the throwback game of the century, and he topped off his ESPY nomination with a game-saving block and a flood of tears. I'm not crying – you're crying.
With the Thursday night TNT schedule at our disposal, we have two options: break down the hapless Boston Celtics versus the undefeated Bucks, or head over to the West Coast to check out the Brow take on the scorching hot Damian Lillard. Since there isn't much to talk about concerning the Celtics outside of the "wait and see" approach, let's head over to Portland, where the Trail Blazers are giving 4.5 points to the Pelicans in a game set to 232 total points. This should be fun.
Pelican, Peli-can't
Anthony Davis is a once-in-a-generation talent. There's hardly any dispute surrounding that. But he's also a once-in-a-generation glass skeleton; it's impossible that a man this big and strong can get this many ticky-tack injuries. He looked like he was operating at 80% capacity in last night's bout versus the defending champions, and 80% isn't going to cut it for a team who's 4th best player is E'Twaun Moore.
NFL Pick: Rams vs Saints
Luckily for the Pelicans, they head into a game versus the Pelicans where their fringe players should be able to thrive. Portland's roster construction is similar to the Pelicans: very top-heavy. Julius Randle is going to have a monster game at some point, and I can see him making mincemeat of poor Zach Collins off the bench. Jrue Holiday is an underrated point-guard defender, and stopping Lillard is the key to stopping the Blazers. Al-Farouq Aminu is a solid wing defender, but Anthony Davis is match-up proof when healthy. In an up-tempo game environment, New Orleans is going to be able to run and space the floor, and don't be surprised if AD brings the ball up the floor off of a rebound to find NOLA's shooters scattered around. The geometry of NBA offenses has changed, and the Brow is one of the largest orbital objects the league has to offer.
Return of the Mc(Collum)
It's been a forgettable start to the season for C.J. McCollum, but after scoring 19 points in three quarters in a blowout of the Rockets, he might be poised to hop back on track. The Trail Blazers are quietly 5-2 to start their 2018-19 campaign, and the whispers of their demise have been greatly exaggerated. It turns out that have 2 of the 20 best guards in the league in one backcourt in an NBA that revolves around scoring and shooting might be a recipe for success. Who knew?
Against the Pelicans, the Trail Blazers run into an all-hands on deck situation. Last year in the playoffs, New Orleans exploited Portland's greatest weakness: their lack of playmakers. I have broken down before about how Portland is at its most vulnerable when opposing defenses force the ball out of McCollum or Lillard's hands and into Nurkic or Aminu's, and Coach Alvin Gentry took this philosophy to the n-th degree. An embarrassing sweep out of playoff contention looms large on the minds of the Trail Blazers, and don't be surprised if we get a little bit of "Eff You" out of Damian Lillard tonight. He is a prideful guy who can throw flames when he's on. Look out.
Quick Match-Up Notes
The Pelicans and the Trail Blazers both rank inside the top-5 in Offensive Rating
New Orleans pushes the pace; third in the NBA
In the four game playoff series in April, Jrue Holiday (28 points, 7 assists, 4 rebounds, 56% FG) dominated Damian Lillard (19 points, 5 assists, 5 rebounds, 35% FG)
TIRED OF YOUR CREDIT CARD NOT WORKING AT SPORTSBOOKS? IT WILL AT BOVADA + GET A 50% BONUS!
Best Bet
I really want to take Portland in this game. I like the revenge narrative they have going, and I generally believe that they are a better basketball team than the current incarnation of the Pelicans. If Anthony Davis is operating at less than his 100% Cyborg Praying Mantis self, the Trail Blazers should be a lock. But that playoff series is still fresh in my mind, and I can't see Alvin Gentry abandoning his ball-handler blitz defense when it essentially broke Portland's back just 6 months ago. To hedge my bets, let's just do the fun thing that we usually do when we don't want to decide: take the over, kick your feet up, and enjoy the wild ride. And if Jrue Holiday's prop bet for Points ever goes up on Bovada, hammer the over. That little tidbit is free.
Final Score Prediction: Portland 122 – New Orleans 118