[et_pb_dcsbcm_divi_breadcrumbs_module hide_homebreadcrumb="off" homebreadcrumbtext="Home" separator="sep-raquo" hide_currentbreadcrumb="off" homebreadcrumborientation="left" _builder_version="3.8″ fontsbreadcrumbs_font="Lato||||||||" fontsbreadcrumbs_text_color="#000000″ fontsbreadcrumbs_font_size="15px" fontsbreadcrumbs_line_height="16px" fontsseperator_font="||||||||" fontsbreadcrumblinks_font="||||||||" fontsbreadcrumblinks_text_color="#2567cf" custom_margin="25px|||" custom_margin_phone="30px|||" custom_margin_last_edited="off|desktop" custom_css_main_element="font-family: Helvetica Regular;" disabled="on" global_module="3641″ saved_tabs="all"][/et_pb_dcsbcm_divi_breadcrumbs_module]
OKC Thunder vs. Portland Trail Blazers Pick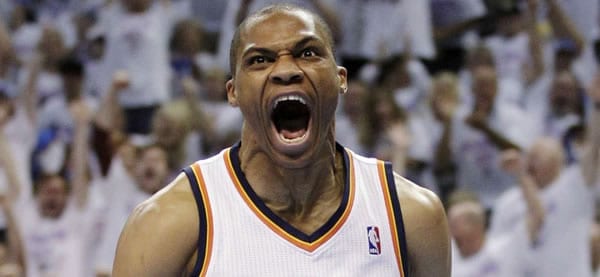 OKC Thunder (49-33, 42-40 ATS regular season) vs. Portland Trail Blazers (53-29, 45-36-1 ATS regular season)
When: Sunday, April 14th, 2019 – 3:30 pm ET
Where: MODA Center – Portland OR
TV: ABC
Point Spread: OKC +3.5/POR -3.5 (WagerWeb)
Total: 225
Situations: NBA Western Conference Playoffs – Round 1, Game 1
After 176 days, 1312 games, and more than 63,000 minutes played, we've finally reached our destination. The NBA playoffs are the cherry on top of the best sports week of the calendar year, and I am ready to get this show on the road.
1 out of 2 ain't bad, right? We were nearly perfect with our Warriors prediction and couldn't have been more wrong about my stupid 76ers. As the underdogs soared, let's be extra cautious of a regression towards the favorites as the Sunday hoops slate gets underway.
As Tiger Woods rounds Amen Corner on Sunday, another fierce competitor will take flight as Russell Westbrook, and his Thunder squad will take on Damian Lillard and the rest of his Blazers crew. With Portland having a distinct and solid home-court advantage, oddsmakers like them as 3.5-point favorites over the Thunder with the total set to a spicy 225 points. Russ vs. Dame: Round 1! Ding ding ding!
This is 4-0
In the regular season, four straight victories over a team don't mean anything. But in the playoffs, the Thunder can capitalize on their 1.000 batting average against Portland and try to advance to the next round. Fun fact: one of Denver, Portland, OKC, or San Antonio is guaranteed to be in the Western Conference Finals. If I were a gambling man (I clearly am), I wouldn't be throwing my hat in the ring with inexperience Denver, old-ass San Antonio, or hobble Portland. The true threat lies in the Midwest, and their journey to a Golden State showdown starts today.
But first, they'll have to deal with a frisky Portland squad. I've always loved looking at the Four Factors of winning, and I find some of OKC's statistics particularly eye-opening in that capacity. They are one of the best rebounding teams in the league, with Steven Adams boxing fools out while Russ soars in the air for boards, and they force more turnovers than any team in the NBA. Poor efficiency from the field can be chalked up to the 2 bad shots per quarter that Russ takes and some inconsistent shooting, but against a Portland team with only one healthy ball-handler, the Thunder should be able to get out in transition and get some easy ones.
There is, however, the distinct possibility that OKC is simply too out of sorts for a playoff series right now. They righted the ship in the last week after taking on water for a month, but one anti-Houston rally isn't enough to make me forget that PG-13 is playing with one arm. If Westbrook feels the walls closing in, he could go into hyperdrive, and Hyperdrive Russ is a guy who takes 43 shots and demoralizes your team for life. Stick to demoralizing the opponents, Russ – I beg of you.
The Charlie Brown Conundrum
Portland's faithful fans deserve better. Each year, the NBA playoffs are the metaphorical Lucy to Portland's Charlie Brown, and I'm sick of them falling flat on their faces year after year. We've reached a point with them (and Toronto – my god, Toronto) where it's no longer cute to get bounced early every season. I have invested many minutes and many words into Portland's basketball team this season, and I would be sad to see them meet a disastrous fate again. Then again, I love OKC and Westbrook and am actively rooting for them, so maybe my judgment is a bit clouded.
What else is there to say about Portland? If you've been following along for the last few seasons, you already know what they are about. They have an exceptional coach with impeccable bow-tie selections, an All-star backcourt that couldn't defend some of the guys on the AAU circuit, and a rotating cast of has-beens and misfits to round out their rotation. They play hard, they play smart, and Damian Lillard can strike at any time. There's very little not to like about them.
Unless, of course, you're interested in May basketball. Lillard's career playoff highlight happened in Round 1 with a series-ending buzzer beater, and they haven't been able to recapture that feeling ever since. They are usually a nice little appetizer for the Western Conference Finals entrée, and I don't see any reason to believe in them this time either. Their offense is the third best in the entire NBA, but some of that has to do with Nurkic clearing bodies out of the paint, and Zach Collins' frame just isn't the same as the Bosnian Beasts'. Portland could "upset" OKC with stellar guard play and professional shot-making, and I wouldn't be surprised in the least. But if you want to go that way, it's your funeral. Don't say I didn't warn you.
Best Bet
Ah, a classic match-up: a great offense versus a great defense. Of course, season statistics can be deceiving; OKC's defense hasn't been as good with a dinged-up Paul George, and Portland's elite offense can be taken down a peg with a timely double team of Dame Dolla. If we learned anything from today's game, it's that 3-point shooting is more prevalent than other, and a great defensive scheme can be thrown out the window if the opponent gets hot from downtown. We don't typically think of OKC as the sharpshooting squad, but they've actually made more threes on the season that the Trail Blazers. Offense wins games, but defense wins championships, and I'm siding with the underdog one more time. After today, it's all favorites all the way. Looking at you, Philly!
Final Score Prediction: Oklahoma City 110 – Portland 108