[et_pb_dcsbcm_divi_breadcrumbs_module hide_homebreadcrumb="off" homebreadcrumbtext="Home" separator="sep-raquo" hide_currentbreadcrumb="off" homebreadcrumborientation="left" _builder_version="3.8″ fontsbreadcrumbs_font="Lato||||||||" fontsbreadcrumbs_text_color="#000000″ fontsbreadcrumbs_font_size="15px" fontsbreadcrumbs_line_height="16px" fontsseperator_font="||||||||" fontsbreadcrumblinks_font="||||||||" fontsbreadcrumblinks_text_color="#2567cf" custom_margin="25px|||" custom_margin_phone="30px|||" custom_margin_last_edited="off|desktop" custom_css_main_element="font-family: Helvetica Regular;" disabled="on" global_module="3641″ saved_tabs="all"][/et_pb_dcsbcm_divi_breadcrumbs_module]
Oklahoma City Thunder vs. Houston Rockets Pick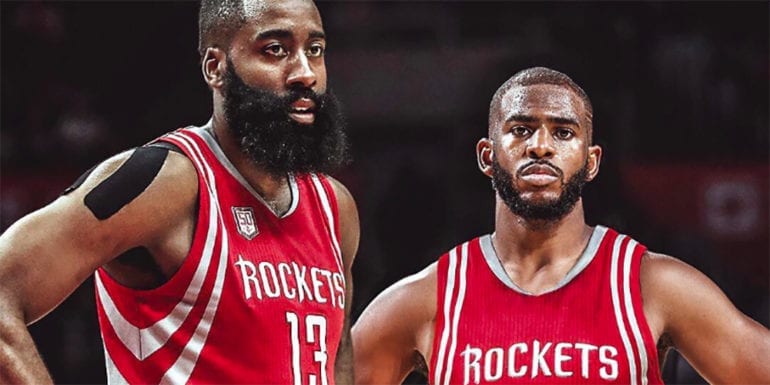 Oklahoma City Thunder (35-19, 31-23 ATS) vs. Houston Rockets (32-22, 25-28-1 ATS)
When: Saturday, February 9th, 2019 – 8:30 pm ET
Where: Toyota Center – Houston, TX
TV: ABC
By: Kyle Cash, NBA Basketball Handicapper, Predictem.com
Point Spread: OKC +2/HOU -2
Total: 235.5
Last Night in the NBA
Close only counts in horseshoes, hand grenades and backdoor covers. By the very, very skin of our teeth, we managed to eke out a Timberwolves cover. Anthony Davis being benched in the 4th quarter was equal parts hilarious and sad, and for our bet's sake, it's extremely lucky that he did. Blah blah "you picked them straight up and I bet the ML" blah blah. Read between the lines rather than taking me as gospel. I'm not a miracle worker.
Elsewhere in the NBA, Bobby Portis looks like he's going to successfully sabotage Washington's lottery pick, the Kings continued to make their push for the playoffs, and the new-look 76ers were led to victory by their obvious best player: Jonathan Clay Redick. Look out Eastern Conference. #HereTheyCome.
Today is a straight up fantastic day of hoops. We'll have the 2 v 3 Duke v Virginia ending right as this one is about to tip-off, and it's probably as good of a 1-2 punch as we've had in hoops this year. Throw in Nova versus Marguette? Yes please. The former teammates and MVPs are all set to square off mano y mano in Houston on Saturday night, and I can't wait to see it. The Rockets come into the game as 2-point favorites with the total set to a satisfying 235.5 points. Hold on lady! We're going for a ride!
Russell Westbrook's Day Off
Trick question (subtitle?): he never takes the day off. The hardest working man in basketball is on another tear, and by that I mean he's doing the thing that he's done for the last two years where he hunts for a triple-double every game. But (big "but" here – pay attention) – this is the best defense he's played in years, and his allowance of Paul George, in the midst of a career year, to take over the scoring burden is admirable and extremely beneficial to the long-term prospects of the team. I'll get out ahead of this and say that I don't think anyone in the Western Conference is going to be able to hang with the Warriors come playoff time. But if you asked me which team had the best chance at upending them, you're looking at it.
Before they take down the Warriors, the Thunder will have their laser focus on the team that took them down on Christmas Day. Winners of nine of their last ten games, OKC is peaking heading into the All-Star break, and a victory here would be a nice feather in their cap when they go on vacation.
In order to disrupt this Rockets team, there's one objective: get the ball out of Harden's hands. Chris Paul is still the Point God, but he's an old, out-of-game-shape, rusty Point God, and I seriously doubt he'll hurt a long, athletic Thunder team too much. But Harden is a different beast, and OKC is going to need to throw a ton of bodies at him. Westbrook, PG, Ferguson, Grant, Diallo, Billy Donovan, Gary Payton – anybody they can find. Remember "Save the Cheerleader. Save the World"? How about "Stop the Beard. Win the game."
If, however, that ends up being a fruitless endeavor, OKC can at least fall back on its two superstars. Westbrook and PG are having polar opposite shooting seasons, but with the latter grabbing the offensive reigns for stretches at a time, it's a formula for success. As tough a cover as Harden is, OKC's dynamic duo present near-equal challenges for opposing squads, and I like the thought of a determined, bloodthirsty Thunder team marching into the Toyota Center for a Saturday night national TV game. Maybe that's just me.
We're Going Streaking!
Harden's love letter in isolation to the great scorers of the 80s and 90s is, in a way, very touching. But in more of a way, it's very maddening and violates nearly everything that I know and love about the beautiful game of basketball. Sadly, I have to blame Russell Westbrook for this one. There were guys who did it before him (cough Kobe cough) and there will be guys who do it after, but Westbrook's triple-double MVP was so engrained within the social media/basketball zeitgeist that it became an instant cult classic. The mindset of "well, this guy is amazing – let's just have him do everything" is part of the Starter Pack for an unhappy 7th seed that loses in 5 games in the first round of the playoffs. This goes without saying, but I will anyway: Houston, you have a problem.
Houston's secret recipe for beating OKC isn't exactly a secret. James Harden has scored 30 points in 28 consecutive games, which doesn't quite sound as impressive as it actually is. The problem lies in the fact that with Harden dominating the ball so much, it becomes impossible for other guys to establish a presence or a rhythm. Takes James Ennis III, for example. All he did last night was bust his ass and knock down 2 big corner threes for the 76ers. He's not a high usage guy by nature, but the fact that the ball moved through him and he was able to do things such as dribble and pass allowed him to feel the ball and feel confident enough to make tough shots. That type of rapport does not happen in Houston. It's Harden (or CP3) or the highway. Spoiler alert: that's bad basketball.
However, it's at least somewhat effective for Houston. The Rockets still sit in 3rd in Offensive Rating, and on nights when Harden becomes unstoppable, the team follows suit. To add insult to injury, Harden relishes the #RevengeGame more than almost anyone in the league. If he goes full sicko mode, then I have bad news for OKC fans: it's over.
Best Bet
A Russell Westbrook vs. James Harden showdown feels a lot like two sides of the same coin. They're not perfectly similar or perfectly opposite, but the OKC tie and their respective styles of play feel intertwined. It's also important to note that while Russell Westbrook is one of my favorite players in the NBA, James Harden is on the other end of the spectrum. I look the other way when it comes to Westbrook's shot selection mostly because I know that, in his mind, he has to get to 10 assists, so I know he's good for at least 15 passes per game. The same cannot be promised in a James Harden endeavor. I'm not breaking any news by saying that watching a guy shoot free throws (who is a very, very good free throw shooter) is one of the more dull ways to spend 2.5 hours, and on that principle alone, I think I'm rolling with the Thunder. This game should come down to the wire, and I'll take the duo of Russ and PG13 just slightly over the Harden show. Take us home, Thunder.
Final Score Prediction: OKC Thunder 120 – Houston Rockets 119