Online Sportsbooks Open Blazers +5 at OKC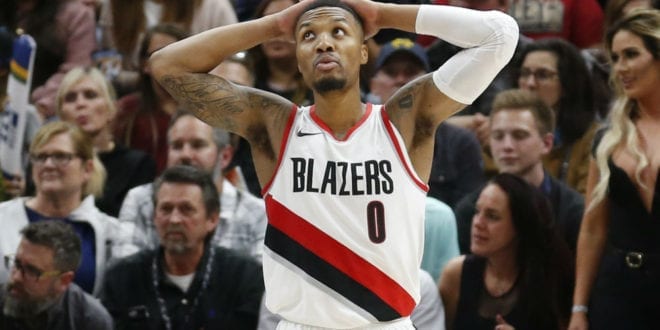 Portland Trail Blazers (28-19, 25-22 ATS) vs. Oklahoma City Thunder (28-18, 25-21 ATS)
When: Tuesday, January 21st, 2019 – 8:00 pm ET
Where: Chesapeake Energy Arena – Oklahoma City, OK
TV: NBATV
By: Kyle Cash, NBA Basketball Handicapper, Predictem.com
Point Spread: POR +5/OKC -5
Total: 229
Last Night in the NBA
With the benefit of a nice, long holiday weekend, I've reset my chi and I'm ready to tackle this week with full force. With the NBA Trade Deadline looming, there are plenty of teams showcasing their talent and figuring out the diagnosis for what their problems are. Without the luxury of teams with open cap space, we are hopefully in for some interesting player-for-player swaps.
While the Rockets were busy trying to find some sucker to dump Carmelo Anthony on, the NBA was busy with their low-key amazing MLK Day schedule. Boogie and the Warriors kicked the hapless Lakers out of the playoff picture, there was more competition between two shirtless youngsters in a dance-off than there was on the court for the Sixers' beatdown of Harden's Rockets, and Luka Doncic became the second teenager to notch a triple-double and the 230th European teenager to get dunked on by the Greek Freak.
I'm more likely to sink my teeth into Ozark than I am into this four-game slate, but there's at least a bit of intrigue between two of the West's better teams. The Thunder got back on track with a clutch W versus my Sixers and then a mercy-kill of the Knicks. Meanwhile, Portland dealt with the Jazz on their home floor behind a nice 6×4 game for the Bosnian Beast himself. With the Thunder having a few extra hours of rest, the bookmakers have given them a 5-point edge with the total set to a burly 229 points. May the force be with you, Portland.
It's Lillard Time
As I write this, Klay is currently in the middle of a classic Klay heat check, so forgive me if I seem distracted. While the Splash Brothers continue to do their thing, the discount version up in Portland still leave something to be desired. All of Dame's numbers are around the same as last year when he was named First Team All-NBA, but I think the problem is that the rest of the NBA got better and him and CJ stayed the same. With Steph and Harden doing things that can barely be considered legal, there's no room for Dame atop the Western Conference throne. But if Nurkic can continue to be a monster in the paint and the rest of Portland's spare parts coalesce nicely, there may be room for them in the Western Conference Finals party. Don't count them out yet.
Online sportsbooks have OKC at -6. A win tonight would put the Thunder and Blazers into a tie for 3rd place, and it's a spot both teams want to be in. Fourth place in the West would mean home-court advantage in Round 1 versus, as of right now, James Harden, followed by a date on the road versus the defending champs. Fourth place – not the spot you want to be in. To take down the Thunder, it all comes down to the play of Portland's Big 3. The Blazers have managed to sneak away with wins in 5 of their last 6 meetings with OKC despite average performances from Lillard himself.
Unfortunately, Portland's depth isn't something to write home about. With Evan Turner trending downward and the rest of Portland's bench scoring coming from Jake Layman, it's hard to trust any of Portland's fringe pieces on a nightly basis. OKC has a similar dilemma, but they at least possess a plethora of athletes who try their asses off and contribute in areas outside of scoring. Lillard is the engine that drives the Blazers, but unless the rest of the cogs start to turn, they'll have a hard time keeping pace with Russ and his thugs.
Defense Wins Championships?
OKC better hope so, because there's no way Paul George can continue this forever. Far be it from me to question a man in the midst of his signature season, but you don't have to dive very far into PG's NBA.com Stats page to find his lack of clutch performances. I, for one, subscribe more to the eye test when it comes to clutch statistics, so I don't give too much credence to the "Paul George is a choke artist" narrative (I save that title for Queen James himself). When you're the lone star on a so-so team, you're tasked with taking every big shot. Not everyone can be Michael Jordan.
OKC doesn't employ His Airness, but they do have a point guard who is possessed by his ghost. I fawn over Russ' indomitable will far too much on this website, but you have to appreciate the balls on him as he stomped toward the 7'2", 270-pound Joel Embiid on Saturday night. Russ, I love you – but you would've lost that fight worse than Adrien Broner.
While Russ' efforts can't be denied, his offense sure can. But what he lacks in efficiency he makes up for in playmaking (on both ends of the floor), and Portland won't have an answer for him. Paul George, on the other hand, has a tall task taking on Aminu and Harkless, both of whom have the prototypical build to give opposing wings fits. While Nurkic and Adams film Pacific Rim 3 in the low-post, it'll be mostly on Russell Westbrook to commandeer the ship and make sure OKC lands safely on the other side with a W. But if Westbrook continues to shoot like LaVar Ball, Portland night actually be able to stumble ass-backwards into an upset.
Best Bet
We're at the point in the season when we can start to assign real merit to statistics, and Portland's away record versus OKC's home record is a real sticking point for me. The OKC fans aren't nearly as rowdy as their Seattle ancestors, but they love their little Thunder team, and it can be a tough place to play in on occasion. On national TV, I'm inclined to side with Westbrook, who enjoys the spotlight as much as anyone in the league not named Rajon Rondo (Rondo is still the National TV King). But…these two teams just play great basketball games. In their last eight match-ups, there have been margin of victories of 2, 3, 8, 11, 4, 5, 5 and 6. In fact, in 233 regular season bouts between these two franchises, the OKC Thunder/Seattle SuperSonics lead 117-116. Amazing! Maybe it's the upper West Coast magic. I'm partial to the Russ-Joel feud, but this may be OKC's true rival, and I'm ready for a buzzer beater victory for someone. Give me the points, and let's salvage a boring-on-paper NBA Tuesday night.
Final Score Prediction: Oklahoma City 114 – Portland 112
TIRED OF YOUR CREDIT CARD NOT WORKING AT SPORTSBOOKS? IT WILL AT BOVADA + GET A 50% BONUS!