Philadelphia 76ers vs. Toronto Raptors Pick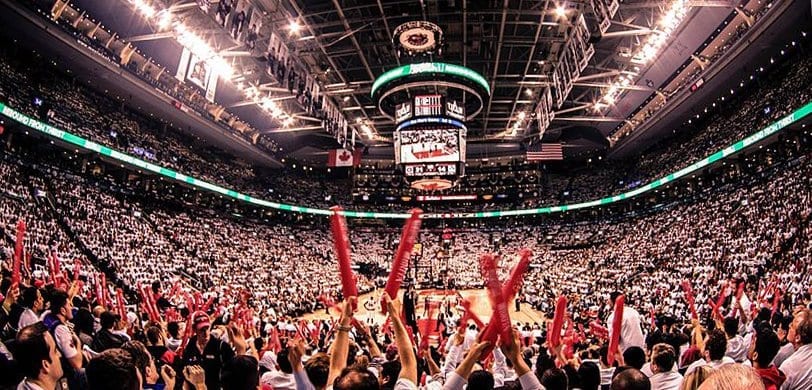 Philadelphia 76ers (4-3, 2-5 ATS) vs. Toronto Raptors (6-1, 3-4 ATS)
When: Tuesday, October 30th, 2018 – 7:30 pm ET
Where: Scotiabank Arena – Toronto, Ontario
TV: NBATV
By: Kyle Cash, NBA Basketball Handicapper, Predictem.com
Point Spread: PHI +6.5/TOR -6.5
Total: 222
Last Night in the NBA
The Warriors have officially broken the NBA. You can't just have two guys on your team that can both score 50 points in the first three quarters. It's unconstitutional. In NBA history, there have been 15 instances of a player making 11 or more 3-pointers; Steph and Klay have 9 of those games. First Take and PTI almost assuredly led their shows a few years ago with Mark Jackson's proclamation that his 2014 Warriors team possessed the greatest shooting backcourt in league history, and they mocked it mercilessly. Now, it's impossible to come up with another duo from any team in history that could even hold a candle to the Splash Brothers.. Who's laughing now?
Despite the creeping sensation of an inevitable Golden State three-peat, which you can future bet on occurring at books like 5dimes, the NBA has never been more entertaining from night to night, and Tuesday night's schedule features a juicy match north of the border between the Toronto Raptors and my Philadelphia 76ers. Benedict Kawhi took the night off last night for rest, so no official line has made its way onto Bovada, but the Westgate Superbook has the Raptors laying 6.5-points to the 76ers with a total at 222. As betting odds do, this is subject to change as things shake out over the course of the day so shopping for the best line will be important for you. Follow me, kiddo.
TIRED OF YOUR CREDIT CARD NOT WORKING AT SPORTSBOOKS? IT WILL AT BOVADA + GET A 50% CASH BONUS!
It's Always Sunny
I had the pleasure of attending the Sixers' Monday night rout of the Atlanta Hawks, and I still am in awe that this team has landed here after half a decade of wandering aimlessly through the Upside Down. They slept-walked their way through the first half before using the NBA's best 5-man unit to blow the doors off of the lowly Hawks in the third quarter. All of a sudden, Simmons was closing in on a friple-double, Fultz was getting the crowd going with 3s and dunks, and a 20-point lead sustained its way through the end of the game. Life was good.
NFL Thursday Night Pick: Raiders at 49ers
Unfortunately, Mischief Night is looming, and Kawhi "Michael Myers" Leonard is stalking his prey. I did not appreciate Toronto taking a punt on their match-up with the undefeated Bucks to rest Leonard for tonight's home game, and I hope this comes back to bite them. On paper, the Sixers have the roster talent to upend the Raptors. Simmons ruins the nights of many small NBA guards, and Joel Embiid eats opposing European centers for breakfast. Redick and Covington can get hot from deep, and if Dario Saric could currently do basic things like run, jump, or shoot, Toronto would be in big trouble.
While I'm skeptical of new head coach Nick Nurse's ability to game plan for the Sixers Towers of Terror, they have bodies to throw at guys. Ibaka is stout defensively, and Anunoby and Siakam are long enough and athletic enough to be a problem. Not much needs to be said about that new guy from San Antonio. Just know that he is pretty good too. If Toronto watches the game tape from the Hawks and decide to play off of Fultz and Simmons, the onus is on them to knock down shots or find other ways to score. If they play straight up, Embiid might have one of those games that we look back on as the moment he became the most dominant center in the NBA. Either way, I'm cautiously optimistic about the 76ers' chances at collecting a win in the 6.
Jurassic World
Or is it the Triassic World? Historical semantics aside, Toronto has started the season hotter than a meteor crashing to Earth. Kawhi Leonard has seamlessly transitioned into the Alpha of their team, and everything about their roster construction makes sense. They have hard-nosed, versatile defenders, sharpshooting from every spot on the floor, and a go-to superstar with something to prove. With Boston struggling to find an offensive rhythm and Milwaukee's contender status still pending approval from the board, the Raptors are in the driver's seat for another Eastern Conference 1-seed and an unceremonious second round exit. Time is a flat circle.
Unless, that is, Philadelphia has something to say about it. Of the four teams projected to be at the top of the Eastern Conference standings, the Sixers offer the highest degree of volatility. Toronto has the veteran savvy of Kyle Lowry, the two-way superstardom of Kawhi, and a bevy of filler pieces to carve out a top spot. But talent wins out in basketball, and Philly is about as top-heavy as they come. Tonight's game will be telling of which of these two teams, if any, is a false prophet of basketball excellence.
In order to stop Ben Simmons, you need the following: athletic wing defenders (check), a smart coach (check?), and a lot of luck (TBD). The Raptors have finally been relieved of their tormentor LeBron James as he went west towards greener pastures, but now the protégé is rising from his mentor's ashes like Kylo Ren to finish what LeBron started. In all seriousness, tonight's game is the first one between Ben Simmons and Kawhi Leonard, and this is the reason why Toronto made the trade. If Kawhi can do his Sharktopus thing and disrupt Simmons' flow, then Toronto should have no problem stifling the 76ers offense and coming away with an easy W.
Also, they are going to need to stop Joel Embiid. Good luck, Jonas Valanciunas!
Quick Match-Up Notes
• Toronto is 18-2 SU against Philadelphia in their last 20 games
• The last time the 76ers won in Canada was November 12, 2012; Andrea Bargnani and Spencer Hawes both played in that game
• Toronto ranks 3rd in the NBA with a +10.8 point differential
NBA Pick:
Without know the intentions of Kawhi Leonard, this is a hard game to handicap. The 6.5-point spread feels like too much; the Sixers have already suffered disappointing semi-blowout losses to the Celtics and the Bucks, and another double-digit slaughter would place them firmly at the bottom of the totem pole. Despite both teams being on a back-to-back, the blowouts of each lends itself towards a competitive game, and I doubt it comes down to more than a possession or two. If you want to play it even safer, I recommend just holding your nose and taking the under. Joel Embiid's post-up scoring is the nuclear option for the Sixers, and I anticipate a bit of an offensive slog in terms of the pace of this one. The Philadelphia 76ers and the under – not pretty, but it should get the job done.
Final Score Prediction: Toronto Raptors 106 – Philadelphia 76ers 103
<h4 class="widgettitle">NFL Picks</h4><!-- [et_pb_line_break_holder] -->
<div style="width:340px; margin: 0 auto;"><!-- [et_pb_line_break_holder] --> <a class="twitter-timeline" data-width="340" data-height="500" data-link-color="#008156" href="https://twitter.com/PredictemPicks?ref_src=twsrc%5Etfw">Tweets by PredictemPicks</a> <script async src="https://platform.twitter.com/widgets.js" charset="utf-8"></script><!-- [et_pb_line_break_holder] --></div>