Portland Trail Blazers vs. Miami Heat Pick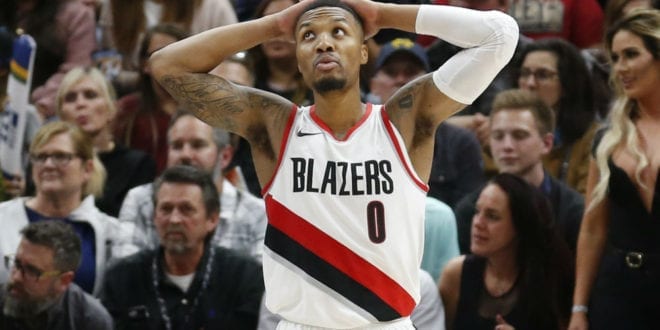 Portland Trail Blazers (3-1, 3-1 ATS) vs. Miami Heat (2-2, 2-2 ATS)
When: Saturday, October 27th, 2018 – 8:00 pm ET
Where: American Airlines Arena – Miami, FL
TV: Local TV
By: Kyle Cash, NBA Basketball Handicapper, Predictem.com
Point Spread: MIA -1.5/POR +1.5
Total: 221
Last Night in the NBA
So close, and yet so far. The Kings were everything as advertised: fast-paced, sloppy, young, energetic, and almost dumb enough to blow a 4-point lead with 6.8 seconds left. I wanted it (and overtime) badly, but c'est la vie. The rest of the NBA did us all a favor and stayed relatively quiet, and I'm happy to report it's been four whole days since a fight or Twitter beef broke out. At least to my knowledge. I haven't checked Embiid's Instagram yet today.
Sunday Night Football Pick: Saints vs Vikings
With no national TV game on the schedule for Saturday, let's roll with two teams that we have yet to dive deep into so far this season in what should be a highly competitive game. Let's take our talents to South Beach, where the Portland Trail Blazers open as a 1.5-point underdog to the Miami Heat in a game projected to get to 221 total points. Let's roll.
Dame Dolla
Damian Lillard is currently doing that thing he does where he's completely unstoppable, and Portland is thriving because of it. Even with C.J. McCollum shaking off the summer rust, the Trail Blazers have started the season 3-1 and sit in 4th in the Western Conference standings. Roster continuity tends to lend itself to early season success as other teams integrate rookies and new acquisitions, but Nik Stauskas seems to fit like a glove with the Portland Soccer Moms, so the growing pains are nonexistent.
There are easier games on Portland's schedule than their yearly trip to Miami. The Heat's roster is an inch deep and a mile wide, but their team-wide mediocrity attributes to their second ranked defense - there's no holes on their roster. Hassan Whiteside has learned to stop jumping like Jamie Leigh Curtis in Halloween at the slightest pump fake by an oncoming driver, and Justise Winslow, Josh Richardson, Goran Dragic and James Johnson are no slouches on the defensive end.
We learned last post-season that the way to exploit Portland's lack of playmakers outside of their guards is to blitz the ball-handler and force their bigs (Jusuf Nurkic/Zach Collins) to make decisions in 4-on-3 situations, and Miami has the personnel to do just that. Portland may struggle to generate offense in what projects to be an averaged-paced game, and we should be in for a close, low-scoring match.
I'm Mr. Heat Blister
Miami's current leader in PER is…Rodney McGruder? While I am loving the Rodney-aissance from a DFS standpoint, no one single statistic points more to the collective mediocrity of the Miami Heat roster than that one right there. Hassan Whiteside fancies himself a premiere center (Narrator: He isn't). Goran Dragic is one of the more solid NBA point guards, but there's nothing fancy about his game other than his nuanced drives to the hoop that drive basketball nerds wild. If any team in the NBA needs a superstar (hint: he's in Minnesota and thinks Andrew Wiggins is a bum), it's the Heat, and they need him quick.
In two matchups last season, Portland beat up on Miami pretty badly. Nurkic, Lillard, and McCollum were all able to have their way in some capacity, and the onus is on Miami's "stars" to outshine their opponent in their home arena. Whiteside should be able to operate near the basket versus a traditional big in Nurkic, and as I've pointed out above, Miami's wings have the length, speed, and defensive prowess to cause fits for Portland's backcourt. Erik Spoelstra, despite what the LeBron era indicated, is one of the brighter coaches in the Association. Bet your bottom dollar that he figures out a way to put the ball in the hands of guys like Moe Harkless and Al-Farouq Aminu, and live or die by their ability to hit open shots.
Quick Match-Up Notes
• A tale as old as time: 2nd in Offensive Rating (Portland) versus 2nd in Defensive Rating (Miami)
• Miami is allowing opponents to shoot only 33.3% from the 3-point line, 7th in the NBA
• Portland has won its last 5 games versus Miami
Best Bet
It's difficult to predict a winner in this game, but I think I have the game script figured out. Coach Spo's team probably does not employ either of the two best players in this game, and he knows it. If you learn anything from me, learn this: when good coaches have bad teams, they limit the number of possessions to keep the score low. It's simple math: if you get outscored by 0.1 points per possession, the less possessions there are, the less you can get outscored. Spoelstra is the master of the toilet bowl offense, where the ball swings and guys move around the perimeter and probe for openings before going iso for the last 4 seconds of the shot clock and jacking an 18-footer, and we are going to see a lot of that tonight. In any other season, 221 would be one of the highest, if not the highest, total of the night, and yet on this slate, it's ranked 5th out of the 6 games with lines posted. This is an all-caps LOCK for the under. When it's 85-85 with 2 minutes left in the fourth and finishes with a final score of 112-110 in triple OT, feel free to come back and yell at me then.
Final Score Prediction: Portland 105 - Miami 99