Utah Jazz vs. Houston Rockets Pick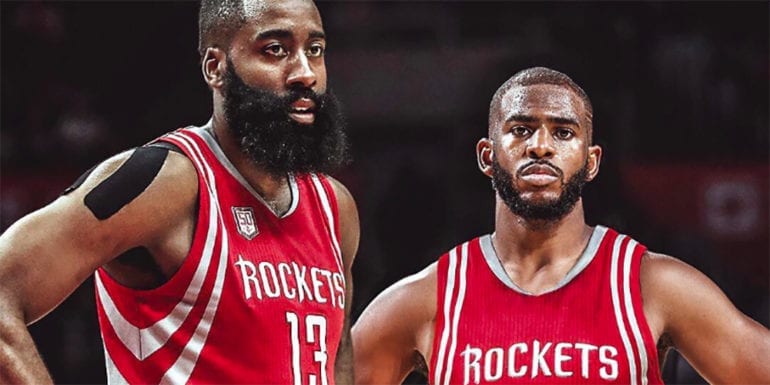 Utah Jazz (50-32, 44-36-2 ATS regular season – 0-1, 0-1 ATS playoffs) vs. Houston Rockets (53-29, 40-39-3 ATS regular season – 1-0, 1-0 ATS playoffs)
When: Wednesday, April 17th, 2019 – 9:30 pm ET
Where: Toyota Center – Houston, TX
TV: TNT
By: Kyle Cash, NBA Basketball Handicapper, Predictem.com
Point Spread: UTA +6.5/HOU -6.5
Total: 212.5
Situations: NBA Western Conference Playoffs – Round 1, Game 2 – Houston Leads 1-0
I would be remiss if I didn't mention the unbelievable cover that we experienced two nights ago. While a 13.5-point spread sounds like a healthy number to stay within, the Clippers were dead in the water through 2.5 quarters and were in a 31-point hole. At that point, our fate rested in the hands of one man, and he delivered: Mr. Lou Williams. The Sixth Man of the Century did what he does best, and the rest is history. Nice to be on the winning side of a historical comeback, isn't it? You're welcome.
Tonight, we're heading down to Great State of Texas as the reigning MVP takes on the Utah Jazz in a hotly anticipated affair. The series that NBA experts were clamoring for an upset in fell victim to a blowout in Game 1, but the sportsbooks have Houston as only a slight 6.5-point favorite in Game 2. With a total set to a disastrous 212.5 points, get ready for some gritty defense and heavy isolation sets. Yay?
Jazz Hands
It's refreshing to know that some guys just are who we think they are. Michael Jordan is always going to make the last shot, Kobe Bryant is always going to take the last shot, and Donovan Mitchell is always going to miss the last shot. Donovan's propensity to take as many shots as he can while passing as little as possible is unbelievable, bordering on impressive. We have assist-to-turnover ratio, but I almost feel as though we need a new stat for the Donovan Mitchell's of the world: field goal attempt-to-assist ratio. For a guy who fancies himself a premiere playmaker, it would be beneficial for Utah if he, you know, passed every once in a while. Just a thought.
You Don't need to Handicap The NBA and The Best Sportsbooks.
Bet with… the Best Bookmakers                          
For Utah to climb back into this series, they're going to need Mitchell and his backcourt partner Rubio to pick up the slack. They may rely on their elite defense for the brunt of their success, but shooting sub-40% from the field isn't going to win you any playoff games.
While they need to improve their scoring, the real problem lies in their gimmicky defense versus James Harden by forcing him to his right. Harden is one of the five best isolation basketball players in NBA history, and I think he'll be able to adjust to dribbling to the side of his off-hand. Houston missed a ton of open shots, and they have room to improve on their 15-for-41 three-point performance. Utah needs to do a better job at forcing Harden into tough, contested jumpers or drives and run Houston off of the three-point line. Lot of work to do, kids.
Cleared for Lift-off
Nothing to see here, NASA. The Houston Rockets were true to their name as they blasted off to an opening night 32-point victory over a tough Jazz team. As I pointed out above, the scary part is that they didn't even remotely play their "A" game. They did an excellent job of taking away Utah's playmakers in Mitchell and Ingles and dominated on offense, but it wasn't a blow-your-socks-off shooting game from the most lethal team in the NBA. If you take a peak back at the 2018 playoff series between these two teams, you'll find similar statistics for the Rockets; they took care of the basketball, were serviceable on the boards against a good rebounding team, and knocked down the shots that Utah gave them. Sometimes, a team just has you figured out. Sorry, Utah.
But just because you have a team's number doesn't mean you are guaranteed to dispatch them in every single match-up. At the time of writing this, it's a 54-54 game in Portland/OKC, but if OKC pulls off a victory, that will make every team that has played 2 games in the 2019 playoffs so far 1-1. Boston and Milwaukee have a good chance at ruining that statistic by the time Houston kicks off, but in a league that feels like it has an increasing amount of team parity, it's at least something to keep in the back of your mind.
Luckily for Houston, there's nothing to fix besides knocking down shots. Harden was able to get wherever he wanted to on the floor, and Utah's game plan against him was equal parts confounding and ill-advised. Something tells me that letting a guy whose basketball genius relies on his ability to draw fouls get into the deep part of the lane is a miscalculation by Quin Snyder. However, even if their scheme for Harden changes, Houston can play its Chris Paul card at any time. If Utah can't find a way to be competitive on the offensive end against Houston's mediocre defensive line, this thing is a wrap.
Best Bet
While I love the thought of every series winding up 1-1 after two games, I'm worried that Houston owns Utah. Rudy Gobert is an incredible defensive specimen, but his skillset does not involve guarding world-class isolation players 30 feet from the basket. If Houston wanted to run a play every time down where they got Gobert switched onto Harden, the Beard could either get off a shot, get fouled, or draw a second defender and find the open man nearly every time. And for the record, Houston is not above this tactic; we're talking about a team who hacked DeAndre Jordan over and over and over again and nearly forced me to through my remote through my television. If it ain't broke, don't fix it, and there's nothing broken about Houston's offense. Prove me wrong, Donny Mitch, but from where I stand, it looks like you're going home early this year.
Final Score Prediction: Houston Rockets 121 – Utah Jazz 106
Who else wants $60 of FREE NBA picks & predictions?