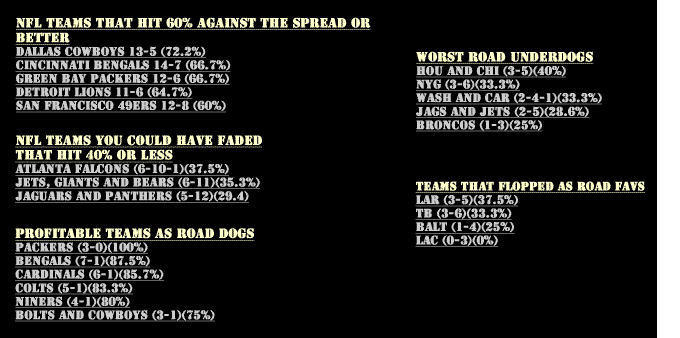 When betting on football, it's always a good thing to consume as much data as possible. While some of it is meaningless, some variables can provide a nice addition to your football handicapping prowess. Example: If you look at year-over-year records ATS over the period of five seasons and notice that a particular team struggles mightily on the road, this raises a red flag. You may have found a team that lacks discipline and/or parties too much. I won't name any names, but there was a very popular Minnesota Vikings quarterback that could be in bars hammered the night before a game! Or maybe a team is located in a city/state where they have to travel far to play opponents (Seahawks), leading to jet lag or other travel-related fatigue. Maybe they have a bad coach that fails to get the team up for away games? There's lots of different reasons a team may perform well (or poorly) when put in certain situations. We don't recommend solely basing a play on a trend, but it's a nice addition and confidence booster to a game you're already considering betting.
Oftentimes, people handicap NFL games; the game plays out and ends up being completely different than you thought it'd be. Wise football bettors reverse engineer where the plan went wrong. This process usually includes re-watching the game, taking notes, watching line play, and more. That process alone will help increase your odds of beating the sportsbooks.
In this article, instead of focusing on one game, we're reverse engineering the whole season, eyeballing what some teams did good and others did poorly. Let's take a look at how you could have made money betting on NFL teams in 2021. Note: These stats include playoffs.
NFL Teams That Hit 60% Against the Spread or Better
Dallas Cowboys (13-5)(72.2%)
Cincinnati Bengals (14-7)(66.7%
Green Bay Packers (12-6)(66.7%)
Detroit Lions (11-6)(64.7%)
San Francisco 49ers (12-8)(60%)
What the Bengals did with a banged-up offensive line and a young quarterback was absolutely amazing. More importantly, they've upgraded their line and could very easily find themselves back in the Super Bowl this season if they can stay healthy. Not a bad bet at 22/1.
NFL Teams You Could Have Faded That Hit 40% or Less
Atlanta Falcons (6-10-1)(37.5%)
Jets, Giants and Bears (6-11)(35.3%)
Jaguars and Panthers (5-12)(29.4)
The Falcons were dreadful last season and didn't do much to get better. In fact, they may be worse this season. Despite the Jets' poor record, I wouldn't be fading them in 2022. Robert Saleh is a WINNER and will steer this team in the right direction in time.
DEPOSIT $200 AND GET $200 FREE BY USING PROMO CODE PREDICT100 AT MYBOOKIE!
Motivated Teams That Won After a Loss
Titans, Bills and Cowboys (4-1)(80%)
Packers (3-1)(75%)
Colts and Bengals (5-2)(71.4%)
This is a stat I like to take note of. There's something to be said for a team that got knocked down to come back ready to avenge a loss. That is a sign of good coaching and strong men that take their business seriously. It's no coincidence that four of the teams on this list could win the Super Bowl in February of 2023.
Best Home Teams ATS in 2021
GB (7-2)(77.8%)
Det (6-2)(75%)
TB (7-3)(70%)
Buf (5-3-2)(62.5%)
You may be surprised to see the Lions on this list, but not me. They had lots of nice pieces and were such huge underdogs in 2021, they were oftentimes the best value on the board if you had the balls to pull the trigger. Remember… Good teams win, and bad teams cover!
Good Home Fades in 2021
N.O. (2-5)(28.6%)
AZ, Jax and Car (2-6)(25%)
Atl (0-7!)(0%)
No real surprises here, except for maybe Atlanta laying an egg at home. What the hell has happened to this franchise? Maybe getting rid of the statue at QB and some young draft picks maturing will help, but it's probably not happening this year.
Teams Who Cashed in on the Road
Cowboys (8-1)(88.9%)
Bengals (9-2)(81.8%)
Cards (8-2)(80%)
Indy (6-2)(75%)
Don't go betting Dallas on the road this season. We witnessed a unicorn next year, and it's likely that you didn't catch it and it's never coming back. We may go 20 years before we see such a gift.
Good Away Team Fades
G-Men, Bucs, Da Bears and Panthers (3-6)(33.3%)
NYJ (2-5)(28.6%)
Jax (2-6)(25%)
You may be surprised to see Tampa Bay on this list, but it's not really surprising when you consider that they're overvalued due to Tom Terrific, who, in the public's eyes, can do no wrong, despite his age. The other teams are young and inexperienced, and many had injuries that killed their seasons early on. Most importantly, most of the teams on this list had crappy coaches.
Profitable Teams That Covered the Spread as Favorites
Chi (3-1)(75%)
Pokes (10-4)(71.4%)
Philly (4-2-1)(66.7%)
Buff (8-5-2)(61.5%)
This isn't an easy list to make. The Bills are likely to be overvalued this season, so reconsider putting money on them. Philly should be better, and as noted above, Dallas was a unicorn. Apparently, the Bears are an auto bet when listed as a favorite, lol.
Teams That Thrived Against the Spread as Underdogs
Pack (4-0)(100%)
Rams (3-0)(100%)
AZ (6-1)(85.7%)
Balt and SF (5-1)(83.3%)
Dal (3-1)(75%)
Tenn (6-2)(75%)
Cinci (9-3)(75%)
Ind (6-3)(66.7%)
What do all these teams have in common? Dynamic quarterbacks with come-from-behind ability. Big arms, quick legs, and speedy receivers. They weren't expected to cover the spread, but they did. The sign of a truly good football team.
NFL Teams That Thrived as Home Favorites Against the Spread
Bears (3-0)(100%)
Packers (6-2)(75%)
Bucs (7-3)(70%)
It's tough to make this list. It's REALLY tough to come out ahead for a full season as a fav, much less a home favorite. Seeing the Packers and Buccaneers here screams Hall of Fame QBs who play with pride in front of their home crowds. Aaron Rodgers and Tom Brady are perfectionists. (And worth betting on!)
Teams That Sucked as Home Favs
Balt (2-4)(33.3%)
Clev and AZ (2-6)(25%)
Pitt (1-5)(16.7%)
Atl (0-3)(0%)
So much disappointment on this list. The Ravens and Browns don't belong here. Both had way too many key injuries. Arizona is in flux, and Pit/Atl were just plain stinky. This is likely to carryover to 2022 as well.
DID YOU KNOW THAT YOU CAN BET GAMES AT -105 ODDS INSTEAD OF -110? –> GET SIGNED UP AT  BETANYSPORTS SPORTSBOOK!
Profitable Home Underdogs in 2021
Steelers, Titans and Ravens (3-0)(100%)
Lions (6-2)(75%)
Texans (5-3)(62.5%)
Outside of the Ravens, all were completely disrespected, which created line value. It's a common vision for an inexperienced football bettor to picture one team stream-rolling another. It never plays out that way, though. The lesser squad (in most cases) is going to show up and give it their all. Bet on bad teams at home. Not blindly, but make sure it's part of your football wagering plan. Bookies don't drive Cadillacs because good teams cover spreads!
Teams That Folded Like a Cheap Tent as Home Dogs
J-E-T-S (3-5)(37.5%)
Jags (2-5)(28.6%)
Eagles, Saints, Panthers (1-3)(25%)
Bears and Atlanta (0-5 and 0-4)(0%)
Lots of bad teams here. Injuries, bad coaches, poorly run, etc. No real surprises here. I noted above to be on bad teams playing at home. Not always, of course! Not on teams that have broken down offensive lines that allow too many sacks. Not a team starting a QB for the first time in his career. Not a team with no identity. The most underrated facet of football betting is a team's offensive line. If it's weak and breaks down, the QB has no time to throw. This leads to sacks, hurried passes that get picked off, and injuries that force a second or third stringer to enter the game. Pay close attention to offensive line play! Your winning percentage will go up 5% INSTANTLY!
Teams That Cashed in as Road Favorites
Atl, Mia and Wash (2-0)(100%)
Dal (5-0)(100%)
Teams That Flopped as Road Favs
LAR (3-5)(37.5%)
TB (3-6)(33.3%)
Balt (1-4)(25%)
LAC (0-3)(0%)
Look at all these public darlings! People love to bet on good teams, even if they're road favs. This is how bookies afford the newest Cadillac every year! 2021 was SUPER nasty as they cashed big on these flops, resulting in their whole garage being full of new cars! Avoid the temptation to play popular teams laying points away from home. Remember that when a playoff-caliber team comes to town, it's like the bad team's Super Bowl! More often than not, the lesser teams gives maximum effort, which makes for a close game! A perfect storm for good teams winning and bad teams covering.
Profitable Teams as Road Dogs
Packers (3-0)(100%)
Bengals (7-1)(87.5%)
Cardinals (6-1)(85.7%)
Colts (5-1)(83.3%)
Niners (4-1)(80%)
Bolts and Cowboys (3-1)(75%)
Lots of well-coached teams with good players here. This is worth taking note of from year to year as it's a trend with substance.
Worst Road Underdogs
Hou and Chi (3-5)(40%)
NYG (3-6)(33.3%)
Wash and Car (2-4-1)(33.3%)
Jags and Jets (2-5)(28.6%)
Broncos (1-3)(25%)
Crap teams getting not only crushed but losing against the spread. Ironically, most of these teams have been in the tank, have received high draft picks, and will one day be good in the near future. Evolution in sports is real. Don't put too much weight into these stats, as some of these teams will actually be good in the next couple of years.
Best Bets vs. Their Division
Dallas (6-0)(100%)
Buffalo and Cincinnati (5-1)(83.3%)
Hou, GB, Ten, NO, TB, KC, Pit, Det (All 4-2)(67%)
I love this stat because it separates the winners from the losers. The bad teams on this list show that things are turning around for their respective organizations. Keep an eye on the Lions as they're turning it around in Motor City. Not even that poor team management can foul up the massive amount of top draft picks they have who are starting to play well.
Big Losers in Division Games
Philly (1-4-1)(20%)
Jets, Bears and Browns (1-5)(20%)
It's surprising to see Philly on this list, but then again, they had a ton of injuries to key players.
Be sure to visit and bookmark our NFL free picks page and NFL section, as I'll be writing more articles and hammering out some game previews as well! Thanks and Good Luck!
Fargo's NFL Thursday Star Attraction 11-0 Run

Fargo went a PERFECT 5-0 in the NFL Sun/Mon and he is on a PERFECT 11-0 Football run! He is now 14-5 in the NFL this season after going 53-40 last year and this is only a small sample of how the NFL has been over the last decade! Over the last 10 seasons, Matt has profited in eight of those, bringing home a POTENT $69,880 in profits and he has a NFL Star Attraction for Thursday night and this one WINS WITH EASE! Do yourself a favor and grab a season subscription so you do not miss a single play!