2022 NFL Defensive Rookie of the Year Predictions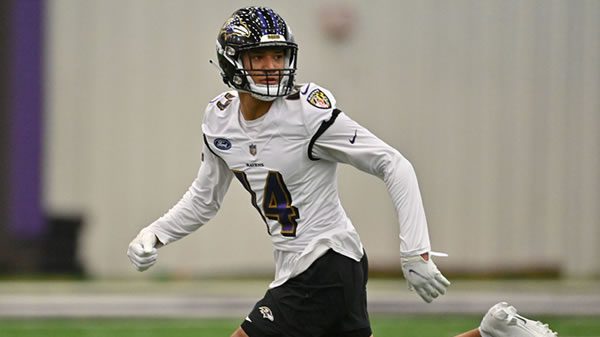 Now is the time to cash in on any insights you have about the incoming defensive rookie class. If you're right, betting on who will win the NFL Defensive Rookie of the Year can be a wager with major windfalls. This season features a robust class of high-ranking defensive prospects, with the first five picks in the draft all being defensive players. There will be a lot to sift through when processing how all this different talent will pan out in year one. This bet allows you to have a vested interest in every game that a player plays, with every sack, INT, or TD bolstering your chances to win. You get a lot of mileage off this bet, and if you have a feeling about a guy further down the board, now is the time to capitalize on it. Pretty soon, the well-kept secrets won't be secrets anymore.
Compared to other individual awards in the NFL, this one is perhaps the most merit-based. Sure, there's some bias built into this. To be a defensive tackle and win this award, for example, you probably have to do something more special than a defensive back, a DE, or LB. And it also seems like safeties have been shut out of this award as of late. But unlike other individual honors in the NFL, it's not an award closely tied to how well your team does. There is a statistical component here, as a player who either racks up a large INT or sack total would have a definite leg-up on the other candidates. Still, a review of DROY winners of the last five years with CB Marshon Lattimore, LB Darius Leonard, DE Joey Bosa, DE Chase Young, and LB Micah Parsons shows a diverse positional mix of those who haul in this honor. Let's look at a half-dozen candidates we feel will be compelling choices this upcoming season!
Top Six Picks to Win the Defensive Rookie of the Year (Odds Courtesy of Bovada))
Aidan Hutchinson (+500):
A Michigan kid who grew up in-state now moves into a Detroit D-line where the second overall pick figures to thrive. Strong against the run and able to get after opposing quarterbacks, Hutchinson looks to be the kind of prospect who is ready to hit the ground running. While not having a ton around him could lead to some double-teams, the void on that side of the ball could also afford him a chance to stand out more. A compelling selection even at a chalky +500 rate.
Kayvon Thibodeaux (+550):
The fifth pick in the draft was once ballyhooed as a number-one pick and might spend this season reminding opponents why he should have been. The Giants should be happy to have him and figure to turn him loose immediately on the edge. Those who get behind Kayvon with this pick should check his injury status, as he is prone to those kinds of setbacks and is apparently dealing with an undisclosed injury. But if he's ready, his sack totals might end up making the former Oregon standout a clear frontrunner.
Travon Walker (+750):
the Georgia sack-machine was the first overall pick, with the Jaguars picking him ahead of some real blue-chippers also on this list. His ability to get to the quarterback and therefore put up some staggering sack totals alone make him a compelling choice. And though he is on a bad team, the Jags have some other horses—guys like Josh Allen, who will make it hard for opponents to dedicate too many resources into stopping Walker. The chances are somewhat robust that Walker comes in and becomes the next big-time rookie DE in the same vein as recent winners of this award, Bosa and Young.
Kyle Hamilton (+800):
The former Notre Dame safety has long been fancied a top prospect by virtually every NFL team, getting picked tenth by the Ravens on a defense where an active safety can make some things happen. Hamilton faces what appears to have become a bias against safeties winning this award, as one wonders if the fact that no safety since Mark Carrier in 1990 has won this is mere happenstance or an actual thing. Still, the 6'4″ ball-hawk figures to be in a spot where he can rack up enough INTs and make enough splashy plays to find himself in the running.
Derek Stingley, Jr. (+1000):
The third overall pick in the draft, the former LSU corner figures to step right in as CB1 on a Houston Texans "D" that can use a lot of help. Teams won't be shy about throwing against Houston this season, and Stingley, Jr. looks to see a lot of balls coming his way. His ball skills seemed to dip the last few seasons on LSU, but he has shown the ability to corral a lot of picks. While he might end up being the class of a good rookie group of DBs, being a little out of sight on a bad Houston team could cost him. Still, he's undeniably one of the very top prospects in this entire rookie class.
Kalir Elam (+2000):
A good corner with nice size, Elam was the 23rd pick out of Florida, now brought onto a Bills team that has a lot going for it and brought in to address some of Buffalo's leakiness against the pass. Elam will be in a position to register some performances that resonate in a very visible and impactful way. The longshot on this list at 20-to-1, he's the only one who will be on a team that figures to be good. And if the Bills are able to get a boost in this area from Elam, he could be in a nice position to get a lot of accolades and put himself right in this discussion by season's end.
Football Betting Guide
New to football betting? NFL point spreads can be confusing at first, but our how to bet on football article help you bet like a seasoned pro! You'll also learn how to wager on teasers, parlays, over/unders, prop bets, futures and how point buying works.