2022 NFL Regular Season MVP Betting Predictions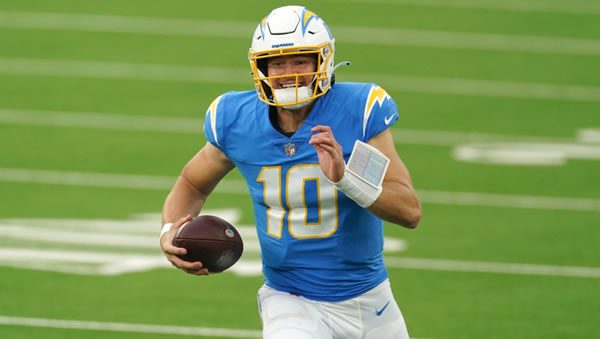 Before jumping into the MVP markets for the upcoming season, let's try to wrap our heads around what it takes to win the Most Valuable Player award in the regular season. A look at recent winners presents one major detail—how quarterbacks have an inside track to take down this award. We are currently on a run of nine straight quarterbacks winning the MVP and 14 of the last 15. Then we see other things, like how the MVP usually comes from a good team, being that a player can't be all that valuable if his team didn't win. So, for the most part, quarterbacks from teams that project to be good are the main target.
You can take it a step further, too. Sometimes, a really good season is all it takes, as exemplified by Aaron Rodgers winning it twice in a row. Other than the Packers getting better the last few seasons, there wasn't anything terribly earth-shattering about what he did besides two really good seasons. But sometimes, there are other quirks that can give a candidate a boost. A lot of it revolves around the element of change—if a team on its back is able to rise up, or a player takes a team up a notch or two. You're looking for spikes on the chart, as those are the things that can get a voter's attention. Not that a QB can't just have a team be relatively status quo, have great stats, and still win the award. But if a player has comparable numbers while lifting his team to new heights, he could have an edge.
Here are six candidates we think deserve some solid consideration to take down the regular season MVP award this upcoming season.
Top Six Picks to Win the NFL Regular Season MVP (Odds by Bovada)
Josh Allen (+700):
At some point, it has to resonate with the voters that Allen is a massive part of what has been the best franchise turnaround in the NFL. The Bills have gone from perennial doormat to the role of reliable contender, and while the rest of their roster and the coaching is a big part of that progression, Allen stands in a position to start getting more recognition for his exploits. Going only 11-6 last season while throwing 15 picks probably cost him the award. A few more wins and a slightly-better stat line could very well result in Allen winning his first MVP.
Tom Brady (+800):
Between Brady returning from a brief retirement, along with the chance that it might become clear this year at some point that this is indeed it for him, it's hard to ignore the sentimental angle. His standing as an all-time great, with the prospects that a man his age can lead this team to a big season, will resonate with voters, and rightfully so. A few pieces are missing from last season, but some things were added to give the defense more teeth. With a new head coach and better chemistry, Brady could still have one more in him. And a big season for Tampa and good numbers for Brady just make him a guy who already seems to have a leg up on the competition.
Justin Herbert (+1000):
A player who could benefit from elevating the status of his team, a lot of things line up to make Herbert a candidate worth considering. In his third season, this is where he's supposed to put it all together. A team exploding with talent on their roster, moves were made in the offseason to make them even stronger on both sides of the ball. A dose of good health should have them winning games. And if Herbert is there putting up big numbers, he's going to be hard to ignore. Being in a big market doesn't hurt, nor does his ability to throw up big stats, as he eclipsed 5000 yards in just his second season. With fewer interceptions and on a team that gets their act together as many project, Herbert should be in the mix.
Russell Wilson (+1400):
If he were still in Seattle, it would be hard to justify this pick. But the new energy that comes with being on a new team with a new coach could result in Wilson having Denver back in the headlines for the first time since Manning left. A lot of things still have to drop into place. Wilson's arrival is nice, but a lot of this recipe is dependent on the growth of a gaggle of youngsters, some of whom are coming around well and others who face a show-and-prove season in 2022. Wilson will need to see some maturity manifest up-front and with his receiving corps. But he also might have some things that characterized his best years in Seattle with a big running game, along with a defense that is talented enough to carry the team when things get tough.
Matthew Stafford (+1500):
At times in the NFL, we've seen the MVP get awarded almost retroactively. Stafford leaving Detroit and winning it all in year one with the Rams is hard to top. Should the Rams again ascend to near the top of the NFC, and there's little reason to suspect they won't, a good season from Stafford could lead voters to choose the veteran standout. He did throw 17 picks last season, and a repeat of that would be trouble, as Stafford does have some high INT totals throughout his career. And personnel-wise, the Rams did suffer some losses, not to mention the potential hangover aspect. But another good year for the Rams and Stafford would have him looking pretty good at +1500 by season's end.
Derrick Henry (+5000):
The long-shot of the bunch, Henry has a lot working against him as he looks to rebound from a season-ending injury, as well as bucking the built-in bias toward quarterbacks. But him going down last season could only accentuate a big season in the event that he has one. Being the main weapon in the Titans' offense helps, and if Tennessee delivers this season with Henry putting up 2000 yards, +5000 is a decent price to break the recent stranglehold QBs have on this award.
125% Cash up to $400 w/Bonus Code: PREDICTEM