AFC East Title Odds & Picks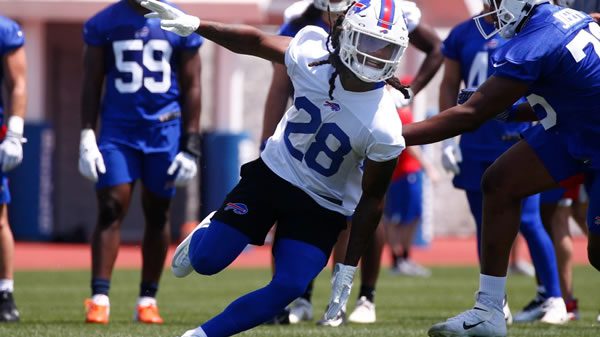 Predicting the AFC East Division Winner
A division that has taken an about-face, the New England Patriots have seen their nearly two-decade stranglehold on the AFC East fade, as the Buffalo Bills have ascended to the top of the division, as well as the conference. Still, the gap between these two teams wasn't that pronounced last season, with the ten-win Patriots seeing a little uptick from the previous season, falling only one game short of the Bills, who actually had a bit of an up-and-down regular season at 11-6. Granted, the Jets still appear to have some ground to cover, but look improved nonetheless. The team both the Bills and the Pats need to watch are the Dolphins, coming off a busy offseason where they looked to bridge the gap even more after a promising 9-8 campaign. Let's see if we can't break this down and decide the best direction to take when betting on who will take down the AFC East in 2022. (Odds Courtesy of Bovada – Home of the 50% bonus, rebates on ALL your wagers win or less and the BEST live betting platform on the web!)
Buffalo Bills (-225)
After falling victim to late-game drama from Mahomes and the Chiefs in last year's divisional round, the Bills look to put it together and make a deeper run this season. There's little reason to think they will not. The high-octane aerial offense of Josh Allen and his collection of weapons should continue to ascend. Nothing significant was lost offensively and their depth is a weapon on this side of the ball and they even added pieces like Jamison Crowder and OJ Howard to give themselves a boost. Adding Von Miller and first-round corner Kalir Elam should also help a defense they hope doesn't collapse late in the biggest games. And don't sleep on the acquisition of star San Diego State punter Matt Araiza, a guy who can flip the field on a regular basis.
Still, after seeing the Bills meander at times during last year's regular season, this is no slam-dunk. The division around them has gotten tougher and taking the Bills to win the AFC East is one of the more-chalky picks in this context. Teams like Buffalo who have risen to the role of being nearly an automatic playoff team sometimes don't really step on the gas as other teams trying to rise up will. And with the Pats and 'Fins looking to make noise in '22, a -225 quote might not seem like great value. And frankly, it's not.
Miami Dolphins (+450)
Offseason frenzies don't always manifest well, but it's still hard to not like some of the moves Miami is making. A lot of this rides on Tua Tagovailoa making the next step after seeing some mixed results at the beginning of his career. A lot of things were brought in to help that come about. The line is beefed up, adding a good tackle in Terron Armstead. If Tagovailoa falters, steady Teddy Bridgewater is now in tow as insurance. At the helm is a bright offensive mind in Mike McDaniel, who now takes over the head coaching duties. But the prized acquisition is that of WR Tyreek Hill, a game-changing talent that opens up things for Miami's other ball-catchers, guys like Jaylen Waddle. Bolstering the run-game with the additions of Sony Michel, Chase Edmonds, and Raheem Mostert should also pay off and Tua will have no excuses as he's being given every chance to succeed.
Unfortunately for the Dolphins, their defense was a major drawback last season and might lag behind the offense this year unless they find some answers. Getting Melvin Ingram was nice, but hardly addressed all their issues and without any high draft picks and so many resources spent on the offense, this looms as a potential problem area, particularly with some of the offenses they'll be facing this season. Still, with the team they had last season, they were only two games short of the Bills and with all these moves, a +450 quote isn't easy to scoff at. This choice deserves serious consideration.
New England Patriots (+500)
A team that won't go away and now appears to again be on the rise, the Pats surprised a lot of people with a 10-win season and now look to take another step in Mac Jones' second year behind center. There's just something about Belichick and the winning tradition he has instilled in New England that alone makes them a threat. Winning 10 games last season with what they have is a testament to that. And if the Bills have some more rocky passages this season or the Dolphins see their recipe fall flat, the Pats will be a dependable presence that just might be poised to reclaim what was once and very recently the most-dominant run of division success ever seen in this league.
We see some players coming into their own in this offense, with Jones working with a nice tight end package, some good backs, and a nice cabaret of receivers. Getting DeVante Parker and drafting rookie WR Tyquan Thornton should help, as will first-rounder G Cole Strange. But when looking at the Patriots, we have to perceive it a different way. This is a team devoid of star-power, but their strength is their team-identity and coaching. And with the signs they showed last season and this team's track record, a +500 quote for a team that fell one game short last season deserves a hard look.
New York Jets (+2200)
It's hard to not admire what seems like a real heartfelt attempt to turn this around. Four selections in the first 36 picks, including two top ten picks should also bolster this roster, as will the acquisition of several defensive veterans who could help that side of the ball come alive more. One can start to see the beginnings of what head coach Robert Saleh is attempting to construct. The defense is finding some teeth, they should have a nice running-game, with enhanced targets for Zach Wilson in a show-and-prove second season following a tough rookie campaign for the former BYU standout.
It just seems that an optimistic view on the Jets can be demonstrated another way than this. It'd be one thing in a division where other teams stood pat, but the Pats and Dolphins are on the move, with a heavily-favored team atop in Buffalo and it seems like too much ground for the Jets to cover in one season. I think an "over" position on how many games the Jets win this year would hit the spot better than a position on them taking down a division that looks to be a little out of range just yet.
Loot's Pick to Win the AFC East Division: New England Patriots at +500. Eating the chalk on the Bills is understandable, as is a rosy outlook for Miami. But at +500, an exponentially better number than -225 on Buffalo, I think taking a whirl on the Pats here is wholly justified. Bet your AFC East winner prediction for FREE by scoring a 100% real cash bonus on your first deposit of $100 to $500 when you use bonus code PREDICTEM at Betnow Sportsbook!